Iraq sees yet another journalist silenced
By Andreas Reventlow, IMS Communications Coordinator
The anti-corruption journalist Kawa Garmyani was gunned down last week in Iraqi Kurdistan. His death highlights the rampant impunity enjoyed by those who seek to silence journalists in Iraq
Kawa Ahmed Garmyani, 32, was shot in the head and chest in front of his mother on Thursday 6 December in his home outside Iraqi Kurdistan's second city Sulaymaniyah, said the Kurdish media rights watchdog Metro Centre.
Uncovering corruption and nepotism among the most powerful in Iraqi Kurdistan, Garmyani was no stranger to the dangers of performing his professional duties as an investigative journalist.
According to Metro Centre, he had reported receiving death threats to the local authorities, but to no avail.
100% impunity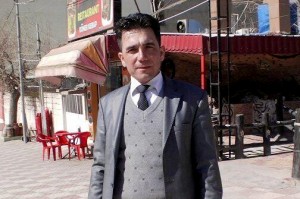 Year after year, Iraq produces chilling statistics on killings of journalists and the impunity that surrounds them.
The country has seen 149 journalists killed as a direct result of their work in the decade since the American invasion began in 2003, says IMS' partner in Iraq, the media freedom watchdog Journalistic Freedoms Observatory (JFO).
As in Garmyani's case, not a single perpetrator of these murders has been brought to justice, making for an alarming impunity rate in Iraq of 100%.
While the autonomous Kurdistan region where Germyani was based is often considered a safer place for journalists to work compared to the rest of Iraq, the killing of the anti-corruption journalist alongside other recent murders tells a different story.
In 2008, gunmen killed the Kurdish journalist Soran Mama Hama near the northern city of Kirkuk.
Sardasht Osman, another Kurdish journalist, was killed in May 2010 after writing an article about the alleged corruption of Kurdish leaders.
In October 2013, gunmen attacked Shaswar Abdul Wahid in a drive-by shooting in Sulaimaniyah, whose television station had been attacked twice already.
Crippling the media
This intimidation and killing of journalists is meant to do one thing: silence them, says Osama Al-Habahbeh, IMS' programme manager for Iraq:
"The murder cases that remain unsolved spread fear and self-censorship, crippling the work of the media and keeping journalists in a constant state of anxiety."
By working with national organisations like Journalistic Freedoms Observatory that defend and promote freedom of expression, IMS seeks to break the cycle of impunity produced self-censorship and fear.
This is linked with a 24/7 safety hotline journalists can call when in peril. The hotline provides journalists with immediate safety advice over the phone alongside longer-term legal support provided by a network of 100 lawyers working pro bono across Iraq.
Peer-to-peer assistance
These efforts to protect journalists are coupled with the IMS-administered Safety Fund, a pool of money from which endangered journalists can receive short-term financial support to cover things like healthcare costs and relocation expenses.
In Kawa Ahmed Garmyani's case, the Fund has supplied money to his family members to cover immediate expenses now that their sole breadwinner is no longer there to provide for them.
They are set to receive an amount equivalent to what Garmyani would have earned over a month and a half.
The money in the Safety Fund comes from contributions from members of the Danish Union of Journalists, making it a kind of peer-to-peer assistance, says IMS' Line Wolf Nielsen who administers the Fund in cooperation with the union:
"Hopefully the funds can provide a bit of financial relief to Mr Garmyani's family."
The money goes hand-in-hand with IMS' broader work on safety that includes promoting conflict sensitive journalistic methods that seek to avoid fanning conflicts and disputes, as well as efforts to institutionalise protection measures within local authorities.
"With the Safety Fund, IMS is able to respond to the urgent needs of journalists, and it makes for a very important supplement to IMS' long-term approach to safety, which puts emphasis on training and preventive measures," says Line Wolf Nielsen.
Kawa Ahmed Garmyani was editor-in-chief of the local Rayal magazine, a correspondent for the Kurdish Awene newspaper, and contributor to the IMS-supported Network Network of Iraqi Reporters for Investigative Journalism.
Read more about IMS' work in Iraq and our efforts to improve the safety of journalists worldwide.