Sri Lankan people protested on April 12, 2022, in front of the Presidential Secretariat office in Galle Face, Colombo. They are protesting, demanding president Gotabaya Rajapaksa and his government resign over the worsening economic crisis. NurPhoto / Contributor
Social media ban
#OccupyGalleFace – Sri Lanka's digital generation defies information clampdown
Plenty of Sri Lankans skirted a recent government ban on social media using VPNs, writes programme advisor Omar Rajarathnam. He also thinks officials learnt a bitter lesson.
Thousands of youth and elders took to the streets in Sri Lanka demanding that President Gotabaya Rajapaksa step down over mismanagement of the country's foreign reserves, which hit their lowest point since this South Asian country's 30-year civil war.
Protests are not a new to Sri Lanka, but these demonstrations are youth led and have relied on social media for mobilizations under #GoHomeGota. The protests have also been seen as pushback against state social media restrictions, which have restricted freedom of expression.
Police first clashed with protestors opposite President Rajapaksa's private residence on Thursday March 31, before nation-wide protests began. The President responded by declaring a state of emergency, imposing a curfew and restricting social media access.
The Human Rights Commission of Sri Lanka (HRCSL), whose top officials were appointed by the President, condemned the move and called it a violation of human rights.
The Norwegian Ambassador to Sri Lanka, Trine Jøranli Eskedal, expressed Oslo's "Concern about the use of force against protestors and journalists.''
"(The) rights of all, including freedom of speech and assembly must be safeguarded," she said. The European Union, from its office in the capital, Colombo, also expressed concern about the state of emergency and the right of Sri Lankan's to peaceful protest.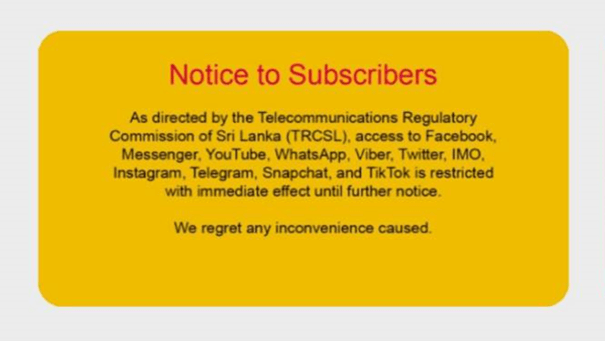 The Telecommunications Regulatory Commission of Sri Lanka on April 2 had ordered telecommunications companies to restrict access to Facebook, Messenger, YouTube, WhatsApp, Viber, Twitter, IMO, Instagram, Telegram, Snapchat and TikTok.
The companies complied, but they also displayed notices to users that the restriction had been government ordered. The social media restrictions within Sri Lanka resulted in #GoHomeGota trending overseas in the United States, Germany, Singapore and the Netherlands. The Sri Lankan diaspora in Europe and the United States, as well as the Middle East also joined the call for the president's resignation.
Sri Lankan celebrities and social media influencers also expressed their support before the government finally reversed its decision. The social media ban was reversed within 15 hours, the curfew within 36 hours and the emergency within 96 hours.
The reversals are welcome but more work is needed to strengthen the information infrastructure and its governance mechanisms which must make it difficult for the government to pursue banning information flows unless there is a strong case for national security.