A different side to Palestine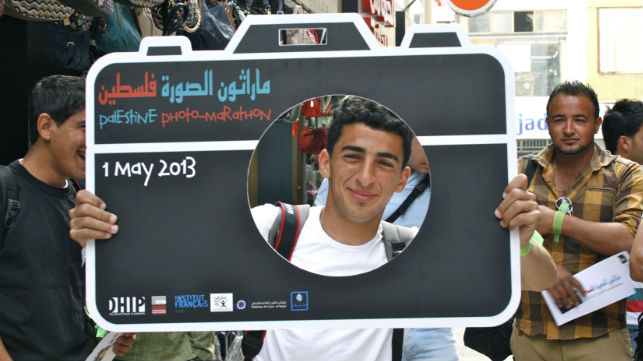 Participant Ahmad Talaat Hassan in Photo Marathon Palestine, May 2013. Photo: Sofie Pedersen
More than 100 Palestinians took to the streets of Palestine in May photographing their Palestine in the cities of Nablus, Ramallah, Jerusalem and Gaza
By Karen Nordemann, The Danish House in Palestine
For the second consecutive year, The Danish House in Palestine organised the Palestine Photo Marathon supported by International Media Support (IMS).
Before the start of the competition 154 people had signed up in one of the four participating cities. By the end of the day, 86 men and women had completed the competition and handed in their photos. The participants ranged from 7 and 76 in age and seven nationalities were represented.
One of these participants, 21 year-old Nihaya Jaber from Gaza, participated for the first time and was excited about being included in a competition that happened all over Palestine at the same time on 1 May. After finishing theme no. 3 Still Life, she took a break to look at her first photos.
"I feel depressed", she said, before continuing with theme no. 4 Boiling Point. "I am really happy to participate, but it is difficult. It's a completely different way of looking at things," she added.
Also participating for the first time was Ahmad Talaat Hassan, 19, from Nablus. He likes to take pictures that show the difficulties Palestinians face, but found it difficult to take photos according to the themes of the competition.
"It is hard. I still don't know how to photograph the theme no. 3 Still Life. I know Nablus in and out, but it is difficult taking photos like this," says Ahmad Taalat Hassan half way through the competition.
Showing a different side of Palestine
According to Director of The Danish House in Palestine, Christian Balslev-Olesen, the purpose of the competition is to show a different version of Palestine.
"It is a shame that the news media show such a simplified image of the Palestinians, but it is even worse for the Palestinians because the stereotypical images block us from seizing the opportunities that are present in the current situation. I think we have a responsibility to challenge these images", says Balslev-Olesen.
The Palestine photo marathon is a one-day competition inspired by the Danish Photo Marathon held in Denmark over a 25 year period. Participants compete in either a six hour or 12 hour competition where they interpret either six or 12 predetermined themes. A jury of Danish and Palestinian professional photographers and artists evaluated the participants' photos on 5 May and the winners of both the 6-hour and 12-hour marathon, as well as theme winners and special mentions, will be presented at The Danish House in Palestine on 19 May 2013. All the winning photos will be exhibited in the four participating cities and in selected locations in Denmark.
The Palestine Photo Marathon 2013 is supported by International Media Support (IMS) and organised by The Danish House in Palestine in cooperation with Ajyal Radio, Al-Hoash–Palestinian Art Court in Jerusalem, the Life Hope Centre for Social & Health Promotion in Nablus, and the French Institute in Gaza.
To see the dates and locations, check the website www.palestinephotomarathon.ps.