Yemeni radio programme builds bridges in a time of crisis
By Mathias Findalen Bickersteth
In the midst of political and violent turmoil in Yemen, one of the country's most popular radio programmes is building bridges between people and communities from all walks of life.
Sara Al Zawqari's Tea with Milk programme on the IMS-supported Yemen Times Radio reaches everyone from members of parliament to taxi drivers who tune in on a daily basis to listen to her sarcasm-filled take on Yemen's crisis.
Yemen ranks near bottom in international press freedom indexes with independent journalists subject to restrictions, detention, threats and violent attacks. Since the uprising in 2011 that led to the ousting of President Ali Abdullah Saleh, his successor Abd Rabbuh Mansur Hadi has struggled to keep the country's transition on track. President Hadi is confronted both politically and militarily by a host of political, religious, tribal and other groups.
In recent years, parts of the media have played a negative role in the country's internal conflicts, inciting violence and exacerbating differences and disputes. Against that backdrop, Sara Al Zawqari is looking to build bridges between people and communities from all walks of life by providing her listeners with new ways of understanding and dealing with the events of the past few years as well as the country's current political crisis and violent conflict.
"I call it Tea with Milk because we Yemenis enjoy drinking tea with milk every day. Just as our radio show, tea with milk is a daily routine," she says.
Broadcasting on Yemen Times Radio, Tea with Milk is one of the most popular radio programmes in the country. Sara Al Zawqari has become quite the celebrity, but as a radio host people only recognise her when she speaks. "I have not paid for a taxi in nine months," she says. "They insist on driving me free of charge when they recognise my voice."
Sara Al Zawqari returned to Yemen from her journalism studies in London a year ago to start up the programme. She is now one of the most well respected radio journalists.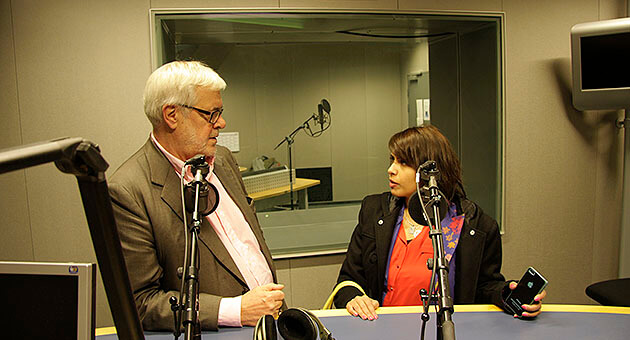 Sara Al Zawqari and Danish Broadcasting Corporation journalist Frank Esmann in December 2014. Photo: IMS
Radio is becoming increasingly popular in Yemen, but many of the country's new private radio stations are heavily biased and promote the views and agendas of groups affiliated with the militias in the country, says Sara Al Zawqari. "The stations are either connected to the Shiite Houthi rebels or Sunni groups related to the Islah party. It's polarising our society," she says.
Positive changes are also taking place though, says Sara Al Zawqari, referring to how parts of the former government have been replaced with new ministers who are more reform oriented. This includes the new Minister of Information, Nadia Al Sakkaf, the former editor in chief of the English-language newspaper Yemen Times.
Similarly encouraging is a growing appetite for media outlets that operate independently and professionally, seeking to strengthen the moderate voices in the country, says Sara Al Zawqari.
"People tell me they like my programme, because they see it as unbiased. This tells me that many in our society actually want independent, professional media. As an independent media outlet one of the main issues is the absence of a law that allows for and regulates radio stations."
Sarcasm and campaigning
Over 70 percent of Yemen's population is illiterate, which makes radio an increasingly popular form of media. But the somewhat superior language style of some journalists doesn't resonate with many Yemenis.
"There was a barrier between different communities and I realised that slang and sarcasm is a good method to establish common ground. Sarcasm is already integrated in Yemeni society. It brings people together."
Although sarcasm and humor is a staple ingredient in Tea with Milk, the show goes beyond that, Sara Al Zawqari says. She recently did a feature on how the Yemeni military failed to protect Yemeni citizens during the past many months of violence in the country. Many Yemeni soldiers are paid badly which makes them susceptible to bribery and tribal demands, Sara Al Zawqari explains.
In September 2014, violent fighting broke out in parts of Sana'a, primarily between Houthi rebels and supporters of Islah, Yemen's biggest Sunni party, killing more than 270 people and injuring over 500.
"During these fights the army didn't intervene or protect people, so many lost confidence in the soldiers." Sara Al Zawqari's radio feature provoked a series of responses from people highlighting the need for reform of the military. Sara Al Zawqari underlines the importance of her show taking a bit of an activist approach in addition to the hard news and features it also delivers. Tea with Milk occasionally carries out campaigns to drum up support for a particular cause, such as providing food to homeless people. The most recent campaign involved donating blood to victims of suicide attacks in the country.
"Lots of people lose lots of bloods during suicide attacks in Yemen, so we asked the listeners to join us in donating blood. The response was overwhelming and the blood donation centre wasn't able to accommodate all of those who showed up at once. So people kept going for three weeks," Sara Al Zawqari said.
Although Tea with Milk has become hugely popular in a very short period of time, there is still room to advance it further, says Sara Al Zawqari.
"Radio is only now becoming popular in Yemen. I hope that Radio Yemen Times will evolve into a major radio station where we reach everyone in the country. We want to start a trend where the media gives everyone a voice and educates people instead of fighting over politics."