World Press Freedom Day 2014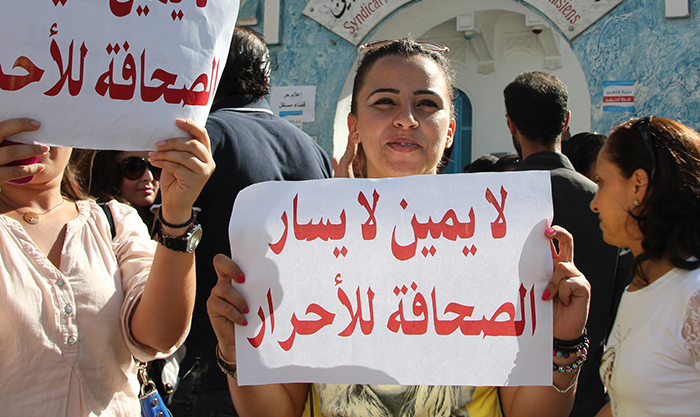 Tunisian journalists, holding up signs advocating for press freedom, strike to protest against press restrictions in September 2013. Photo: Tarek Alghorani
Looking back at a year of press freedom in decline, IMS and its partners mark World Press Freedom Day on 3 May to underline the importance of free and professional media in development
An escalation of armed conflicts and increased government control and surveillance, have left press freedom at its lowest level in a decade, with only 14% of the world's population able to access a free press, according to the US-based organisation Freedom House.
The decline is triggered by among other things governments' overt attempts to control the news – whether through the physical harassment of journalists covering protest movements or other sensitive stories or tightened constraints on online news outlets and social media – as well as the role of owners in shaping media content through directives on coverage or dismissals of outspoken journalists.
Countries in the Middle East have seen a particularly sharp decline with press freedom in countries like Egypt and Libya deteriorating in the midst of political transitions turned violent, says Freedom House. In other countries in the region, severely deteriorating security puts journalists at increased risk for simply performing their job. In Syria alone, 28 journalists were killed in 2013, according the US-based press freedom group, Committee to Protect Journalists
"The media becomes strategic targets for groups and governments seeking to control the flow of news and information in conflict. Journalists aren't targeted simply because they're in the wrong place at the wrong time," said Jesper Højberg, Executive Director of International Media Support.
"On World Press Freedom Day, we need to remind ourselves that the media has a crucial role to play in reducing conflict and supporting democratic development through independent, professional journalism.
"The media helps societies define what their countries should aspire to and how human rights and democratic values should be achieved. They help shape the future."
Media freedom for a better future
IMS and its partners around the world are highlighting the importance of press freedom through a number of different events. The Media Council of Kenya are launching a new Trauma guide for journalists following the Tana River massacre in 2012 and Westgate Mall shooting in 2013 and in Iraq, our partners Journalistic Freedoms Observatory are publishing a press freedom and safety report.
Together with UNESCO and a range of other international organisations, IMS is also marking the day at the main World Press Freedom Day event in Paris under the theme "Media Freedom for a Better Future: Shaping the Post-2015 Development Agenda". Here, IMS' Deputy Director, Biljana Tatomir, will speak about the newly published book "World Trends in Freedom of Expression and Media Development", which looks at recent evolutions in media freedom, independence, pluralism and journalist safety. Biljana Tatomir served on the Advisory Group for the book. IMS' Executive Director, Jesper Højberg, will be speaking about the UN Plan of Action on the Safety of Journalists and the Issue of Impunity. The Plan brings together civil society organisations, the UN family, national governments, media and civil society to combine forces to stop the killing of journalists and the accompanying impunity which serves to perpetuate the cycle.
IMS together with UNESCO and Open Society Foundations is implementing a part of the Plan in five countries where we engage with governments and international stakeholders to build sustainable local mechanisms and foster sharing of knowledge and best practices on improving journalist safety and bringing down impunity.
World Press Freedom Day is marked every year on 3 May to celebrate the principles of a free and independent press and to pay tribute to the journalists who are attacked, harassed, imprisoned, tortured and killed for doing their job.
Click here for more information about the main event marking World Press Freedom Day in Paris.