Unveiling the strength of Arab women through filmmaking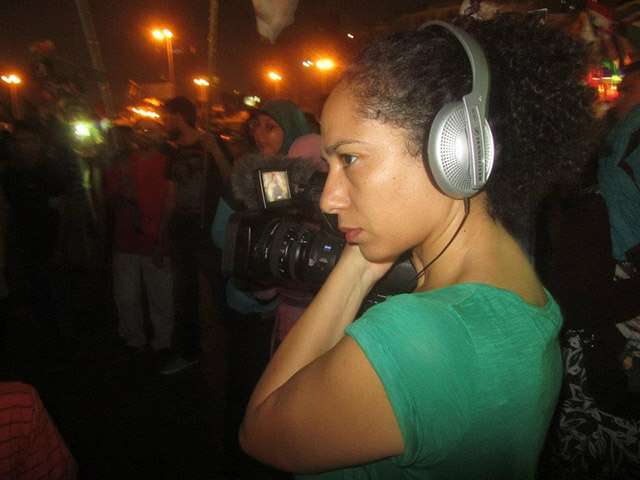 Amal Ramsis, Egyptian filmmaker and founder/director of Cairo International Women's Film Festival, visited Denmark to discuss how to challenge male dominance in the media.
While all eyes are on the Cannes Film Festival, a film star in her own right in Egypt, Amal Ramsis, is visiting Denmark this week along with six prominent women in Arab media. Amal Ramsis is known for her fight for women's rights in Egypt and founded Egypt's first women's film festival
Amal Ramsis is one out of seven Arab female media professionals who are visiting Denmark between 18 – 23 May for debates on how media can be used as an active tool in the development of women's rights and equality.
During the Egyptian uprising in 2011, women were participating actively in all kinds of protests, openly expressing and discussing their visions and demands. Standing in the middle of the crowd, Amal Ramsis joined the protests with a camera as her weapon.
"When you're standing in the middle of the clashes and people around you are getting injured or dying, you lose all fear. My only interest was to continue filming. The reality of what was going on only existed in the small screen on my camera," she expresses.
"Challenging male dominance in the media" is a series of public debates and knowledge sharing events in Denmark organised by IMS to establish meetings between media professionals engaged in gender issues in the Middle East and Denmark with support from the Danish-Arab Partnership Programme. The seven Arab media professionals are travelling across Denmark from Aarhus to Copenhagen between 18 – 23 May.
"The female participation during the uprising confirmed the dynamic and unquestionable role of Arab women during social and political change," Amal Ramsis says.
"Arab women are still often portrayed as victims. 'Veiled head means veiled mind' is a perspective often reflected in the Western world."
First female Arab film festival
Amal Ramsis is the founder of Cairo International Women's Film Festival, the first women's film festival in the Arab world.
"There was a great need for creating a women's film festival in Egypt, a country with the largest cinema industry in the Arab world."
Through the film festival, Amal Ramsis tries to change the overall view of Arab women.
"One of the motivations for creating the film festival was to present a real image of the Arab women far from the dominant stereotypes in the occidental media."
"It is a platform to explore and create a debate about the perspectives of women on a cultural, economic and political level."
Award-winning film
On October 9 2011 when armed security forces attacked peaceful demonstrators in Cairo, a 20 year old Egyptian man died alongside 26 Coptic Christians. For many, this man had been their hope for the future. But for his sister, Mary Daniel, her brother's death did not only mean the end of a life, but also the start of something new.
Amal Ramsis found this girl and followed her for a period of over two years throughout the Egyptian uprising. This led to the making of the award-winning film "The Trace of the Butterfly."
"The main character of the film, Mary, had a big impact on me when I saw her for the first time. I understood the social pressure this woman could go through to express her anger and her opinion in such an open way against the church and the army. I knew she represented a special story."
"As a filmmaker, I am interested in talking to people who are not considered heroes by the mainstream media. These people have so much to tell and to give. I want to keep the memory alive of the people who gave everything for the dream of real change."
International Media Support (IMS) is a non-profit organisation working with media in countries affected by armed conflict, human insecurity and political transition. Across four continents, IMS helps to strengthen professional practices and ensure that media and media workers can operate under challenging circumstances.