Media in Crimea under 'all-round assault'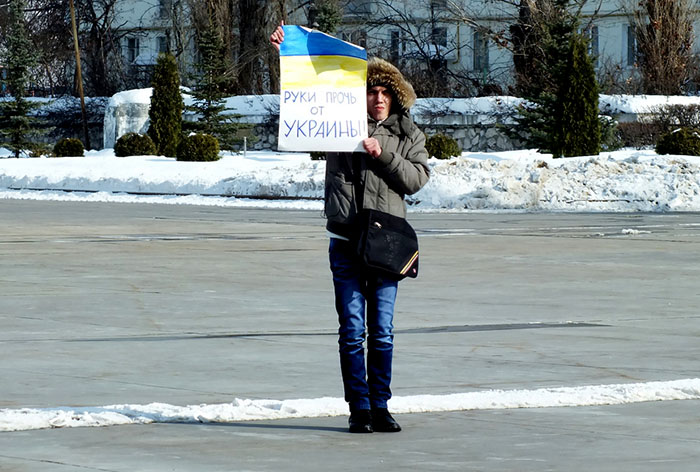 A protester holds up a sign reading "Keep your hands off Ukraine" in early March 2014. Photo: Игорь Титаренко
As tensions continue to rise in Ukraine's disputed Crimea region, local media and journalists suffer attacks, abductions, and shutdowns, says IMS' partner in Ukraine, Media Law Institute
In the run-up to Crimea's referendum on Sunday 16 March, journalists have been attacked and abducted. They are under an 'all-round assault', says the Kiyv-based Media Law Institute (MLI), adding that several media outlets have been shut down or restricted from covering the vote.
Several media outlets, including the state TV and radio broadcasting company Krym and the Center for Investigative Journalism in Simferopol were seized by armed men in early March 2014, and a dozen media representatives have been beaten up in early March. On 9 March, two groups of journalists from the Glavkom and Ukrainskyy Tyzhden news portals were detained and some of them kidnapped by unidentified men in military uniform at a checkpoint near Armyansk in northern Crimea. According to MLI, they were mistreated and released two days later.
International journalists have also come under attack it has been reported. This includes three Norwegian journalists from the public broadcaster NRK, as well as Italian and Slovak journalists on 11 and 12 March.
Referendum coverage 'restricted'
Organisers of the 16 March Crimean referendum, in which voters were asked whether they wanted Crimea to join Russia or continue as a part of Ukraine, have 'excessively restricted' the media's coverage of the vote, says MLI. An accreditation procedure for outlets wishing to cover the referendum gave a 'very short period' of two days to submit applications:

"This [is] an excessive restriction for covering [a] referendum of significant public interest."
Under Ukraine's national legislation the media enjoys a full right to be present at polling stations without prior approval, but accreditation was used in Crimea to restrict presence to 'loyal' media only, says MLI, indicating that only media that covered the referendum in a pro-Russian manner were allowed.
Five Ukranian TV channels were blocked or taken off the air in Crimea on 6 and 7 March. Their frequencies were subsequently handed over to Russian TV channels, says MLI.