Jesper Højberg, IMS, and Nedra Boukesra, Vigilance, are discussing between two sessions. Photo: Gerd Kieffer-Døssing/IMS
Thinking outside the geographical box
IMS pilots a new cross-regional approach to rights advocacy and media law reform by bringing together Ukrainian experts and MENA partners to enable exchange of experience and information.
During a two day meeting in Tunis in late March, IMS piloted a peer to peer meeting and experience exchange of law and advocacy experts from Ukraine and the MENA region.
"The experiment for IMS was to see if our advocacy and rights activist partners could be inspired by what other partners do around the world. There is definitely something to learn from that," director of IMS, Jesper Højberg said.
Encouraged by a successful facilitation of experience-sharing across continents focused on the theme of safety of journalists, IMS felt the same could be gained from bringing together partners from across different regions on the topic of rights advocacy and policy and law reform. According to Jesper Højberg, the pilot is a natural continuation of IMS' long tradition for coalition-building and partnerships and underlined that for partners working in countries with an increasing closing space for civil society, collaboration is the only way forward:
"Statements and reports will not change the world. In order to make progress we need to establish coalitions, we need to create communities – we need to collaborate."
Law reform is not the only solution
His words were backed by Taras Shevchenko, director and founder of Centre for Democracy and Rule of Law and one of the two Ukrainian experts invited to share their insights.
"When we are together, we are much stronger," Shevchenko says.
Following the Revolution of Dignity in 2014, he was part of creating the largest Ukrainian civil society coalition, Reanimation Package of Reforms (RPR), which became the key driver of media law reforms. But even though the RPR has successfully advocated more than 120 legislation acts in Parliament, Shevchenko warns against seeing law reform as the only way forward.
"NGOs working in coalitions to change something should stop thinking about legislation acts as the only solution. Rather they should identify the problem that needs to be solved and then explore the different solutions to the problem – of which legislation acts might be one," Taras Shevchenko said.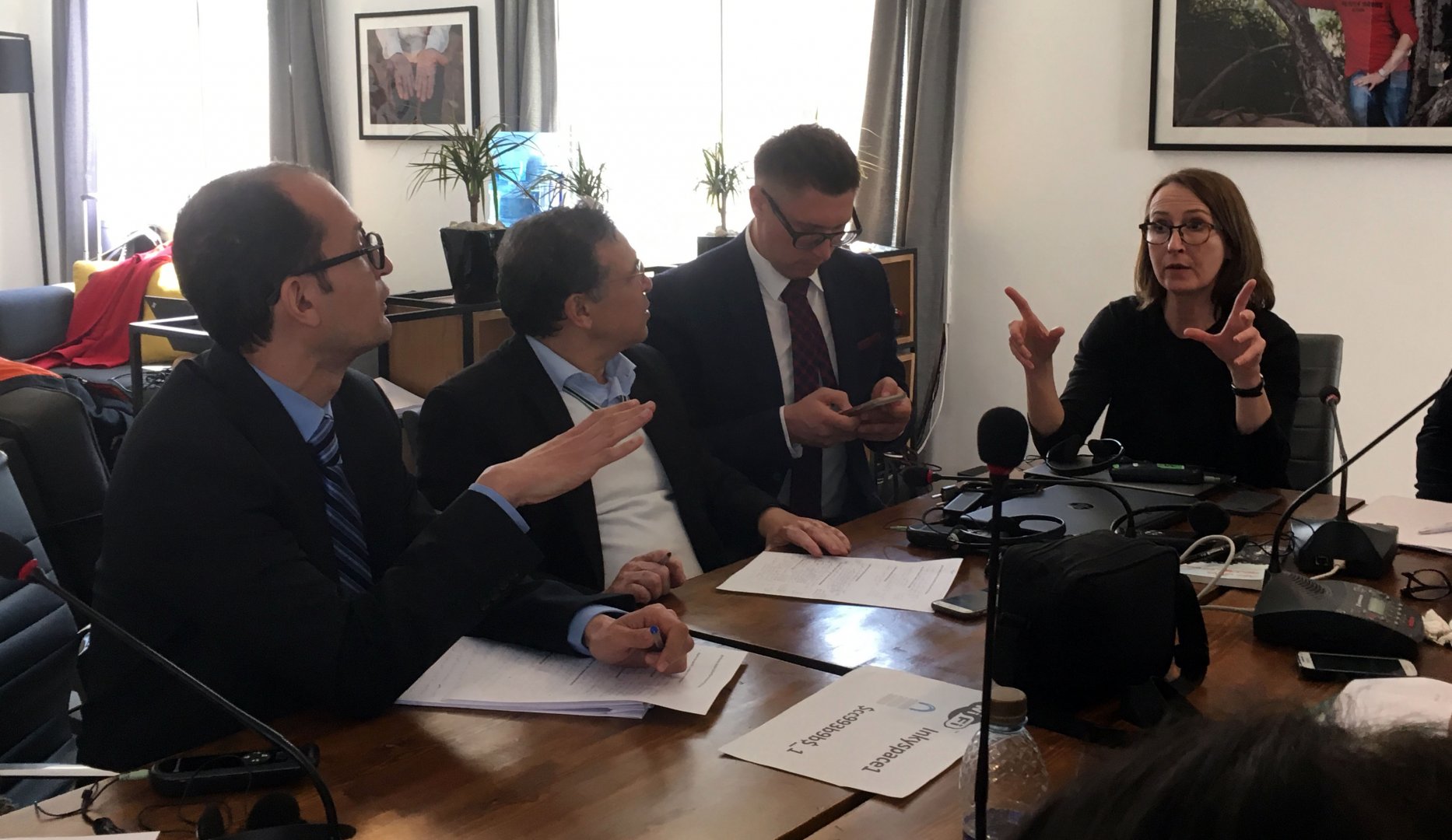 Getting a framework in place
One of the 15 partners from the MENA region who participated in the meeting was Vigilance for Democracy and the Civic State, a Tunisian association that defends and promotes freedom of expression and media freedom in Tunisia.
"The meeting has been very instructive and useful. To learn about the Ukrainian experience amazed me. It opened my eyes to other horizons, to other tools and to other possible solutions to the obstacles we face here in Tunisia," says Nedra Boukesra from Vigilance.
One of the tools, she found particularly useful was Taras Shevchenko's advice on setting up a spelled-out framework of rules to properly manage coalitions. Rules concerning how to resolve conflicts and how to exclude members, who do not contribute. Otherwise coalitions collapse.
"We have a lot of things in common. We share values and principles, but we also need to coordinate our way of working," Nedra Boukesra says.
Another aim of the meeting was to facilitate exchange between peers from the MENA region, and for Nedra Boukesra, this was very valuable. Especially the presentations from the other participants from Maghreb allowed her to better understand the situation of the neighbouring countries, which she sees as decisive also for the future of her own country.
"The situation in Tunisia can only improve if the general situation in the region improves. We cannot remain or present ourselves as a window of democracy in an environment otherwise dominated by dictatorships and regimes which are against democracy, freedoms and human rights," says Nedra Boukesra.