Expanding Myanmar's photojournalism generation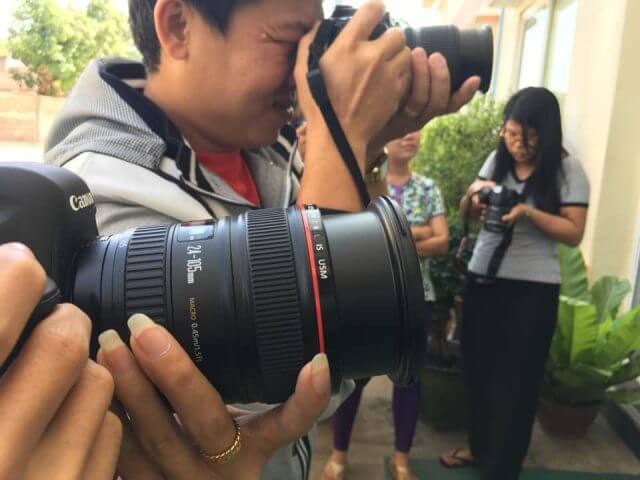 The ability of one photo to bring home a story in a way that thousands of words could not, has been proven time and time again. Only a few months ago, the photo of the little Syrian boy Omran sitting dazed at the back of an ambulance following an explosion went viral and subsequently led to a significant rise in funding to war-traumatised civilians in Syria.
In Myanmar, a focus on strengthening the abilities of upcoming photographers and journalists to tell stories with their photos has been a staple part of IMS' media development support since before a civilian-led government took over from the military regime 6 years ago.  In the lead-up to the IMS-Fojo supported annual Yangon Photo Festival, several workshops have engaged aspiring photojournalists in learning to tell stories through photos and to prepare their submissions for the photo festival.
One such workshop was held in Southern Myanmar where twenty-two aspiring photojournalists thus gathered to expand their capacity for powerful storytelling. The participants arrived with varying levels of experience, including some who were completely new to photojournalism, but by the end of the workshop, each had created a moving photo story documenting child labour in and around the city of Mawlamyine, the capital of Mon State.
The Yangon Photo Festival (YPF) is an annual event which celebrates the work of Myanmar's photojournalists through the public screening of multimedia photo stories. IMS has been one of the event's primary sponsors in the past, and this year the joint IMS-Fojo Myanmar Media Development Programme is lending support through program advisor – and former YPF award-winner – Pyay Kyaw Myint, who was one of three trainers at the Mawlamyine workshop.
Though Mawlamyine is not centrally located in Myanmar, participants flocked to the workshop – the second of four to be held before the YPF in March – from across the country, including two remote border states known for ongoing tensions between ethnic armed groups and the Myanmar military.
The popularity of the workshop is indicative of the demand for training among Myanmar's journalists. As the country's press has expanded from a censored, state-controlled, and largely print-based medium in 2011 to one that is free from official pre-censorship, marked by growing private ownership, and increasingly digitally-driven in 2016, Myanmar has seen an enthusiastic crop of new journalists appear.
Take the case of Mi Chanson, a return participant at this YPF workshop: after graduating from university, she became interested in the power of media as a tool for social and political change. She began working for local media near her home in Mon State, but quickly realised that she needed to improve her journalistic skills. Media training was – and continues to be – scarce outside the larger cities of Yangon and Mandalay, so when a workshop for the 2016 Yangon Photo Festival came to Mon State, Chanson jumped at the chance to learn.
The workshop proved to be a turning point in her career. Her photo story about a young Buddhist nun won second prize in the emerging artists category, and Chanson found herself on a month-long trip to Belgium to study photography. On her return, she was offered a job at The Irrawaddy, where she will start work in January. Meanwhile, she chose to participate in the YPF workshop a second time.
"2017 will be a lucky year," she says. She adds that, previously, "I had nothing, but now I can try [to be a professional journalist]."
Indeed, it seems as though 2017 will be a better year for all the workshop participants. Each one now has some solid journalism experience, and, perhaps more importantly, a better understanding of the ethics and importance of their profession. The final days of the workshop were spent discussing new global trends and pitfalls in the media, including the ubiquitous nature of Facebook as a news source and the growing phenomena of fake news stories.
Throughout the workshop, trainers stressed the great responsibility that lies on the shoulders of the participants. As part of the first generation of Myanmar journalists to operate in the country's increasingly free media landscape, it is they who will build the reputation of Myanmar's new journalism. It is they who the Myanmar public will, hopefully, learn to trust as a professional and unbiased source of news and information. With training from the YPF workshop, Chanson and her colleagues are better prepared to take on this responsibility than ever before.
The exhibitions for the 9th Yangon Photo Festival will take place 3-19 March 2017, with Yangon Photo Night Awards on March 11th. For more information, visit www.yangonphoto.com.