Road to influence – new advocacy tool kits for the Horn of Africa
In Somalia and Somaliland the media sector is fortunate to have a number of strong civil society organisations who defend, protect and give voice to individual journalists and med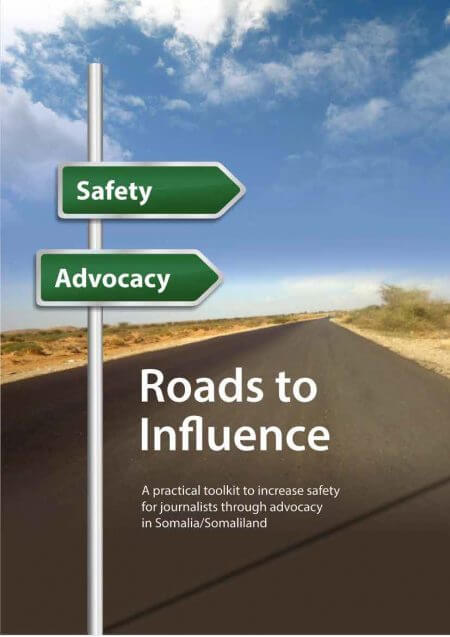 ia houses under threat. And in Somaliland and Somalia it is highly common for journalists to face harassment, imprisonment and even death for carrying out their profession.
Fortunately, an impressive number of organisations have begun to use advocacy more strategically as a way to increase safety for individual journalists.
International Media Support (IMS) and Fojo Media Institute (Fojo) have offered partners in Somalia and Somaliland practical training in preparing advocacy strategies through a range of workshops and advisory sessions. This new advocacy manual toolkit is a part of this capacity building focus and has been developed in consultation with partners. One main goal of the advocacy manual is to help partners analyze and develop a concrete plan and implement the various different steps in an advocacy strategy that could lead to change in favour of journalist's safety.
"The training gave us deeper knowledge and skills on how to make an advocacy in a strategic and coherent manner based on tested experiences and literature. As a result the Huma
n Rights Center Somaliland reviewed and reshaped its advocacy strategy which is now more effective and efficient", said Guleid Jama, Chairperson of the Human Rights Center.
"Our organization has been involved in the advocacy to support media for many years and the advocacy manual along with the training sessions has helped us improve our methods of advocacy and take a long-term approach to problem solving." said Dr Ahmed Isse, Executive Director of IPRT.
Partners taking part are Somali Media Association (SOMA), Somali Independent Media Houses Association (SIMHA), Somali Women Journalists Association (SWJ), Southwest Journalists Association, Media Association of Puntland (MAP) Human Rights Center (HRC), Institute for Practical Research and Training (IPRT) and Somaliland Journalists Association (SOLJA).
This advocacy manual is part of Strengthening Somali Media Program implemented jointly by International Media Support (IMS) and Fojo Media Institute (Fojo).