A group of journalists stand in protest against violations of expression. Photo: The Fences of Silence
Report: Need for press freedom reform in Sudan
Recent attacks on journalists make clear the need for reform in Sudan, shows IMS-supported report
By Naomi Hunt, Senior Press Freedom Adviser, IPI
If the flow of information and ideas in Sudan is ever to be free, Khartoum will need to change the way it treats journalists and the media, according to a new report by Sudanese journalist and press freedom advocate Abdelgadir Mohammed Abdelgadir.
His research, which documents violations of press freedom and freedom of expression that occurred between 2005 and South Sudanese independence in 2011, presents a Sudan keen to control the flow of information and frighten its critics into silence. Sudan and South Sudan both need to develop democratic state institutions that work, and a free press would play a key role in keeping the government accountable.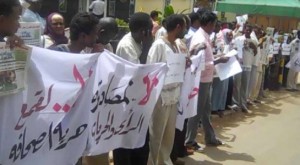 "Fences of Silence: Systematic Repression of Freedom of the Press, Opinion and Expression in Sudan" is available for download in English & Arabic on the IPI website.
Yet events this week indicate that there is still work to be done if press freedom is to become a reality. On Monday, security forces confiscated the entire print edition of Alwan newspaper, which had returned to newsstands after an earlier suspension. Other newspapers, such as the Communist party's Al Midan, have been suspended for months. According to Abdelgadir, five journalists are currently banned from working in the Sudanese press.
Of even greater concern was the reported detention and physical abuse of Sudanese journalist Somaia Ibrahim Ismail Hundosa. Hundosa, who lives in Egypt but covered human rights issues for Sudanese newspapers, was abducted by "a force of seven individuals who were riding a Prado pickup truck" on the evening of Monday, Oct. 29, while she was in Khartoum to visit her family, her family was cited as saying.
The journalist was reportedly found on a roadside on Nov. 2, her head shaved and her body showing signs of torture. She and her family have said they believe that the country's much-feared National Intelligence and Security Services (NISS) were responsible for the attack and, according to a Radio Dabanga report on AllAfrica.com, the family has filed a criminal complaint against members of the organization. Hundosa, originally Darfurian, had been called for questioning by NISS members just days before her abduction, and told her family that she had been followed by a red car, the Committee to Protect Journalists reported. Reporters without Borders said the journalist was under surveillance.
Against a backdrop of similar media attacks, Abdelgadir was moved to document the laws, institutions and methods that restrict freedom of expression and the press. The report, entitled "Fences of Silence: Systematic Repression of Freedom of the Press, Opinion and Expression in Sudan," and which covers the period from 2005 to 2011, was first released in Arabic and later in an English translation, both of which areavailable for download on IPI's website.
His report, which was produced with support from the Copenhagen-based International Media Support (IMS), documents press freedom abuses ranging from censorship, the suspension and confiscation of newspapers by the National Intelligence and Security Services or the government-run Press and Publications Council, detentions, arrests and the intimidation of reporters.
A lot of taboos remain
According to Abdelgadir, the media in Sudan will not be free until a freedom of information law is passed, the judiciary is reformed, press offences are adjudicated by civil courts and the powers of security services are narrowed to "prevent intervention in the performance of the press and the media."
Abdelgadir's report includes a long list of issues that were taboo during the interim period and remain so today, from Darfur to corruption to press and publication laws to the International Criminal Court, which has charged Sudanese President Omar Al-Bashir with crimes against humanity.
"There are a lot of red lines and restrictions. […] There are restrictions for national security, by law, by the courts, and other restrictions by other governmental institutions like the Press & Publications Council," Abdelgadir said.
As a result, many stories "are covered from one side, from a governmental vision," he added.
Hopefully, "Fences of Silence" will be a resource for local journalists to "know their rights and fight for their rights, their freedom," Abdelgadir said. "After I published the book, I frequently received calls and emails from journalists who were subjected to abuses, asking me to document [those abuses]."
And internationally, Abdelgadir hopes that perhaps the report will shine "a bit of light on press freedom abuses committed by the Sudanese government."
Fences of Silence: Systematic Repression of Freedom of the Press, Opinion and Expression in Sudan is available for download in English & Arabic on the IPI website.