Radio Ergo: Amplifying Somali Women's Voices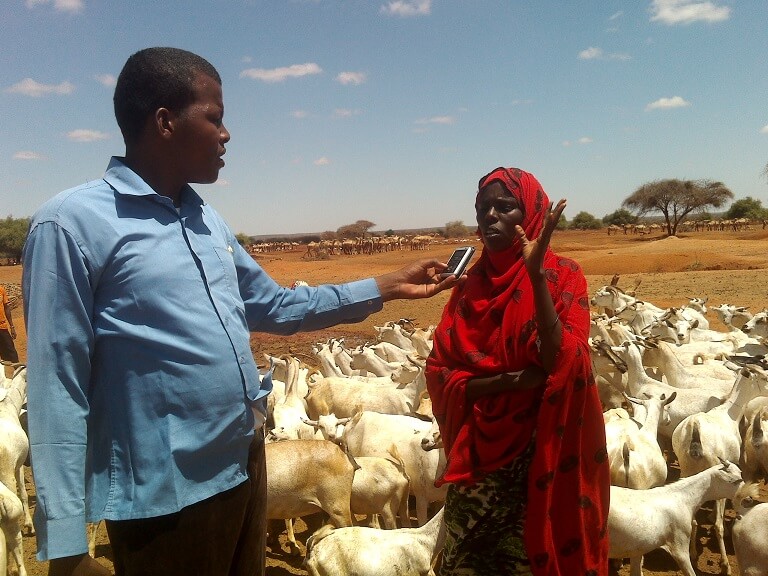 When Radio Ergo's team of producers first began registering male and female voices featuring in the radio's daily programme of humanitarian information for the Somali speaking region, it was clear that there was an imbalance needing attention. The number of male voices heard on the radio far outweighed the female voices.
Now, however, the IMS-run Somali humanitarian radio broadcasting across Somalia is starting to see the results of its new gender policy which includes efforts to raise gender sensitivity among its Somali producers and local correspondents.
Since January 2016, Radio Ergo has been monitoring the number of female and male voices included in its programming and analysing the way in which men and women are represented. The idea is to get women more involved in vocalizing their needs and views in public discussions, as well as to move away from the narrow stereotyping of men as leaders, for example, and women as subordinates or even victims.
Somali women's voices now represent an average of 35-40% of the voices heard on Radio Ergo every month. This compares impressively with the 24% share of female voices in the news globally, according to the 2015 Global Me dia Monitoring Project. In addition, the radio has made some strides towards demonstrating the value of women's contribution in Somali society through a sustained effort to overturn stereotyping.
"It is hard to change the typical profiling of women in roles of ordinary citizen or mother, but we have seen impressive signs of emphasizing women's positions of social responsibility and decision-making within those traditional and prevalent roles. Our approach rests on ascribing high value to women as often the sole income earners in the family, as keepers of the household, and as primary carers in charge of children's health and education," explains Louise Tunbridge, Radio Ergo's manager.
However, Radio Ergo still struggles to raise more voices of women in certain communities, most notably among pastoralists. Despite the ongoing training of the correspondents in the field and an overall increase in the number of women reporting for the radio, it is proving difficult to get access to women who will talk in these situations. There are also noticeably few women who use the radio's mobile phone feedback service to leave a message or comment relating to the radio programmes.
The radio is experimenting with ways of overcoming the challenges. One method that is proving to be promising is an ongoing series profiling women who are speaking out and making a difference in their own communities.
"We have achieved notable success in profiling women as role models. The best example was the story of an illiterate displaced pastoralist woman from Puntland who joined literacyclasses,opened a business, and became a local councillor in Godobjiran. The story was widely circulated in Somali media and much commented on," says Louise Tunbridge.
Radio Ergo is Somalia's only dedicated humanitarian radio service, providing life saving information to vulnerable communities. It airs for one hour each day on shortwave across the entire country and works in partnership with Somali FM radiostations.