Photo credit: The Benevolent Youth/The Myanmar Storytellers
Promoting peace through storytelling
While media in Myanmar struggle to cover conflict and reach the broader population, the Third Story Project has succeeded in reaching a different target group, children on the issue of peace and conflict mediation
The Third Story Project, which was created from a collaboration between the Myanmar Storytellers and the Benevolent Youth Association, is a group of engaged volunteers who set up a children's book project in 2014. The series of books on diversity and tolerance hopes to serve as a medium for the diverse ethnic groups to share their cultures and create trust between them.
One year ago, International Media Support (IMS) funded the production of the first children's book produced by the Third Story Project in Myanmar. Today, the Burmese organisation has created a total of eight children stories books, translated into nine ethnic languages and English. Distribution of the peace-promoting stories has reached over 20,000 children all over Myanmar.
Photo credit: The Benevolent Youth/The Myanmar Storytellers

Photo credit: The Benevolent Youth/The Myanmar Storytellers

Photo credit: The Benevolent Youth/The Myanmar Storytellers

Image credit: The Benevolent Youth/the Myanmar Storytellers

Photo credit: The Benevolent Youth/The Myanmar Storytellers

Photo credit: The Benevolent Youth/The Myanmar Storytellers

Photo credit: The Benevolent Youth/The Myanmar Storytellers

Photo credit: The Benevolent Youth/The Myanmar Storytellers
The books are built up around traditional storytelling techniques to engage children and youths in discussions around peace and reconciliation. In this way, the capacity of people to understand and resolve conflict is built at an early age.
"By supporting this project, we are investing in children and shaping their tolerance over different religious and ethical groups in society," says IMS Myanmar Project Coordinator Glen Swanson.
"The children are being taught to grow up without having judgemental opinions about other people with a different race or religion," he continues, referring to Myanmar's long history of internal conflicts.
Community outreach
Glen Swanson emphasises that the children's stories complement the work that IMS is doing in Myanmar, focusing on professionalising media in the country.
"The children's stories are a way of doing community outreach. By publishing the books in several different languages, we reach people who normally don't have access to this type of content."
According to Glen Swanson, These types of projects are highly relevant for conflict mediation. The books help to deal with issues such as rivalry between different religious and ethical groups in society."
IMS' role has mainly been concentrated around funding the organisation producing the books and giving advice on how to organise themselves, including some capacity building.
"We have helped them to develop an identity. It has been so great to see the work of these individual volunteers mature into an organisation that is now part of civil society," Glen Swanson says.
According to Third Story Project, the organisation aims to become a social enterprise in future, able to finance itself in a sustainable manner.
"Currently, the middle and upper class is approached with English versions of the books that they can purchase," Glen Swanson says.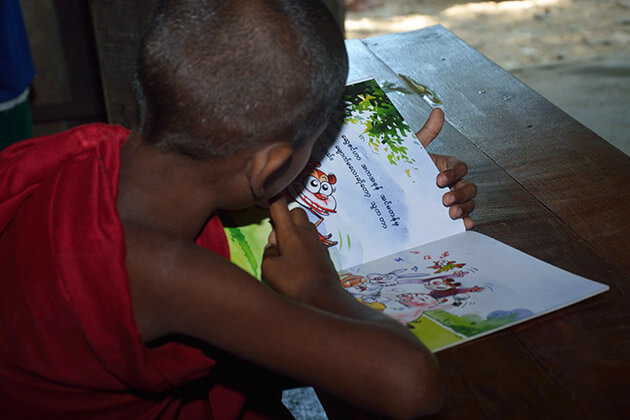 Encourage critical thinking
According to Mindy Walker, advisor to the Third Story Project, children in Myanmar rarely, if ever, have books in their own language or books of their own.
"We set out to solve that problem in addition to talking about peace, diversity and tolerance in a very simple way," she says.
The books are not preachy and do not tell kids how to think. Critical thinking questions are included at the end of each book and Mindy Walker is impressed with the many different messages the children take away from the stories.
"You don't realize the power of a book until you give one to someone who has never had one."
The translation of the books into nine ethnic languages, as well as English has increased the impact of the books on the children, especially those who have never seen their language in a colourful storybook.
"Storytelling has a rich history in Myanmar, but it is often not incorporated into education and I think that's the huge change that these books are creating.
"You don't really see teachers and parents reading to children. In school, you will not see a reading corner with kids able to grab a book at will or you won't hear a teacher acting out of the different characters in a book," she says.
Teacher guide book
The organisation is currently trying to focus on the multiplication of their messages. One way of doing this is by providing training for schoolteachers, including production of a teacher guidebook.
"With help from IMS, we have created a teacher's book to go with the books, so teachers can use different creative approaches and activities with the books," Mindy Walker says.
"We hope they will inspire creativity, encourage critical thinking and foster understanding."
IMS has been active in Myanmar since 2006, initially supporting exile media. Since January 2012, with financial backing from Sweden, Norway and Denmark, IMS has worked directly with government institutions, journalist associations, civil society groups, and other partners to develop a competent, professional and independent media.