New TV channel amplifies the voices of Algeria
"We see TVs and cameras around us all the time, but our voices never arrive upstairs. They have no echo. We want a TV channel that changes this."
It was a defining moment for Algeria's new private TV station Khabar Broadcasting Corporation, KBC, when a woman in a small, homemade audience survey expressed her expectations to the country's new broadcaster.
What she said pinpoints the crucial difference the people behind KBC are trying to achieve. They must be distinctively different from Algeria's traditional state broadcasters and find a niche where they can offer the Algerian TV audience something genuinely new: TV that reflects the life of ordinary Algerians.
Six months after the nervous and hectic launch of its first news broadcast in late March, KBC is making impressive headway.
Advertising revenue is growing steadily, and KBC is now among the top 5-7 most viewed TV channels, including foreign satellite channels, according to semi-professional audience research conducted in July after only three months of broadcasting.
The story behind KBC is fascinating. In 1990, a group of young journalists set up their own independent newspaper. They wanted to create something new in Algeria: a high-quality newspaper based on the principles of critical, impartial journalism. After founding El Khabar they soon learned that this kind of journalism could be very dangerous to practice. Algeria saw nearly 60 journalists killed in just five years between 1992-1996. El Khabar's first editor in chief, Omar Ouartilan was one of them. He was murdered in 1995.
El Khabar's journalists felt that introducing quality journalism to the Algerian public was too important a mission to give up on, so they pressed on. The paper is now Algeria's largest daily with a circulation of 450.000.
When the Algerian government decided to loosen their control over the broadcast media at the height of the Arab spring and allowed private broadcasters to start operating, the people behind El Khabar jumped at the chance to set up a TV station.
With capital from their successful newspaper and investments in printing presses they set up Khabar Broadcasting Corporation. Their goal was to establish a full-scale 24-hour TV channel—an ambitious undertaking anywhere in the world, but an exceptionally demanding task in the Middle East where powerful regional and international satellite channels dominate both airwaves and audiences.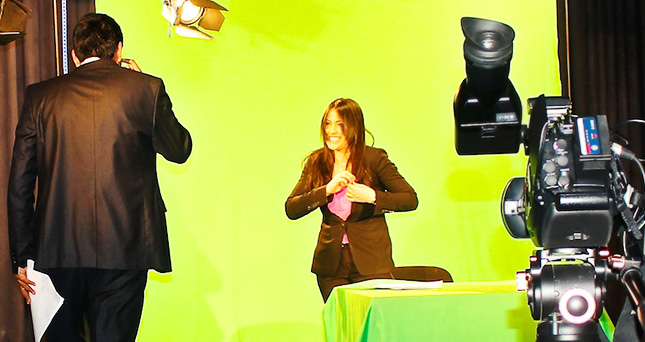 In stark contrast to the first news bulletins in late March, which were nervous and insecure, the news production at KBC is now smooth, calm and well organised. The station's seven daily news bulletins are televised on time, and everybody knows their roles and responsibilities. As they improve upon their daily routines, KBC's journalists are becoming increasingly adept at offering something that sets them apart: less coverage of press conferences, ministers and government officials, and more focus on ordinary citizens and how they are affected by the actions and inactions of the government. This is not an easy task in Algeria, but KBC's journalists remain determined to compete on quality news reporting. It's where they can make the biggest difference, they say.
News is the backbone of KBC, but the channel is gradually introducing current affairs programmes, talkshows, entertainment and children's programmes, so that it may soon call itself a full-scale broadcaster.
In a country where journalism education is largely confined to classroom lessons and where the state has dominated the broadcast sector for decades, the country's new generation of journalists have a lot to learn if they want to pursue a career in private broadcasting.
"We are in a learning phase. Our staff is very young and needs assistance. Here in Algeria we have very few who are specialised in TV broadcasting. When journalists graduate they have no practical experience, so they discover a whole new world here at KBC," said Ali Djerri, KBC's Chief Executive.
And they are learning fast. Now among the top 5-7 most viewed TV channels, KBC seems to be on the way to securing itself a solid position among the Algerian TV viewers.
IMS established a partnership with Khabar Broadcasting Corporation in early 2013 by providing expert advice and targeted training to its management and staff.