New report on electoral media coverage in Zimbabwe: Gender red flag raised
Media Monitoring Project Zimbabwe (MMPZ) has released a baseline report on election reporting in Zimbabwe, ahead of the 2018 elections scheduled for July 30th.  Key findings are that fairness and balanced reporting remain major challenges as partisan reporting, lack of diversity and under-representation of women remain glaring in news media across both state and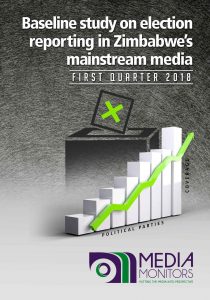 private media.  The report also shows that media coverage has largely focused on political parties and personalities whilst paying little attention to electoral processes and administrative issues.  Gender bias stands out with women political actors making up only 16 percent of the space and time allocated to political actors.
Discussions at the launch of the report on Tuesday pointed to the highly polarised and politicised environment that has resulted in media capture by political players and opening up of unethical conduct by media operators. Political pressure and lack of political interest in gender equality were cited as key reasons behind the trends in the report.
The report was produced as part of the IMS Programme, "Support to Media on Governance and Electoral Matters in Zimbabwe' funded by the European Union and the Norwegian Ministry of Foreign affairs  and whose goal is to support a free and fair electoral environment where freedom of information and expression is guaranteed and citizens are free to participate.
The programme seeks to address some of the challenges exposed by the MMPZ report through a partnership between IMS and nine Media Alliance of Zimbabwe partners that include the Zimbabwe National Editors' Forum, Zimbabwe Union of Journalists, Gender & Media Connect, Voluntary media Council of Zimbabwe, among others.    The report is one of the series of media monitoring reports to be released by MMPZ pre- and post the election period   on a daily, weekly, quarterly basis to keep key stakeholders updated on the media performance in electoral coverage.