New radio network to strengthen Somalia's media
As positive progress slowly unfolds in Somalia, a new radio network may prove a constructive next step for the conflict-marked country's media
Established by 13 Somali FM radio owners and directors, the network "Shabakadda 2013" (Network 2013) is set to strengthen the ability of the country's media to better serve the interests of the Somali public.
The establishment of the network was supported by IMS through its humanitarian radio service Radio Ergo, which operates out of Kenya.
"Great strength in unity"
The formation of the network is an exciting development that may enable Somalia's toiling media to play a key role in the country's move out of conflict, says Radio Ergo's senior editor, veteran journalist Abdulkadir Mohamed Mursal.
"It doesn't make sense to be on your own as a radio – there is great strength in unity. Now we are in a transition from war to peace in Somalia. This network has a lot of potential to ensure the media can impact positively in society for peace and reconciliation."
Changing political winds in Somalia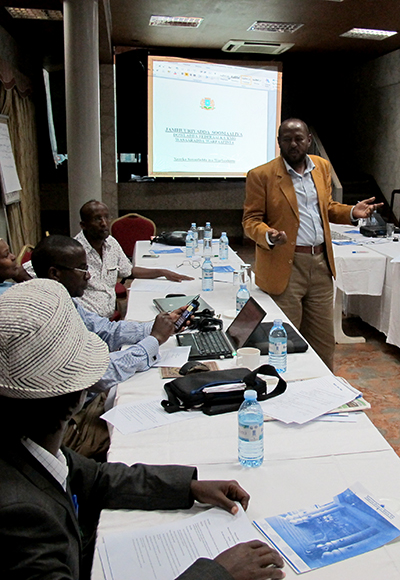 With the appointment of President Hassan Sheikh Mohamud in September 2012 and the subsequent establishment of a new government headed by Prime Minister Abdi Farah Shirdon alias Saaid, Somalia is seeing positive developments after more than two decades without a central government.
With a low literacy rate and a very vocal culture, radio is the most efficient media for outreach in the country. Radio receivers are small, cheap, and familiar to the nomadic population. In the absence of a strong national radio, numerous FM radio stations exist throughout the different regions, with a majority in and around the capital Mogadishu.
"Network 2013" is a first step to strengthen cooperation between the country's many local radio stations, which despite their high number have no formal association of owners, says Finn Rasmussen, Head of IMS' Africa Department:
"It is truly exciting that the radios have come together in this joint effort. Such cooperation is an indication that the media sector in Somalia is also seeing some of the country's positive progress towards peace and increased stability."
Serious challenges for radio
With 18 journalists killed in 2012 alone, Somalia remains one of the most dangerous countries in the world for journalists. Although violent incidents are decreasing, media workers still face high risks.
With inadequate finances and poor professional standards among many of Somalia's radios, the newly established network has its work cut out.
The 13 radios will be working to address the challenges for the media sector by acting with a unified voice on media law issues, strengthening the capacities of journalists and media houses, and producing joint programming to promote peace, stability and development.
After the formation of the network, the next step is to transform the cautious optimism in the country into tangible results, says Finn Rasmussen, Head of IMS' Africa Department:
"Now the ideas and positive spirit will have to be transformed in concrete actions, where the radios support each other and take joint initiatives for improving the media sector."
Background
The network's founding members are: Radio Kulmiye; Radio Daljir; Radio Dalsan; Star FM; Codka Nabadda (Voice of Peace); Radio Iftin; Radio Mustaqbal; Codka Gobollada Dhexe (Voice of Central Region); Radio Galgadud; Codka Mudug (Voice of Mudug); Radio Hurmo; Radio Kasmo; Gool FM.
Radio Ergo will function as a secretariat to the members of "Shabakadda 2013". With daily one-hour broadcasts, Radio Ergo provides its listeners in Somalia with valuable and life-saving information on issues such as health and HIV/AIDS, education, conflict prevention, and emergencies, such as droughts and floods.
IMS supports Radio Ergo through its daughter company IMS Productions ApS with a branch office in Kenya.