New online training programme for journalists in closed countries
A new programme seeks to bypass the safety concerns and closed borders in Syria, Yemen and Gaza by providing online training for media practitioners.
In recent years, conflicts, closed borders and lack of training institutions have prevented journalists from the three Arab conflict zones from receiving training to strengthen their professional capacities.
"There is a huge need for capacity building in these countries as good, professional journalism is even more important in conflict countries where journalism otherwise tend to be biased," says Henrik Grunnet, Strategic Adviser with International Media Support, who has developed the programme together with the Journalism and Communication Training Program at the American University of Beirut (AUB), the oldest and most respected university in the Middle East.
A comprehensive training
The programme will begin in February 2019 and can accommodate 7-10 journalists from each of the three countries. It consists of 11 modules which will be delivered in Arabic by a mix of strong capacities from the Journalism and Communication Training Program at the AUB and professional instructors from media outlets such as BBC, Reuters and the regional media Raseef22.
Each module lasts three weeks and covers different topics ranging from digital journalism and research methodologies to risk analysis and security. The overall objective of the programme is to empower the journalists, some of whom have never received any prior training, and to enhance their ability to produce professional content.
To counter slow internet connections, each session will be available for download also allowing the journalists to schedule their training according to their work.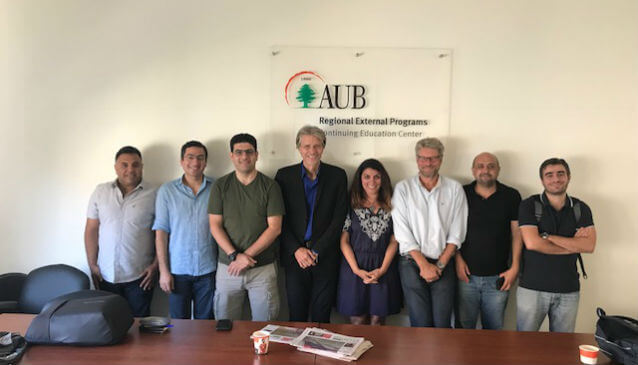 "It is a paradox and an advantage, that in countries with physical constrictions and where even humanitarian aid is blocked from entering, the internet is still working. This new programme allows us to continue building the journalistic capacity in countries where no one can enter or exit," says Henrik Grunnet.
Calls for application are open until 15 November – find more info (in Arabic) on AUB's website.