New exhibition: Afghan photographers on display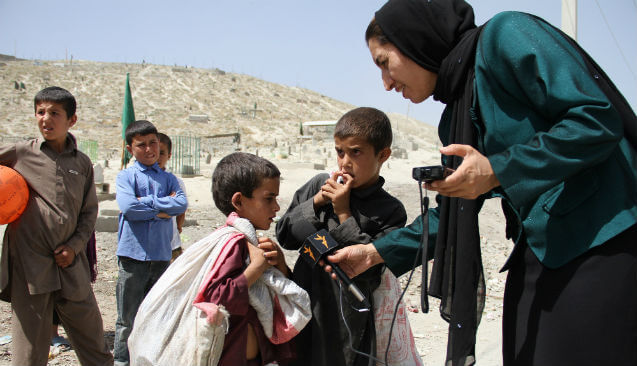 One of Radio Azadi's reporters during interview with street children in Qala e Khater, Kabul 15 May 2010. Photo: Haroon Sabaoon
The photo exhibition '16 Years of Reporting in Afghanistan' showcases the challenges for photographers and the tough environment journalists operate under.
Different threats loom large on the photojournalist community in Afghanistan.
During the Taliban era taking a photo was a crime, and after the regime fell in 2001 a flourishing free press emerged, and a photography revolution started.
Today photography is again under an intense pressure from various parties; Taliban, ISIS, warlords and powerful individuals working for the government, who are opposed to images and western news organisations equally.
A showcase of challenges
A new photo exhibition titled '16 Years of Reporting in Afghanistan' showcases the challenges for photographers and the tough environment journalists operate under while at the same time illustrating the remarkable growth of media and freedom of expression, including women's participation and their role in the evolution of media.
The photos depict various aspects of media work in Afghanistan. From the evolution of media since 2001 to safety challenges that journalists and media face, they offer a holistic picture of the state of media in today's Afghanistan.
Nationwide coverage
"People on regular basis don't get to see the amount of work journalists and media workers put into providing news and information to the public on daily basis. This exhibition is organized so that people get to see what a journalist goes through to bring the news to us," said Najib Sharifi at the opening on 25 October 2017.
Sharifi is the director of Afghan Journalists Safety Committee (AJSC), who is behind the exhibition.
The photos are now on display in Afghanistan Center at Kabul University, but will later travel the country to get a nationwide coverage and in 2018, the exhibition will reach Europe.
Academic interest
The academic world, film companies and international media have also been focusing on the story of the Afghan photographers and the new era of photojournalism in the warzone.
The latest research conducted by PhD. Saumava Mitra in 2017 investigated the "Adoptability and acceptability of peace journalism among Afghan photojournalists: Lessons for peace journalism training in conflict-affected countries ".
Mitra was interested in examining the duality of Afghan photojournalists who work for international media agencies. He explored how local photojournalists in post-conflict societies, who work for international media outlets, negotiate their position as 'local' journalists, who must report 'globally'.
International Media Support (IMS) and AJSC work to provide safety and protection for the media workers in Afghanistan. Since 2010, the work has also focused on photo journalistic skills by arranging courses on photojournalism. Supporting the empowerment of the individual journalists and communities, the courses have aimed to encourage the Afghan civil society by giving them both voice and face through photos telling stories of everyday life in Afghanistan.