Myanmar: Women's voices underrepresented in news coverage
A new landmark study shows that Myanmar media favour male over female voices in news representation: only 16 percent of the voices in Myanmar news media are female.
Worldwide the voices and views of men dominate news coverage. Myanmar is no exception. A new study of 2500 media stories by Myanmar Women's Journalist Society (MWJS) and International Media Support-Fojo Media Institute: "Gender in Myanmar News" shows that female representation in Myanmar media is one of the lowest in Asia.
"As journalists, we have to challenge gender stereotypes in our reporting. We have to challenge the view that women are victims and that men are survivors. We need to interview and source more female experts, and thereby balance male and female voices in our reporting," says Ma Zin Mar Lar Htay journalist and co-founder of MWJS.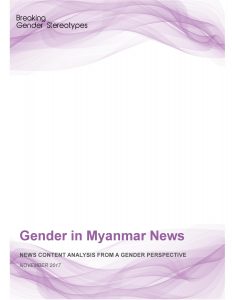 The study is the first to count female and male sources and analyse gender bias in news in Myanmar. The survey includes radio, TV, online and print. Of these, radio and online media have the lowest representation of female voices each at only 12 percent. The most gender-balanced news medium is TV, where female voices represent 22 percent in news coverage. In print news media, women's voices only account for 16 per cent.
When women are sources or subjects in the news, women are more likely to be quoted in relation to a personal experience they recount rather than as experts.
"Media is a tool to enhance gender equality and the survey illustrates that there is room for improvement in how news media portray men and women. Only 0.8 per cent of stories from our media study challenge gender stereotypes and only 6 per cent are considered to have gender awareness," says Ellie Swindon,  Gender advisor at IMS-Fojo, and adds:
"Chief editors and media house owners should encourage guidelines that help to ensure that men and women's voices are given equal space in media."
Regional differences
Besides differences in how women are represented on different media platforms from radio to TV, online and print, there are also vast differences across regions. In Chin state, only three per cent of the voices represented in media belonged to women, whereas in Sagaing media the share was 22 percent. Yangon-based and national media lie somewhere in between. Female voices in the news are most common in Pao language (33 %) media and least common in Tedim language media (0 %).
IMS/Fojo and partners in the media environment in Myanmar will use the data to advocate for a more balanced representation of female and male sources in news.
If you are curious to know how to do gender sensitive reporting, have a look at our website.
About the study:
The study is the first of its kind in Myanmar that focuses specifically on gender in news content. The study consists of data collection from 42 news outlets, including national and ethnic media houses covering newspapers, radio, online news and TV across Myanmar. The study uses a mixture of qualitative and quantitative methods, and is published as a website.
The study is a pilot, with a view to being replicated and repeated each year, as a way of tracking media's progress on this issue. The aim is to see Myanmar participate in the next 'Global Media Monitoring Project' (GMMP) in 2020, which is a worldwide media monitoring, research and advocacy project implemented collaboratively with women's rights organisations and researchers across the world.
The study is funded by International Media Support and Fojo Media Institute through their joint programme in Myanmar financed by SIDA and is the second publication on gender and media. Read more at mediasupport.org.
For more information, please contact:
Ellie Swindon, Gender Advisor, IMS-Fojo, esw@mediasupport.org, phone: 09767155099, or
Head of PR and Communication Team (MWJS), Zin Mar Lar Htay @Green, zinmarlar.htay@gmail.com, phone: 09 4210 11119
—
International Media Support and Fojo Media Institute are working to support Myanmar media partners in their efforts to develop independent and accountable media as a driver of positive social and political change.