Myanmar: Community radio is work-in-progress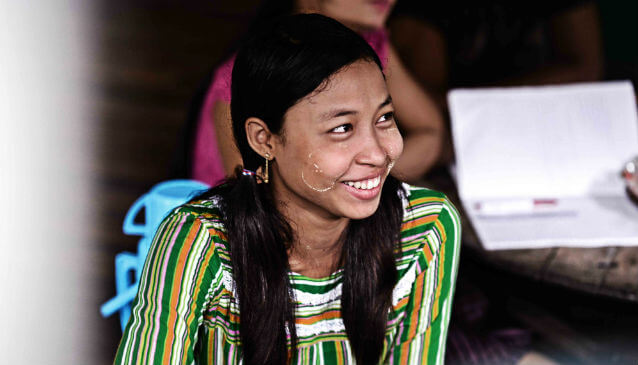 "I like to interview people from my village, listen to their voices and share their stories," says Ma Cherry Swe after a community radio workshop training in the town of Tanyingone, Myanmar. Photo: Chris Peken
IMS-Fojo kicked off the first community radio training in July for 10 young participants in Tanyingone Village, 3 hours south of Yangon, Myanmar.
Farming advice, health issues, and snail prevention were a few of the topics that the 10 community radio participants in Myanmar hope to address in broadcasts to their community – topics with relevance to people's every day lives.
This short video is from the IMS-Fojo workshop:
"Opening hours of the local clinic, advice from senior villagers on how to prevent snails from destroying farming efforts, and general health education for villagers are all issues that people would benefits from knowing more about. That is why community radio is so, so important for Myanmar. Villagers need vital information that can improve their everyday life," says Leytar Tun, IMS-Fojo Programme Officer and leading the community radio project.
"We have planned an intense course in basic journalism and radio skills training for the participants, which will give them the skills to interview, record, edit and broadcast community radio. Hopefully, we will broadcast the first programme before the end of the year," says Leytar Tun
About community media in Myanmar:
With an initial approval by the Ministry of Information, the IMS-Fojo programme has set about  piloting a community radio outside of Yangon, with a view to share best practices with key stakeholders. Currently, there is no community media broadcasting in Myanmar, despite the need for more information, education, and voice to people in rural areas. At a glance, the broadcast law enables community media to broadcast. However, in practice the government needs to define licensing policies and procedures to enable community media broadcasting. So far, no further actions have been promised by the government.
IMS-Fojo along with many other media stakeholders in Myanmar have long been making an argument for the need to scale up the use of community radio in Myanmar in order to reach the many rural communities and ethnic minorities scattered across the country. Recently, at the 5th annual Myanmar Media Development Conference in November 2016 which gathered both national and international media stakeholders, the challenges of media in rural areas and in small communities – such as  financing,  production,  distribution, human  resources,  and technical  issues facing media – were discussed.