Myanmar 2.0: Films and guests from the world's youngest democracy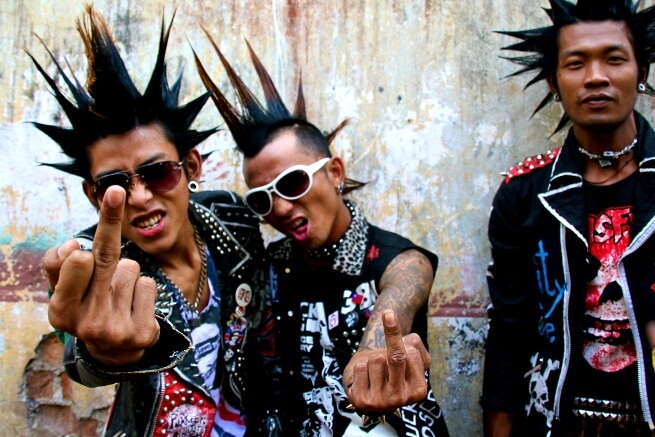 Picture from the film 'Yangon Calling'. Photo: Pressphoto/Cinemateket.
In an IMS-supported two-day event in early august, Cinemateket in Copenhagen is focusing on Myanmar with a programme presenting both films and debates.
Myanmar (Burma) has emerged from decades of darkness where freedom of expression was curbed and confined to the trusted corridors of the few. With a new semi-democratically elected parliament and a government to match – under the leadership of Aung San Suu Kyi – freedom of expression has drastically increased. This is compounded by an estimated 40 million people gaining access to the Internet almost overnight.
New contours of the media environment are taking form. Citizens and journalists use their newfound freedoms in unprecedented ways. Politicians, monks and civil society engage in an expansion and contraction of this new space, which is contested – and where rules are no longer set by a regime-controlled censorship board. But who then defines what is free and what is not – what can be communicated in the public domain and what cannot?
The event takes place 8-9 August 2017 at Cinemateket in Copenhagen. It is arranged by Cinemateket and Susanne Kempel and supported by Folkekirkens Nødhjælp, International Media Support, Dansk PEN, and Wathann Film Festival.
Programme for the event:
Tuesday 8 August
19:00: Religion in today's Myanmar / debate and short films (120 min.)
Guests: Helene Maria Kyed, senior researcher at Danish Institute for International Studies, activist Darko C from the organisation Turning Tables, and Esther Htu San, journalist, winner of the International Pulitzer Prize.
Short films screened: 'Sittwe' (Jeanne Hallacy, 2007, 19 min.) + 'Hero of Truth' (Nyein Nyein Aung, 2017, 19 min.) + 'An Open Sky' (Phyo Zayar Kyaw, 2015, 20 min.) + 'The Dissappearance of Roi Ja' (Calvin McLeod, 2016, 30 min.).
21:30: My Buddha is Punk / film and debate (90 min.)
Guests: Activist and musician Kyaw Kyaw, and Andreas Hartmann, film director.
Film screened: 'My Buddha is Punk' (Andreas Hartmann, 2015, 68 min.).
Wednesday 9 August
16:30: Myanmar's demokrati anno 2017 / debate and short films (120 min.)
Guests: To be confirmed…
Short films screened: 'A Peaceful Land' (Sai Kong Kham og Lamin Oo, 2015, 20 min.) + 'My Leg' (Khong Soe Moe Aung, 2015, 10 min) + 'Across the Riverwind' (Kriz Chan Nyein, 2016, 8 min.) + 'Ma Yan Chan – Waves of Transition' (Jonas Scheu, 2016, 29 min.).
19:00: Myanmar behind the facade / short films, talk and dinner (150 min.)
Guests: Mogens Lykketoft, MP and former General Assembly President of the U.N., and journalist and author Mette Holm.
Short films screened: 'The Special One' (Lamin Oo og Sai Kong Kham, 2015, 7 min.) + 'The Barber' (2014, 25 min.) + 'Sugar and Spice' (Mi Mi Lwin, 2015, 16 min) + 'Love in The Cinema' (Swan Yaung Ni, 2016, 18 min.)
21:45: Myanmar's wild youth / documentaries, debate + bar and DJ (120 min.)
Guests: Activists Darko C and Kyaw Kyaw, journalist Esther Htu San, and Esben Q. Harboe from International Media Support.
Films screened: 'Voice of the Youth' (Turning Tables, 2017, 20 min.) + 'Yangon Calling' (Axander Dluzak og Carsten Piefke, 2014, 61 min.)
Tickets can be ordered and purchased at Cinemateket's homepage.