ASP Effia Tenge, Public Relations Officer for the Accra Regional Police Command
Media preparing for elections in Ghana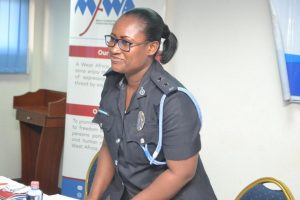 Ghana's elections on 7 December are fast approaching and both the police and media are major stakeholders in carrying out a peaceful, transparent, and successful election process.
To address this, IMS and Media Foundation for West Africa recently carried out safety training for journalists and facilitated a dialogue between journalists and police in Ghana to address safety issues before the  elections – in the hope of mitigating potential tensions during election period.
"It was a very frank and open discussion, which I hope helped all participants understand the concerns and challenges of the other side," explains Andreas Sugar, Head of Rapid Response of IMS, and continues: "The dialogue forum provided the basis for closer cooperation before, during and after the elections. Both journalists and police agreed on common safety initiatives and promised to engage in more meetings in the future to keep strengthening the police-media relationship," says Andreas.
During the elections, the public will be relying on the media for credible information. Political parties and candidates, interest groups, and other key stakeholders also rely on journalists for disseminating information on emerging issues, clarifying issues and expressing any concerns to the public. Journalists are therefore in the midst of competing interests and information throughout the election period. As a result, journalists are likely to become targets of threats and physical attacks by political activists simply for doing their work.
At the dialogue forum, police and journalists agreed on a set of safety guidelines, exchanged contact numbers in case of emergency, and promised to update each other on the safety situation during the vote.
The training of journalists took place on 17-18 November while the dialogue forum involving senior journalists and police officers was held on 23 November. It was supported by IMS and implemented by its long-time partner, Media Foundation for West Africa.