IMS: UN member states have the duty to protect journalists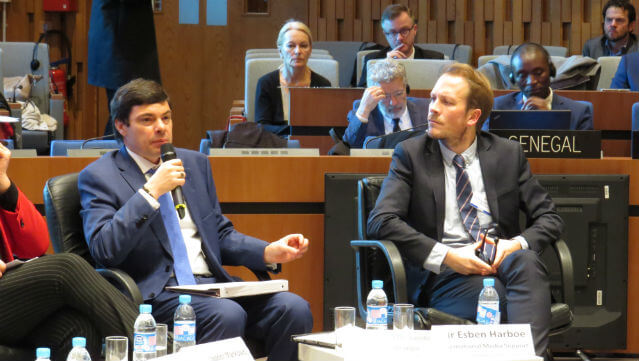 Esben Harboe presenting IMS' new publication: "Defending Journalism" in UNESCO HQ, Paris on 12 Dec. 2017. Photo: UNESCO
Around 150 representatives of Member States, civil society and the media gathered at UNESCO HQ in Paris on Tuesday, 12 December to discuss national initiatives for the safety of journalists. IMS was invited as keynote speaker and presented main findings from its recently launched book 'Defending Journalism – How National Mechanisms Can Protect Journalists and Address the Issue of Impunity'
"Much of the dialogue in recent years around establishing mechanisms tends to refer to government programmes. These initiatives offer protection to journalists, activists and other segments of society identified as being vulnerable, or facilitate investigation and prosecutions into attacks and killings. The responsibility for making sure that journalists are protected and perpetrators are brought to justice ultimately rests with the state," said Esben Harboe, IMS Deputy head of Department and manager of the organisation's global safety project.
"In many instances, however, the most effective response have been non-state initiatives that bring together NGOs, media and other national stakeholders into formal and informal coalitions, partnership–based projects and networks to improve coordination and pool expertise and resources."
Download the book 'Defending Journalism'
The interactive event was organized with members of the UNESCO Group of Friends for the Safety of Journalists, a group of 31 UNESCO Member States committed to enhancing protections for journalists.
The workshop commenced a series of events to celebrate the forthcoming 70th anniversary of the Universal Declaration of Human Rights, which stipulates the freedom to seek, receive and impart information.
In her opening remarks, UNESCO Director-General Audrey Azoulay reminded participants that "a free media is not a luxury. It cannot be an add-on to development – it is the heart of democracy – it is a force for individual empowerment and human dignity – it is a condition for good governance and the rule of law."
A panel of experts presented lessons learned from experiences in Afghanistan, Colombia, Serbia, Sweden and the African continent in preventing, protecting against, and prosecuting attacks against journalists.
There was widespread consensus about the importance of multi-stakeholder participation involving government, civil society, media houses, academia, the judiciary, and security actors. Building cooperation and mutual trust was identified as a key factor towards success.
The importance of tailoring mechanisms to local contexts was another point made in the discussion. Najib Sharifi, head of the Afghan Journalists Safety Committee, explained that "local knowledge is key" and that particularly "in a conflict situation, there is no precise recipe, you must engage everybody, and most importantly, you must engage journalists."
The meeting follows the adoption in November of Resolution 61 by the 39th UNESCO General Conference, encouraging Member States to strengthen voluntary implementation of the UN Plan of Action on the Safety of Journalists and the Issue of Impunity at country level. The event was organised thanks to the support of Austria, Canada, Sweden, The Netherlands and the United States of America.