Earthquake survivors wait for news of her loved ones, believed to be trapped under collapsed building on February 07, 2023 in Iskenderun, Türkiye. A 7.8-magnitude earthquake hit near Gaziantep in the early hours of Monday, followed by another 7.5-magnitude tremor just after midday. The quakes caused widespread destruction in southern Türkiye and northern Syria and were felt in nearby countries. Photo: Burak Kara/Getty Images)
Food, shelter, blankets – and information: Why good journalism is crucial in times of crisis
When disaster or crisis hit, access to reliable information can be a matter of life and death. And when the urgency is over, good journalism is needed to keep people in power to account
When a disaster hits, we intuitively understand the need for humanitarian assistance like food, water, shelter and healthcare. But journalism and access to information play a vital role during all crises, including natural disasters.
When information infrastructure and institutions are weak, uncertainty, confusion and panic grow, disinformation is easily spread, and even if help and aid are available, people in need might not know how or where to access it.
Factual and timely information can be lifesaving. A recent, devastating example of this is the disaster that followed in the wake of the two massive earthquakes that hit Turkey and Syria on Monday, 6 February. At the time of writing, the death toll has surpassed 40,000 and it is estimated that millions have lost their homes.
Syrian journalists have been reporting since the beginning
Immediately after the earthquake, our Syrian partners were on the ground both in Syria and Turkey, providing vital information to the most vulnerable victims of this disaster: the Syrian refugees and internally displaced people that were already in dire need of aid before this catastrophe hit.
"From that early Monday morning, we began reporting. And we haven't stopped since. We could not enter the building where our office is located because of the risk it might collapse, so we had to use the equipment we had at hand. Our job as journalists in a situation like this is to try and create a bit of clarity in a state of complete chaos," says Lina Chawaf, executive director of the exiled Syrian media Rozana Radio, which is located in the southern city of Gaziantep.
Rosana Radio was founded in 2013 after the outbreak of the war in Syria, and they have cultivated a large audience of Syrians of all ages, backgrounds and political and religious persuasions. They reach a large number of people in the areas affected by the earthquakes.
"People lost everything in an instant, they are on the streets. They need reliable information to answer all their pressing questions: Where can I go? Where will I be able to rest? Where do I find food and water? How do I act if another earthquake hits? How can I keep myself and my family safe? Where do I look for relatives and friends?" says Lina Chawaf.
Information as an antidote to chaos, confusion and uncertainty
It is in the nature of crises that they – to a greater or lesser extent – are defined by feelings of chaos, confusion and uncertainty. This is the reason that access to reliable and accurate information is crucial. Some of us may take this access for granted. In Denmark for example (IMS is headquarted in quiet Copenhagen), the large national broadcasting company, DR, is well-funded, independent and trusted by a record-high number of Danes. When a crisis hit (like we saw it with the Covid-19 pandemic), one of the first things Danes do is to turn on DR and wait for information and instructions.
But a lot of people around the world do not have the privilege of a strong, independent and trustworthy journalistic outlet, including the Syrians in Turkey and Syria.
"For Syrians, there is no centralised trustworthy news outlet. And a lot of the Syrian refugees in the affected areas in southern Turkey do not understand Turkish. For people within Syria, information infrastructure is weak, and for obvious reasons, many do not trust state-controlled media. They need information from us and other independent outlets. A lot of Syrians are already in such vulnerable positions after dealing with years of uncertainty and trauma because of the war," says Lina Chawaf.
Supporting local media caught in conflict and emergencies
IMS knows the value of independent media providing necessary information in a crisis like this, and we are helping our Syrian partners with equipment, temporary housing, basic necessities like food and blankets and psychosocial support.
We have provided similar support following other natural disasters, including by supporting local media after the harrowing earthquakes in Haiti in 2010 and Nepal in 2015 and the 2019 floods in Mozambique.
IMS' rapid response mechanism is set up to be able to provide urgent support to local media caught in emergencies and conflicts. The aim to enable media to continue operating and to do so safely, while producing reliable, accurate and conflict-sensitive information for the public.
Other recent emergencies where journalists and media workers have received support from IMS include Ukraine after Russia's full-scale invasion in February 2022, the Philippines after the super typhoon struck in 2021 and Sri Lanka after the popular uprisings and subsequent government crackdown in the summer of 2022.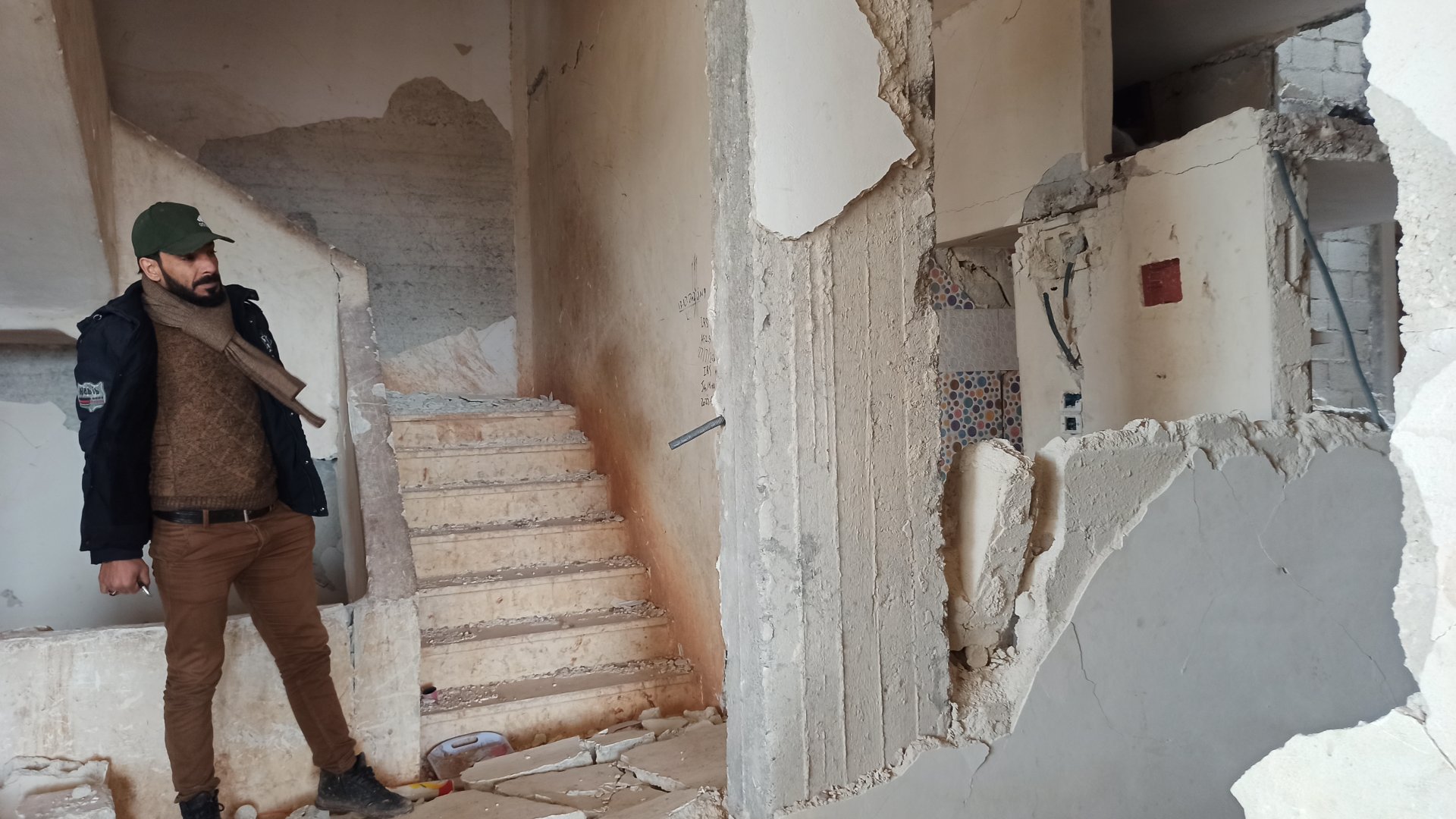 No rest: from emergency journalism to accountability journalism
At some point, the immediacy of any disaster will end and the long haul of rebuilding and reorganising will begin. But for independent journalists, there can be no time for rest, as media plays a crucial role in trying to secure accountability.
Earthquake, floods and storms may be natural disasters, but nonetheless, an array of important questions will arise to politicians and authorities: Did they do enough to prevent the disaster? Could the consequences have been fewer? Did the people in power take sufficient action? What was the quality of the emergency response? Has foreign aid gone to the places it was intended to go? Is it benefitting the right people? Will any fraud or corruption be dealt with? Will reconstruction and rebuilding be handled properly?
In Turkey right now, journalists are trying to shed light on state misconduct and corruption that permitted contractors to build residential complexes that were not properly compliant to the latest earthquake safety standards.
Cracking down on critical voices
Any state leader knows that there will be journalists asking these questions following a natural disaster, not least the President of Turkey, Recep Tayyip Erdogan, who is up for re-election in May. According to Washington Post and the Columbia Review of Journalism, from the get-go, Erdogan used the earthquakes as yet another opportunity to crack down on critical coverage and free media.
Just one day after the quakes hit, Erdogan characterised criticism of the disaster response as "fake news and distortions" and warned of future reprisals against those who "cause social chaos". Soon after, prosecutors in Istanbul launched a criminal investigation into two members of the press.
According to the International Press Institute, there have been several reports of arrests of journalists covering the aftermath of the earthquakes as well as restrictions on social media platforms. This harassment and repression of the free press is likely to continue, bearing in mind that reports by Reporters Without Borders places Turkey as number 149 out of 180 countries on the Press Freedom Index and describes Turkey as a country where "all possible means are used to undermine critics." Ninety percent of Turkish media is today under government control. Syria, with a ranking of number 171, and an ultra-authoritarian head of state, is worse.
Investigating reconstruction
After the earthquakes in Haiti and Nepal, IMS supported investigations and investigative journalists in their efforts to critically examine reconstruction efforts and the management of aid. We were instrumental in setting up the first fund for investigative journalism in Haiti (FIJH), focusing particularly on strengthening the capacity to hold government officials and aid agencies accountable during the reconstruction period. In Nepal, our local community radio partners played an essential role in documenting how reconstruction aid and grants were spent.
In Syria and Turkey, we have only seen the beginning of the coverage our partners will do on this catastrophe and its aftermath. We will continue our support of independent Syrian media outlets – as we have been since 2005 – so that they can carry on with their work of both covering the unfolding catastrophe and seeking to hold those in power to account.
---