Help Syria escape its information void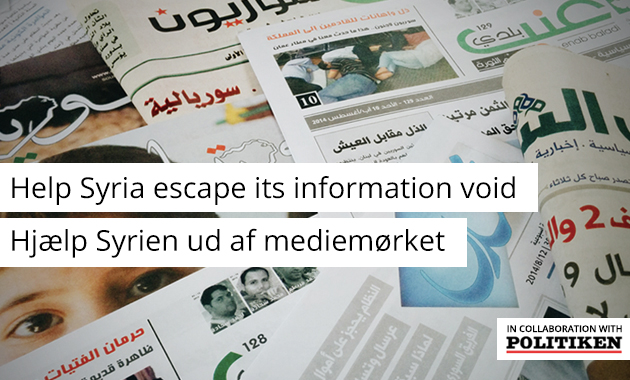 In the midst of Syria's chaos, people dedicated to the core values of the original broad popular uprising are struggling to write, print and distribute newspapers to the Syrian population about what's actually going on in the country.
In collaboration with International Media Support, the Danish daily Politiken has launched a fundraising campaign to support five independent Syrian newspapers' joint distribution programme inside Syria.
Visit Politiken to learn more about the campaign (in Danish).
The campaign is part of IMS' work to support the Syrian Network for Print Media in its efforts to provide Syrian citizens in Syria as well as in neighbouring countries with access to essential and diverse information under extremely difficult circumstances.
"Free and professional media is an urgent need in Syria. Without it, citizens are unable to stay informed about how the devastating war is affecting their own lives. IMS is committed to meeting that need through our support to the Syrian Network for Print Media, a group of courageous professionals who are devoted—despite being under great threat—to providing the Syrian population with informed news and debate," said Jesper Højberg, IMS Executive Director.
"The campaign launched by Politiken will hopefully contribute not only to raising funds—but also to raise awareness about the need for, and importance of, free and professional media in Syria."
Despite their increasing importance for the Syrian population inside and outside the country, particularly amongst those deprived of online access, Syrian print media are facing profound challenges not only to report from inside Syria but also in disseminating their productions under extreme security threats.
Five of the most prominent, independent Syrian newspapers (Koulouna Sourioun, Sada al-Sham, Tamddon, Enab Baladi and Souriatna), recently took the important step to found the Syrian Network for Print Media, SNP, based on a set of shared journalistic principles and ethical standards.
Donations raised by Politiken's campaign will go in full to SNPs members' production and distribution of independent newspapers to the Syrian population.
The joint printing and distribution of the five newspapers is crucial because it enables them to reach out to a wider audience.
Until now, printing and distribution has primarily been carried out with each media relying on its own individual distribution network or on distribution networks that may potentially exert influence on their editorial freedom.
By supporting the distribution of the newspapers produced by the Syrian Network for Print Media, Politiken's campaign aims not only at making the papers more widely available but also to support their editorial freedom.
You can support Politiken's campaign by donating online. If you have a Danish phone number, you can also donate DKK 150 by texting 'POL' to 1919. You'll be charged DKK 150 + normal SMS charge.