A good media environment takes time to cultivate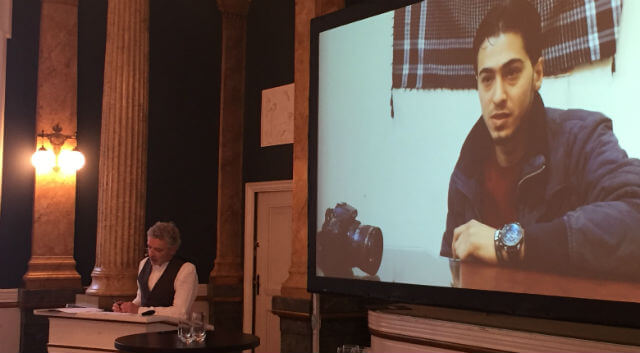 International Media Support celebrated its 15-year anniversary on 15 December with a public discussion amongst experts and practitioners on the future of media development. The organisation established that the world more than ever needs reliable information – and that good journalism and an environment that encourages and safeguards it takes time to cultivate
We all know him. Smeared in ashes with the left side of his face covered in blood, he is sitting – just sitting – there inside an ambulance. No tears. Dazed and numb.
The video footage of the small Syrian boy, Omran, flickers across the faces of the audience at IMS' 15-year anniversary event in Copenhagen. A couple of months ago, the video footage of Omran moved millions of people across the globe and for a short while brought their attention to war-stricken Syria. The footage was shot by Mustafa al-Sarout, a former tailor turned journalist. Now, working with the IMS-supported Aleppo Media Centre, he risks his life on a daily basis alongside peers to report on the atrocities taking place in Syria's devastating civil war. .
"Powerful images – and this is happening as we speak," said Jesper Højberg, Executive Director of International Media Support, with reference to Assad's seizure of Aleppo, the opposition's biggest stronghold.
"I would like this celebration event to be a tribute to the IMS-partner, Aleppo Media Centre and to its courageous staff, to all Syrian journalists and Syrian media, and to all the brave media workers around the world working to make lifesaving information and investigative stories and footage available to local and international audiences."
Listen to Jesper Højberg's message here.
Long-term engagement
IMS was established in 2001 in the wake of the tragic events in Rwanda and the former Yugoslavia. In the 1990s, these and other conflicts saw media being manipulated and used as a tool to fuel violent conflict. IMS was set up in response to this trend with the aim to help local media working in conflict-affected areas to remain operative and professional. Since then, IMS has worked across four continents and been present in some countries for more than a decade, on and off.
One of IMS' flagship programmes, the work for independent and critical media in the Middle East and North Africa, funded by the Danish Arab Partnership Programme, was also on the agenda at the anniversary debate event. Rana Sabbagh, Director of the IMS-founded Arab Reporters for Investigative Journalism and long-term partner of IMS, compared the growing of a strong institution and the seeds that can be sown from it to growing an olive tree. According to Ms Sabbagh,  long-term commitment when working with development of media is key.
"You should not look at quick hit and run-results, you should basically look at growing olive trees," she says and explains:
"To begin with, the trees are weak with no yield and need attention and nursing. But once they have grown and their roots are deep in the ground, the trees are strong, persistent and can resist anything."
Together with Rana Sabbagh in a debate was the former Danish Minister of Foreign Affairs, Per Stig Møller,  founding father of the Danish-Arab Partnership Programme.
"Freedom of speech and freedom of press is an important area. If you loose that, you loose everything," says Per Stig Møller.
Fighting misinformation and hate speech
According to Jesper Højberg, the support for media is more important than ever, because these are dire times for media and journalists around the world.
"We live in a time of misinformation, hate speech, fake and fabricated news, which are used to undermine the trust of democratic dialogue and independent media," he said, as he unveiled the future strategy of IMS which focuses on ensuring independent and reliable journalism, a safe environment in which for journalists to work and media law reform to safeguard the rights of media workers. ".
The strategy is a response to the far-reaching changes and challenges IMS sees in the world today. There is a growing acceptance of authoritarianism. More countries limit freedoms and the space for civil society in media is shrinking. Only one out of seven people worldwide has access to independent media and more journalists than ever were killed in 2015  than ever before.
"Partnership, Presence and Persistence are key to achieving results in media development," Jesper Højberg concluded.
For more information about International Media Support, visit www.mediasupport.org.