Fighting prejudice through documentary filmmaking in the Arab world
Bringing together the Arab and Scandinavian film communities, the fifth annual Malmö Arab Film Festival took place in October 2015. The IMS-supported festival is a reminder of how documentary films are for many the only tools to raise their voice on sensitive topics
The five-day long film festival presented this year 120 Arab feature films, documentaries and short films. As one of the largest Arab film festivals in Europe, Malmö Arab Film Festival (MAFF) introduced this time also the festival's first film market, the MAFF Market Forum.
The forum is the first industry platform for co-production between the Arab world and Scandinavia, with the aim of establishing collaborations, co-productions and new distribution opportunities between Scandinavia and the Arab World.
As part of the MAFF Market Forum, the festival organised in collaboration with IMS a documentary post-production platform. This platform was an initiative to encourage and support Arab documentary filmmakers to complete their feature documentary and promote it in an international forum.
"We are proud to have initiated this collaboration with International Media Support, also in collaboration with Screen Institute Beirut. The initiative was very successful and IMS was an important part of the foundation of the project," says Mouhamad Keblwai, General Manager of MAFF.
The IMS-supported Screen Institute Beirut provides grants and coaching schemes to young professionals across the Arab region.
"IMS and Malmö Arab Film Festival share the basic values in our work – to promote collaboration across borders and create a platform for designers to showcase their projects and films," Mouhamad Keblwai continues.
Six projects were selected to participate in this pitching programme. Among these was Anthony Chidiac, the Lebanese director of "Room for a Man". In his documentary, Anthony Chidiac fights the prejudices the Lebanese society has against homosexual people.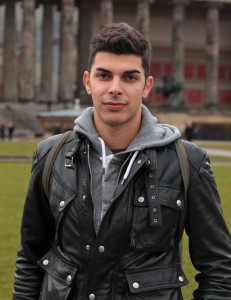 According to Anthony Chidiac, the young director feels that everyone but him knows what it means to be a man. By reconstructing his own bedroom, he tries to find room for a man.
"I wouldn't label it as a film for gay people. Discrimination can target everyone, including Syrians, refugees and many more. It is a film for everyone who is facing prejudice in society," says Antony Chidiac.
Anthony Chidiac won two awards at Malmö Arab Film Festival: The Grading Award by Lilapost in Lebanon and the Distribution and Marketing Award by Mad Solutions in Egypt and the United Arab Emirates.
"I believe that everyone ought to be able to speak up for themselves in 2015. That is my personal vision with this film," he continues.
The young film director participated in IMS' exchange programme five years ago, a twinning programme that aims at strengthening the skills of individual filmmakers and create a network for filmmakers from the Arab world and Denmark. The exchange programme is a collaboration between IMS and the National Film School of Denmark.
Through the exchange programme, Anthony Chidiac came to Denmark to participate in a course at the film school. This led to the production of "Equal Men", a documentary about the gay community in Copenhagen.
"It is important to me as a filmmaker that I work with topics that can I personally relate to," says Anthony Chidiac, who criticises mainstream media in his own country for portraying gay people in a stereotypical way.
"By making documentaries on this topic I can help portray gay people more realistically."
IMS and documentary filmmaking
IMS has been engaged in documentary filmmaking in the MENA region since 2005, with the aim of strengthening filmmakers and institutions by working proactively with film production, training and distribution.
"Documentary filmmaking is a way to create public debates about sensitive issues that journalists may not be able to cover in mainstream media," says Rasmus Steen, IMS Programme Manager. "This way we can encourage debates in society."
Co-production is a central tool to strengthen documentary filmmaking in the MENA region.
"By working together across borders we have a better chance to actually get a genuine understanding of each other. Filmmakers tend to understand that they can benefit from such collaborations – perhaps the rest of society has something to learn from that," Rasmus Steen continues.
IMS' documentary filmmaking activities are supported by the Danish-Arab Partnership Programme. Read more about IMS' documentary filmmaking program.