(Photo by Zakir Hossain Chowdhury/Anadolu Agency via Getty Images)
Covid-19 pandemic
Sri Lanka: Fighting Corona and the lies in its wake
On social media people were trying to identify the ethnicity of Sri Lanka's first Covid-19 victim. The story quickly spawned and factcheckers from the NAD network took note.
Sri Lanka recorded its first Covid-19 related death on March 28th.
But was the deceased a Sinhalese or a Muslim? On social media people were trying to identify the ethnicity of the victim. One query came from a social media user named Mohamed Rufinas, a Muslim. He was not looking for information about the ethnicity of the person who died, but rather hoped to get clarification about the cause of death. Responding to his Facebook query, another provided details released by the health authorities – details that did not include a name. Soon, a message was shared stating that 'Mohamed Rufinas Sri Lanka's first COVID-19 death…'
The Network Against Disinformation (NAD) is an IMS led multi-stakeholder initiative fighting misinformation about Covid-19. As soon as NAD began fact checking the story and saw the mistakes made, one team member wrote to the Tamil Vidivelli Newspaper and Vidiyal.lk, a Tamil news website in order to clarifying the situation.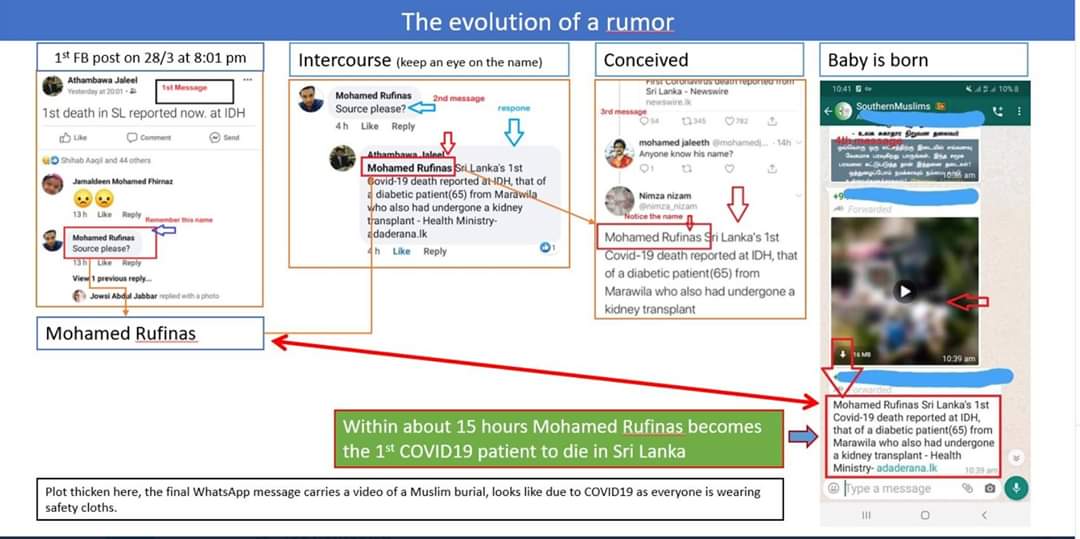 Using the headline "Corona: Is the first person to die a Muslim", the writer not only corrected the wrong information, but also used the opportunity to educate readers on the dangers of sharing information without checking facts beforehand. It was pointed out how important it is to confirm the source and determining their reliability. Readers were also advised to ask themselves whether or not the information is relevant before sharing.
The March 30th editorial byTamil Mirror – penned by a member of NAD's Expert Panel titled ''Ethnic-ising the coronavirus' noted the prevalence of hate speech as Sri Lanka's coronavirus cases spiked. The editorial noted that the untrue narratives regarding the ethnicity of those dying from Covid-19 can spark tension between communities.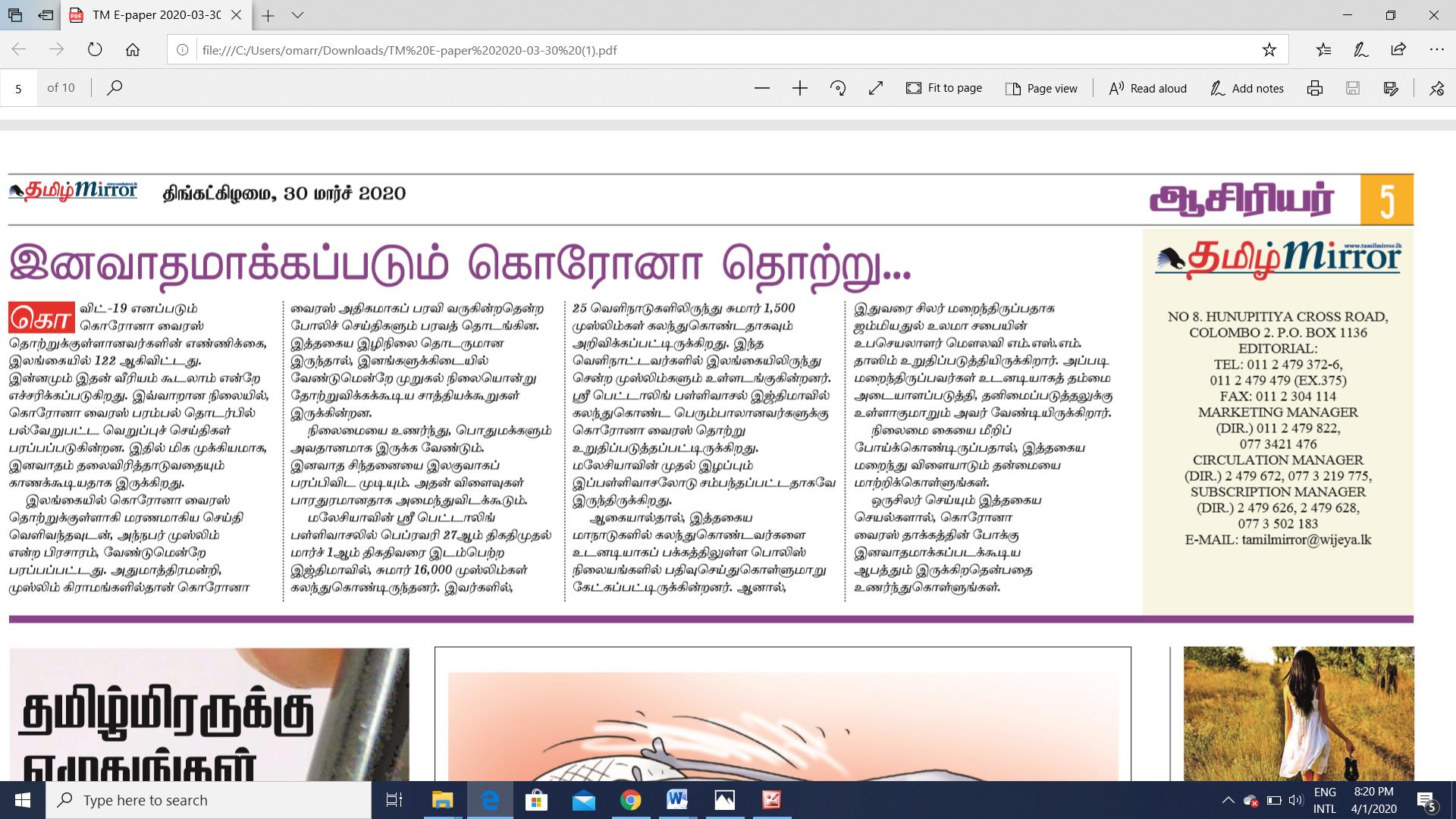 As reported earlier, NAD came together as an IMS initiative to counter disinformation during elections, but the network has now changed its focus onto disinformation regarding Covid-19. Sri Lanka's Parliamentary election scheduled for April 25th has been postponed indefinitely, while the country battles Covid-19. Indeed, debunking dis/misinformation regarding Covid-19 has quickly become an almost full-time occupation for the team.
In another development the Broadcasters Guild of Sri Lanka is now negotiating with NAD about hosting a ten-minute show for its member TV channels, debunking disinformation on Covid-19. The project is to be carried out in partnership with the Department of Government Information and a pilot is being finalised. The twice-weekly programme, scheduled to air next week if all goes to plan, will feature both Sinhala and Tamil content
NAD factcheckers will also discus coronavirus disinformation on the Sinhala language radio show called Neth FM.