RAWALPINDI, PAKISTAN, MAY 7: A Pakistani official wearing a mask checks the body temperature of a woman who arrives at National Database and Registration Authority (NADRA) office for new registration and biometric identification under Ehsaas Emergency Cash program in Rawalpindi, Pakistan on May 7, 2020. NADRA offices have resumed operations in Pakistan to facilitate beneficiaries of Ehsaas Emergency Cash who were facing problems in withdrawing cash due to faulty biometric identification and registration of deaths eligible family members during lockdown in the country. The coronavirus death toll in Pakistan has reached to 545 and 23,693 infected people (Photo by Muhammad Reza/Anadolu Agency via Getty Images)
Trolls in Pakistan: A woman journalist is harassed online
Pakistan was the second+most dangerous country in which to be a journalist in 2020. According to IFJ, and not counting deaths of journalists from Covid-19, only Mexico was more deadly. Over a period of three decades from 1990, when such records began, Pakistan has ranked as the fourth most deadly country, with 138 journalists confirmed as killed in connection with their work.
Freedom Network, an IMS partner in Pakistan, says that over the past decade not a single killer of a journalist has been convicted, with the CPJ highlighting "corruption, weak institutions, and a lack of political will" as reasons for the ongoing impunity. In late 2020, the High Court in Sindh acquitted the four men who had been convicted, in 2002, of the murder of US journalist Daniel Pearl, after evidence emerged the prosecution had misled the court.
Now, in the first reported cases, women journalists in Pakistan have been killed as a direct consequence of their work. In November 2019, 27-year-old Arooj Iqbal was shot dead in Lahore, just hours before publication of the first issue of a local newspaper she had founded. The chief suspect, according to RSF, is her ex-husband, also a newspaper editor. Family members told RSF he was furious that Iqbal had started her own publication. According to RSF, Iqbal is the first woman journalist to be murdered in Pakistan because of her job.
In this video, Pakistani media outlet Lok Sujag zooms in on Benazir Shah's experiences as she sought truth and transparency, and was met instead with misogynistic mocking, abuse, and harassment on social media. As she asked questions about the reliability of government reports on Covid, some parliamentarians used her own private pictures to bait and unleash an army of trolls her way. Sujag is a multi-media digital platform based in Pakistan. It is focused on issues and communities that have been marginalized in the mainstream discourse and aims at helping the marginalized and the oppressed to articulate their demands and make those demands heard within the power corridors.
In September 2020, Shaheena Shaheen, a talk show host on Pakistani Television and editor of a local magazine, was shot dead at her home in Balochistan. Again, police said the principal suspect was her husband, who had dropped her off at hospital in critical condition then fled into hiding.
The killings come amid a deluge of online assaults against women journalists, including threats of death and rape. In September 2020, The Coalition for Women in Journalism reported that most online violence against women journalists followed their reporting on alleged failings by the ruling party led by former cricketer and now Prime Minister Imran Khan.
"I never, ever, faced such trolling and online abuse, until I started reporting on Covid," said Benazir Shah, a senior reporter with Pakistan's Geo News TV channel. Shah also wrote the Foreword for this IMS report. In a video produced by IMS' partner Lok Sujag, she tells how she came under sustained attack from officials and their followers after having questioned the reliability of the government's Covid-19 data.
"Once a government minister or official accuses you, a trend of online abuse starts right away," said Shah. "Some MPs of the ruling party picked up private pictures of me from Facebook and shared them on Twitter. They accused me of taking money from their rivals to defame the government. The abuse continued for weeks. They tag journalists, saying we are spreading fake news. This makes us vulnerable to attacks."
For some years, through its partnership with Freedom Network, IMS has supported a network of safety hubs in key press clubs in Pakistan. To journalists who have been threatened, these offer training and resources for pre-empting threats, relocation within country, plus medical or legal aid, through the Pakistan Journalists Safety Fund. By such rapid assistance mechanisms, the hubs and the fund have helped hundreds of journalists to avoid potentially vicious, even fatal, reprisals.
In 2020, IMS also expanded its public interest journalism support programme in Pakistan by helping to establish the Digital Media Alliance of Pakistan (DigiMAP), a group of non-legacy media and independent public interest journalism startups that chart professional standards in digital journalism and explore business viabilities. This includes helping Lok Sujag improve its institutional development strategies, professional showcasing of public interest content, and outreach to new audiences.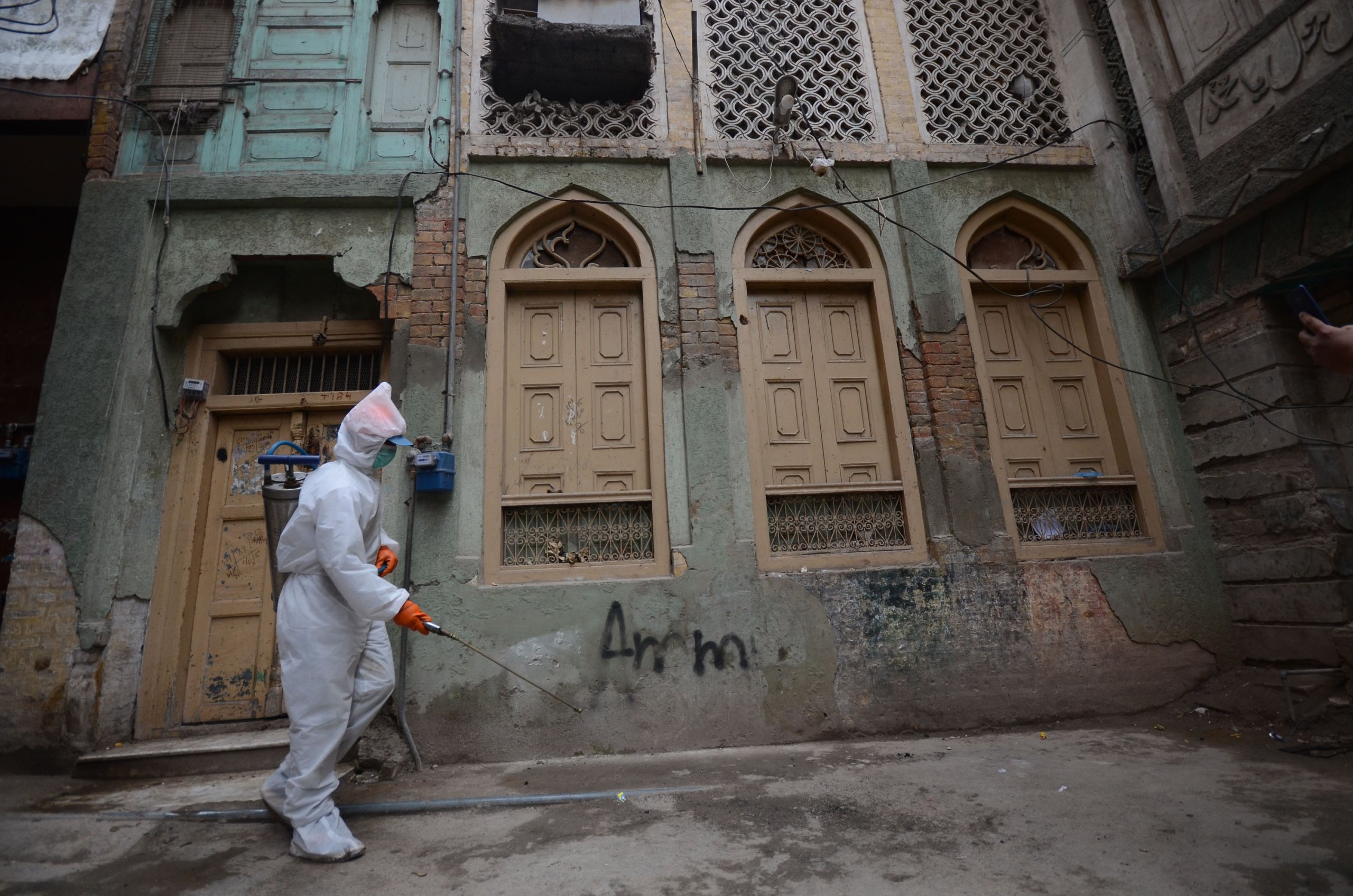 Background: Covid-19 in Pakistan
A returning passenger from Iran was Pakistan's first Covid-19 patient. His case, first reported in late February 2020, caused widespread alarm, as Iran is a popular destination for religious pilgrimage for many Pakistanis.
China, where Covid-19 first emerged, also shares a border with Pakistan. Thousands of people travel between the two countries each year for educational, commercial, touristic and other purposes. Pakistan, therefore, closed its borders with China immediately after the breakout of the disease, and suspended all travel between the two countries.
No such restrictions, however, were imposed on travel to and from other coronavirus-infested regions such as the United States, Europe, and the Arab states, where millions of Pakistanis live and work. Within a month of detecting its first patient, Pakistan started recording 200 confirmed carriers of Covid-19 every day.
Actual numbers must have been higher, as testing capacity at that particular time was extremely low.
The coronavirus also caused political discord between the federal ruling party, Pakistan Tehreek Insaaf (PTI), and Pakistan People's Party (PPP), which rules the province of Sindh where most of the early Covid-19 cases were detected. The latter wanted a complete lock down, noting Pakistan's weak health infrastructure. On the other hand, the ruling party feared that a strict lockdown would severely damage the economy.
As in many battles, truth and access to information became a casualty. It became very difficult to secure verifiable data. Media, meanwhile, became a target of organized troll armies supportive of – and likely sponsored by — the federal government.
By late March, educational institutions, government and private offices, restaurants and marriage halls and air, road and rail traffic were all shut down. Shops and markets were also told to implement social distance and other precautions and to shutter before sunset. The government also established a National Command and Control Centre (NCOC) in Islamabad for collecting and disseminating information nationwide.
This system made it easy for the government to centralize and streamline data gathering and distribution but this also made it very difficult for journalists to obtain information from the ground. Government would only clear aggregated statistics, making it difficult to have a finer understanding of the situations at the local levels.
And then, without offering any data in the support of its decision, the government lifted the lockdown in mid-May even as Covid-19 cases continued to surge. By June, Pakistan was seeing 7000 new confirmed cases per day. And then the rise seemed to slow in late July – though it remains unclear why. Again, the lack of data in the public domain remains a troubling reality.
By late October, the total number of patients in Pakistan was nearing 330,000 of which nearly 310,000 had recovered. More than 6,600 people had died, according to official estimates.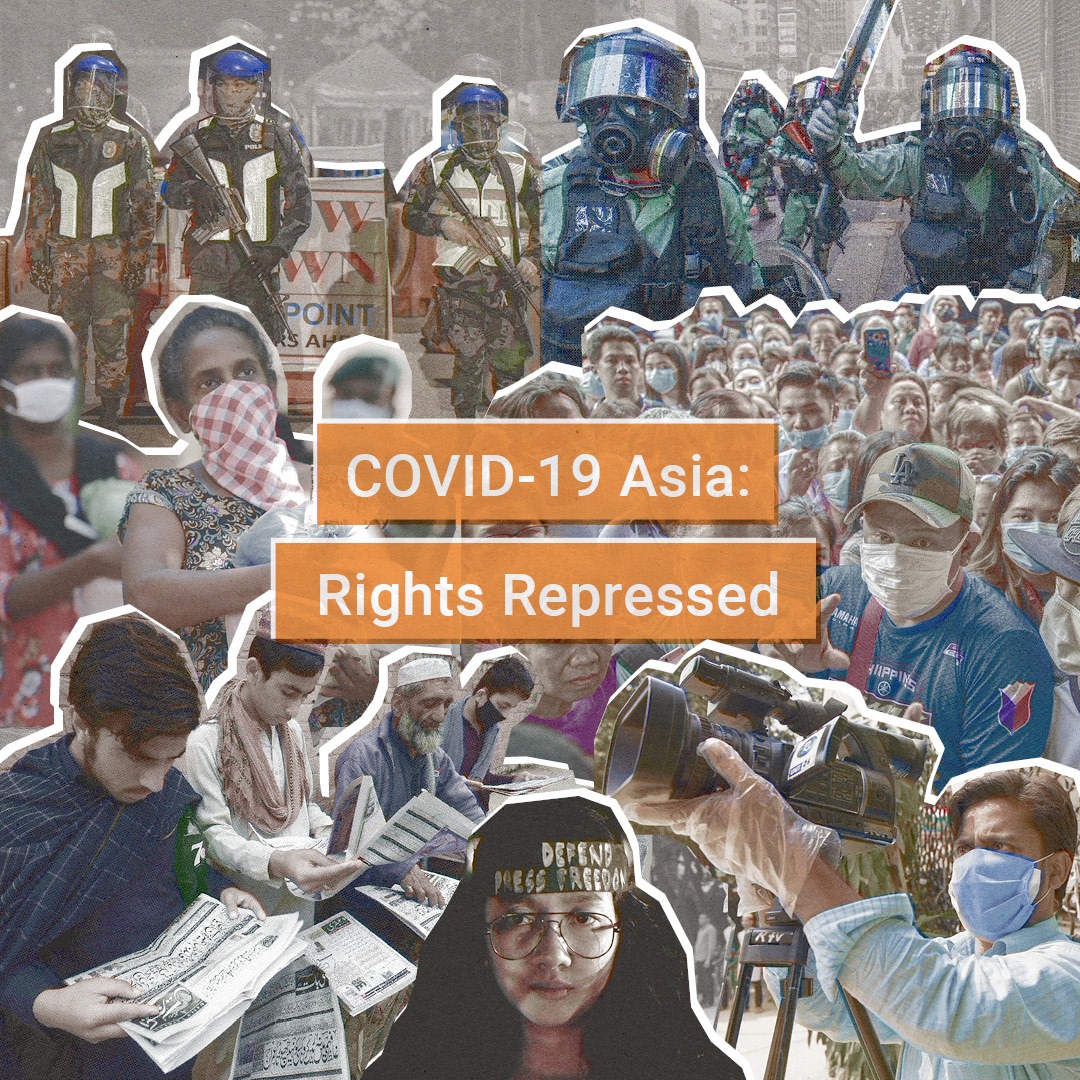 Covid-19 Asia: Rights Repressed
In the Asia Rights Repressed Journalism Series, six media outlets from Nepal, Indonesia, Myanmar, Pakistan, Cambodia and the Philippines document how Covid-19 is being used to repress political, social and economic rights, affecting in particular, the most vulnerable.