Closing spaces: Meet the panelists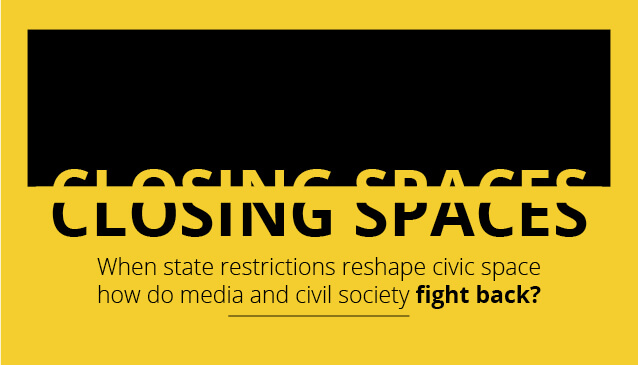 Did you already sign up for IMS' and UNESCO's debate seminar on Closing Spaces on Thursday 16 November? If yes, here is a possibility to get a little closer to the panelists beforehand.
On Thursday 16 November, International Media Support and the Danish National Commission for UNESCO are hosting a debate seminar on the shrinking space for media and civil society.
The international panel will discuss global responses and resilience on the ground to this "new normal" – read more here.
Get closer to the panelists and their points of view:
CEO and executive editor of Rappler, a Philippine independent news media platform combining professional journalism with citizen journalism. Rappler's reports on government corruption and President Duterte's "war on drugs" have led to daily harassment.
How many times has she [Maria Ressa] ]received online death threats? She's lost count. "Gosh, there have been so many!"
In addition to being threatened with rape and murder, she's been the subject of hashtag campaigns like #ArrestMariaRessa and #BringHerToTheSenate, designed to whip online mobs into attack mode, discredit both Ressa and Rappler and chill their reporting.
Every journalist in the country reporting independently on the Duterte presidency is subjected to rampant and highly coordinated online abuse, she says. Especially if they're female.
"It began a spiral of silence. Anyone who was critical or asked questions about extrajudicial killings was attacked, brutally attacked. The women got it worst," she says. "And we've realized that the system is set up to silence dissent — designed to make journalists docile. We're not supposed to be asking hard questions, and we're certainly not supposed to be critical."
The text is an edited extract from the report "An Attack On One Is An Attack On All: Successful initiatives to protect journalists and combat impunity" published by UNESCO in 2017. The interview with Maria Ressa is written by Julie Posetti.
Associate Fellow at Carnegie Endowment for International Peace, Washington D.C. and author of "Civil Society under assault – repression and responses in Russia, Egypt and Ethiopia" (2017) and "Closing space: Democracy and human rights under fire" (2014).

"The closing of space for civil society is no longer just an emergent trend of uncertain gravity. Civil society organizations and activists in an ever-increasing number of countries have to contend with systematic efforts to reduce their resource base, operational effectiveness, and public legitimacy.
In many places, formal and informal restrictions on freedoms of association and assembly and the public vilification of civic actors have already become the new political reality.
(…) What is different today is the growing number and diversity of countries implementing or considering restrictions and the rate at which such measures have spread. While new restrictions are most common in competitive authoritarian systems (that is to say, regimes that are neither fully autocratic nor fully democratic), countries in every regime category are part of this trend."
The extract is from a report by Saskia Brechenmacher, published at The Global Observatory, 22 May 2017
Konstantin Baranov
Russian human rights defender from the International Youth Human Rights Movement. He will discuss how legal tools are used in Russia in a nationwide campaign of inspections and administrative harassment of critical NGOs.

"I come from the region, which is famous for suppressing and prosecution of civil society (…), this is what we've seen happening in Russia, Belarus and Central Asia for a decade or even more. (…) Our countries were kind of an experimental ground for developing some practices to suppress civil society, which are now being borrowed and used by governments and by populist political forces in other countries and other regions.
(…) They are quite inventive and quite sophisticated with the tools they create for this purpose.
The authorities start by creating such legal and operational environments for civil society, where you cannot operate legally. You cannot register an NGO, you cannot stage a rally or organise a protest, because there are so many administrative and legal obstacles to that. And secondly, they criminalise the actions that do not comply with this restrictive legislation. If you try to continue your peaceful and legitimate work as an NGO or as a civil society activist, you'll find yourself to be a criminal."
The extract is from Konstantin Baranov's participation in a seminar titled "Attacks on civil society – a global challenge!", which took place during Göteborg Book Fair 2017.
Jesper Højberg
Executive Director of International Media Support (IMS), working with local media in countries plagued by conflict and authoritarian regimes. On safeguarding local media and human rights defenders in countries where the space for freedom of expression is closing.
"While traditional development parametres for education and health have improved impressively over the last 15 years, there has been a clear decline in rights and freedom of expression. It is an unsafe world to be a journalist in. The new normal of the increasing closing space in the countries in which International Media Support (IMS) works, increases the onus on international organisation's like ours and the international community as such to work and act responsibly to the challenges posed to our partners. We must think innovatively and outside the box on how to manoeuvre within closing spaces – with impact that befits free and independent media.
An example of this is the global study 'Defending Journalism' by IMS on how to set up broad partnerships across sectors to build safety mechanism for journalists and human rights defenders that work. The ability of journalists to safely carry out their role as society's watchdog is an issue that concerns us all."
The text is based upon speaking points from a speech held at a meeting at Globalt Fokus, 23 August 2017 and on a press release send out in connection with the publishing of 'Defending Journalism'.