The business of podcasts
The State of MENA Podcasts
Director of IMS partner Sowt reflects on a recent podcast forum
in Dubai and the opportunities of Arabic podcast medias
This article was first published 10 October 2019 at Medium and has been republished with the accept of the writer.
On Friday, 4 October, 2019, I attended the Middle East Podcast Forum at the Jameel Arts Center in Dubai. The forum, in its second edition, brought together podcasters from all over the region to learn, discuss and share ideas.
The event, organized by podcasting companies MSTDFR and Kerning Cultures, is an important step in the journey of developing the region's podcast ecosystem. During the forum and in the past few weeks, a few ideas have become clear to me:
Podcasting/podcasts have grown dramatically in popularity in Middle East North Africa (MENA) in the last 12 months,
There is a dire need for more Arabic content and more diverse content, and
The business case for podcasts in MENA is strong, but organizations are not fully exploiting the opportunity.
In this article, I'll try to tease out some specifics around each of these categories.
A note about language. This piece is primarily interested in Arabic-languages podcasts. I'm not intentionally ignoring English language podcasts in MENA (very much the opposite, we have shows and will have new shows in English), but as there are 400 million Arabic speaking people in the world; the opportunity that we see and are focusing on is in Arabic language.
I represented Sowt on a panel, 'The Business Case for Podcasts', with Finyal Media, Podio and MSDTFR, and moderated by Hebah Fisher from Kerning Cultures. Leila Alaouf, our business development consultant who is based in Dubai was also in attendance.
While the MENA Podcasting scene is developing, more work is needed on all fronts.
Dramatic increase in popularity
In MENA, the number of podcasts is increasing quickly. At the beginning of 2018, we were counting 300+ podcasts. Now, ar-podcast.com lists 464 shows and we can assume that not all podcasts are listed. So in a short 12–18 months, we've seen a 60% increase. Anecdotally, from the first edition of the ME Podcast Forum until the 2nd, we saw a huge increase in interest as well as attendance. Yes, compared to global numbers, Arabic is far behind the 700,000–2 million estimated podcasts available.
On the independent side, we've got MSTDFR, a network from Saudi Arabia who has been producing shows for several years. They produce and manage around 14 shows and reach tens of thousands of people around the region. Finyal Media recently launched a few Arabic shows including A Thousand and One Nights, an audio version of the famous tale from the Arabian Nights.
Sowt manages and publishes more than 15 shows ranging on topics from sexuality to religion to politics and music. I'll discuss topics further in the second section on diversity of Arabic content. Dukkan Show are also important players and have been around for some time, with an Arabic show called "Rakwet Qahwa" or 'Coffee Pot'. Thmanyah, or 'eight', has a long-standing and popular podcast called "Fnjan," or 'Coffee Cup', and also focus on other media forms such as video and run a website as well.
Kerning Cultures, one of the organizers of the annual forum, is another emerging producer. They recently raised a seed round of investment and are the first, at least publicly known, in the region. Most of their content is in English however, but there are a few episodes in Arabic including one about Ahed Tamimi from Palestine, with new Arabic shows forthcoming.
On the more mainstream side, we're finally seeing more media involved in podcasts. The earliest and the biggest thus far is Al Jazeera, who have launched 3 shows — Lahza, Rumooz and Min al Akher — and have several more in the works. Others are also exploring and will be announcing shows soon.
Despite this increase, the region still faces many challenges including censorship (self- or government-imposed), a lack of awareness of podcasts by media consumers, and a chaotic podcast startup sector.
The Need for Arabic Podcasts
Even with these organizations, among other individual shows, the need for more Arabic content and more diverse Arabic content exists, and in my opinion will either make or break podcasts in MENA. When going online to look for shows, most shows are interview-based. While this format is popular and cheap to produce, it doesn't develop and help the ecosystem innovate.
Sowt's show Domtak is one of the only shows centered on music. How is that possible? Another area with a dearth of content is culture in general. Where are the fashion, arts, book or poetry podcasts? Sports is one category that has some variety, including (shoutout to my homies Zaid and OJ) M2M Podcast about the NBA, and the Juve Radio show about the Juventus Italian football team. The category of video games also has some variety.
If you look at "what's hot" on Youtube, or any of the hashtags trending on social media, you won't see many podcasts matching those trends. Where are the political podcasts? Where does one go for news or a daily news show? In English, peak 'daily news' podcast has probably already been reached. How is it that there are so few independent media organizations producing news shows? Of the shows that do exist, they are individuals producing perhaps one show. While this is absolutely great, it won't lead to a developed podcast scene, or as we'll get into shortly, a money-making business.
As with most challenges, the opportunity is HUGE. Each category needs hundreds if not thousands of podcasts. There are categories that still don't have any podcasts, including, in addition to daily news, health, self-help, which is highly popular in other places and true crime, which coincidentally helped kick off the resurgence in podcasting (Hello Serial, now in its 3rd season).
In the region, the major platforms are Apple iTunes/Podcast App, Castbox, SoundCloud and a long tail of others. Speaking for Sowt, about 50% of our listeners come through Apple, followed by Castbox, Soundcloud and Spotify. Google Podcast has grown as well, but more slowly. Anghami deserves a mention as well, as they've been pushing into podcasts, and have launched a campaign and should see results in a few more weeks. Other newer platforms such as KitabSawti and Podio (formerly Fallound) are also tech and/or content platforms that are focused on the region in one way or another.
As the content offerings increase, apps and platforms will take more notice and help push our content into the ears of eager listeners.
The Business Case for Podcasts
Let's take a quick look at where the sector is going in globally, before looking closely at our own region.
In the last few months and maybe particularly since Spotify announced they were acquiring two podcast companies, the term "big podcasting" has come to life. And by big is meant money. As money has flowed into podcasting, the ecosystem has changed. Some independent shows get picked up while new companies produce all new chart topping hits.
Pineapple Street, Wondery and Pushkin Industries are some of the new companies on one side and NPR, PRX/PRI and This American Life, the incumbents, on the other side. (Is it just me, but does it feel like RadioLab, which we all owe much to, has been left on the sidelines of this recent push?) New and old alike, the push to develop higher quality content, more of it and more diverse content has really pushed along the industry. Obviously there are many problems, but in general, the pace of innovation has quickened. Luminary has gone straight to the subscription model, and have raised 100 million USD to do it.
This is to say nothing of the tech platforms or the major advancements in tech that are happening.
In MENA, where are the opportunities? As content producers, there are a few ways to make money from podcasts:
Sponsorships, which can be further divided into ads and sponsored content
Production and services
Live events
Membership and subscription
Licensing and sales
If we look at the evolution of music (book sales are an important model as well), most artists used to make their money on album sales. As those sales hollowed out and streaming revenue didn't grow to match them, live events (aka music tours) became increasingly important. As streaming has picked up, subscription is also becoming important for both content producers and platforms.
While ads are important and can be enough to sustain a business, my take is that ads won't cut it for us in the MENA region. While it will be an uphill battle, forward-thinking brands and organizations are beginning to recognize the potential to advertise via the medium, a trend in line with global markets but it will take some time for it to reach the mainstream and become a standalone viable business model. There is, however, a healthy radio ad business to chip away at.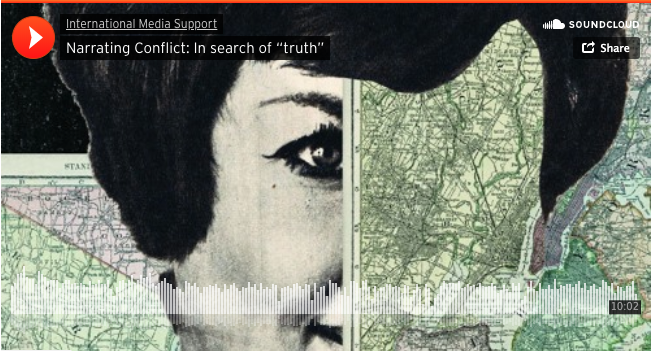 Sponsorship is more strategic currently at Sowt, as are membership and subscription. Luminary cut to the chase and went straight to subscription based services as there are many others with positive examples including media companies such as Washington Post, New York Times, the New Yorker and the Economist, as well more tech-based platforms such as Spotify, Netflix, Hulu, Apple (music, magazines/news, games). Production-as-a-service is something Sowt been able to navigate well and are growing out this business further. We haven't yet institutionalized live events or memberships/subscriptions, but both are on our plan for the next 6–12 months.
To venture capital or not?
There has been a big debate about taking VC money for podcasts. Gimlet documented their journey on their hit podcast Startup, which just released a new and final series documenting their acquisition, but the success of the podcast was probably a huge factor in their success in raising money. Most outlets won't be able to do that and folks like Jenna Weiss-Berman were able to run Pineapple Street without VC money. Wondery on the other hand has raised significant funding and have produced chart-topping content with it. They are experimenting with a mix of subscription and ad-sales, in addition to licensing their content out. In the region, we've only had one company, publicly disclosed, raise money and it's too early to tell.
The business case is strong, but again in the MENA region we need to think creatively and differently from other places. Our context, history and nuances are different and we must create different solutions, on both the content and business side, for our burgeoning but small ecosystem.
Here at Sowt, we're excited about the response we're getting and the revenue we're generating. And as the weekend's ME Podcast Forum at the Jameel Arts Centre in Dubai showed, there is a lot of interest from all sides.
Where will MENA go? How will we get there? That is for us to decide.
Ramsey G. Tesdell is the executive director of Sowt Podcasting, based in Amman, Jordan. Sowt is a partner of IMS.