Something we should never take for granted
Self-censorship, threats, attacks and smear campaigns make life tough for journalists in post-Soviet states where press freedom is under constant pressure. Their predicament underlines the acute importance of never taking basic rights and freedoms for granted.
On a recent Friday evening I had an interesting chat with a stranger in one of the so-called "brown" bars in Copenhagen — one of the those rare places where you can still smoke. He turned out to be a member of the Danish Union of Journalists, one of the founding organisations of International Mediasupport.
As a union member he pays a monthly fee, he said. It was both touching and enlightening to hear that part of his motivation, was that he knows some of this money goes to support courageous journalists in faced with some of the most difficult and dangerous countries far from Denmark.
The Safety Fund of the Danish Union of Journalists, which IMS administers, has been instrumental in many different ways: from helping journalists fight defamation lawsuits – which in many authoritarian countries can land you in jail – to ensuring the survival of journalists living as dissidents, in hiding, or otherwise running from regimes who want to punish them for what they have to say.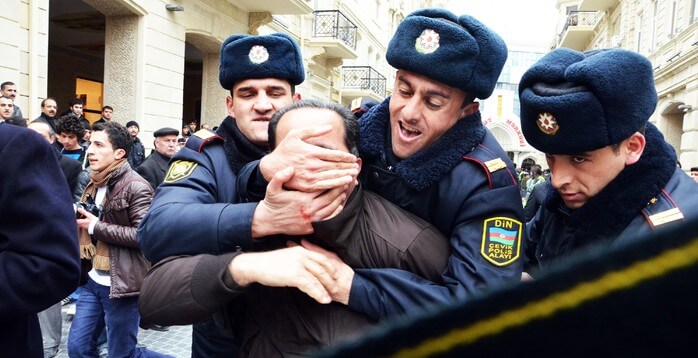 Police officers restrain a protester on the streets of Baku, Azerbaijan. Photo: IRFS
For my new friend, it was important that his monthly membership fee makes a huge difference to people in countries he has never visited. For those who live in more open societies it can sometimes be difficult to appreciate when free speech is at risk — or that it can be threatened to begin with. Amazingly, this guy – not actually a journalist himself but a communications person – fully appreciated the price that many must pay for exercising their right to press freedom.
We spent an hour talking politics and discussing negative trends affecting press freedom around the world. But it was only later that I realised I hadn't told him the stories from my own country, Azerbaijan, or from the rest of the post-Soviet states, the region I work on for IMS.
I could have told him about Khadija Ismayilova, an award-winning investigative journalist who has been languishing behind bars on charges of tax evasion, illegal entrepreneurship, and abuse of power. Charges that ring absurd considering Khadija's only crime has been to publish hard-hitting investigative journalism exposing corruption and nepotism in the ruling elite. Published by the Organized Crime and Corruption Reporting Project, her story revealed that Azerbaijanis lost more than USD 600 million in a seemingly pointless business project that made no sense except when put in context of a murky offshore connection to President Ilham Aliyev.
"Black money helps governments keep their nations enslaved," she wrote from behind bars, after having published the story. "This investigation, along with others, is the reason for my arrest. More investigations of this kind are needed."
Ismayilova's colleagues in Azerbaijan – journalists, bloggers and activists – have been harassed, jailed, beaten, killed, and forced into hiding or exile, a widely publicized tendency documented by the Sport for Rights campaign.
The Azerbaijani authorities are not alone in their attempts at silencing independent journalists. An hour's flight from the country's capital Baku and you are in Turkmenistan, where journalist Saparmamed Nepeskuliev was imprisoned for reporting on issues of social relevance. He was first detained on dubious narcotics charges in July 2015, held incommunicado for two months, and then sentenced to three years in prison.
In January this year, the UN Working Group on Arbitrary Detention (WGAD) found the deprivation of Nepeskuliev's liberty to be arbitrary. Whether the Turkmen government will comply with the UN's calls for his release remains to be seen.
Not far away, another regime also seems increasingly prepared to disregard international human rights standards. In Russia, Vladimir Putin has signed a law into effect allowing the Constitutional Court of Russia to decide whether or not to comply with judgments made by international human rights courts.
Just two months after Putin put his signature on the law, Azerbaijan's parliament started pondering a similar move. For those observing these developments it comes as no surprise, as several post-Soviet regimes have displayed an increasing readiness to borrow tricks from Kremlin to silence critical voices.
Our main conclusion from our Friday evening brown bar session was that press freedom should not be taken for granted. Self-censorship, threats, smear campaigns, and a lack of solidarity make life tough for journalists in countries where press freedom is far from guaranteed. By providing assistance to journalists in distress in countries affected by war, conflict or political transition, the Danish Union of Journalists' Safety Fund, represents that much-needed solidarity among journalists.
To me, what is far more important than statements on rights violations or even financial support is that on a Friday night you can, by chance, end up chatting with a stranger about the threats and risks your colleagues face in some of the most difficult contexts on the planet. It is through these kinds of encounters that you realise that the person next to you actually does care, and that for him or her, press freedom is not to ever be taken for granted.