Media and transitional justice in Sri Lanka: what is the need of the hour?
Exciting times in Sri Lanka as the country stands at a political crossroads where media could play a major role in the transitional justice process.
The historic electoral defeat of President Mahinda Rajapaksa—an unabashed nationalist strongman—at the hands of President Maithripala Sirisena in January 2015 has effected a number of dramatic changes in Sri Lanka. One such change is the opening up of space for a national conversation on dealing with the past.
Faced with having to answer the United National Human Rights Council for the sins of its predecessor—including a damning report by the Office of the High Commissioner for Human Rights, which found both sides committed mass atrocity crimes during the last stages of the civil war—the new government committed itself to a raft of measures and institutions to advance Transitional Justice. These commitments, encapsulated in a Human Rights Council Resolution co-sponsored by a group of countries including Sri Lanka, include a special court with a special prosecutor (with the participation of foreign judges, prosecutors, investigators and lawyers); an Office for Missing Persons to trace and clarify the fate of the missing and disappeared; a Truth, Justice and Reconciliation Commission; and an Office for Reparations. Together, these and other commitments to effect domestic reform, such as repealing the draconian Prevention of Terrorism Act and expediting the release of lands appropriated from civilians by the military during the way, represent an ambitious Transitional Justice agenda for Sri Lanka, which if implemented would mark Sri Lanka as a rare case of success for Transitional Justice in the South Asian region. As if this were not enough, Sri Lanka is also in the process of attempting major constitutional reform that would potentially address several of the structural defects in the country's governance architecture.
Despite the heady nature of these commitments, there are nonetheless concerns over the sufficiency of political will and momentum to carry these reforms to fruition. As time lapses and the new government's honeymoon with the public ends, bread and butter issues are likely to overshadow long term reform concerns. It is in this context that the role of the media in Transitional Justice assumes pivotal importance. Sri Lankan media coverage of ethnically charged and difficult issues in the past has often been characterized on both sides of the linguistic divide by nationalist flag-bearing and the absence of dispassionate, informed and moderate analysis. The challenge for those pursuing Transitional Justice in Sri Lanka is to grapple with these difficulties. In dealing with these challenges, it may be useful to identify the specific ways in which the media interacts with Transitional Justice.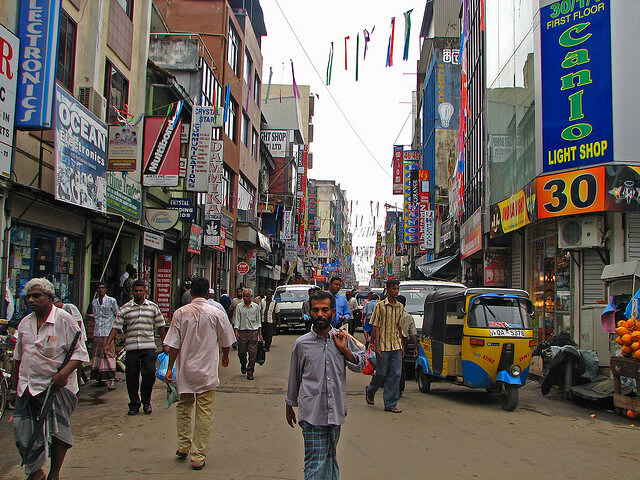 Down-town market in Pettah, Sri Lanka. Photo: Mckay Savage
First, the media plays a critical role in defining the general mood or zeitgeist of the period in which Transitional Justice is pursued. A successful Transitional Justice policy requires astute policy and decision making at governmental levels, but it also requires a receptive public willing to wrestle with the knotty and uncomfortable realities of the past. It requires a public willingness to introspect and to question one's own deepest held convictions. The media could either play an enabling or destructive role in terms of defining the overall political spirit in which processes are undertaken.
Second, the media's function of informing the public on the processes undertaken is critical to success. The gap between technical policy debates on dealing with the past and public understanding of these processes at grass roots level is a wide chasm, and without mass media support in demystifying and disseminating information on available processes and mechanisms, public apathy and frustration are bound to emerge and grow.
Third, the media also has a key role to play in functioning as a watchdog – monitoring processes, their fairness, their efficacy, and their ability to redress victims' needs. Without this public scrutiny, criticisms of bad decision making and bad behaviour will remain limited to the rarefied confines of NGO and academic seminar rooms, minimizing their effect.
For Sri Lanka's Transitional Justice efforts to succeed, the media must positively discharge the functions described above. To overcome past failures, media personnel in Sri Lanka must be sensitized, capacitated and empowered to participate positively as rightful stakeholders in Transitional Justice processes. Unless, government and civil society solutions to these challenges are forthcoming in the near future, we risk failure, and simply cannot afford failure.
Niran Anketell is a lawyer and practices in the appellate courts in Sri Lanka. He is also the co-founder and Director of South Asian Centre for Legal Studies, a Sri Lanka based organization working on Transitional Justice and international law. He has also worked at the international co-prosecutor's office in the Khmer Rouge Tribunal in Phnom Penh. Niran holds a Master's degree in international legal studies from the New York University School of Law, where he was Hauser Global Scholar and Fulbright Scholar."