Mozambique
Community media to contribute to reconstruction
Earlier in the year Mozambique was devastated by flooding. Can media contribute to the reconstruction? Building on experiences from Nepal and Indonesia, IMS will roll out activities aimed at enabling local media to carry out accountability journalism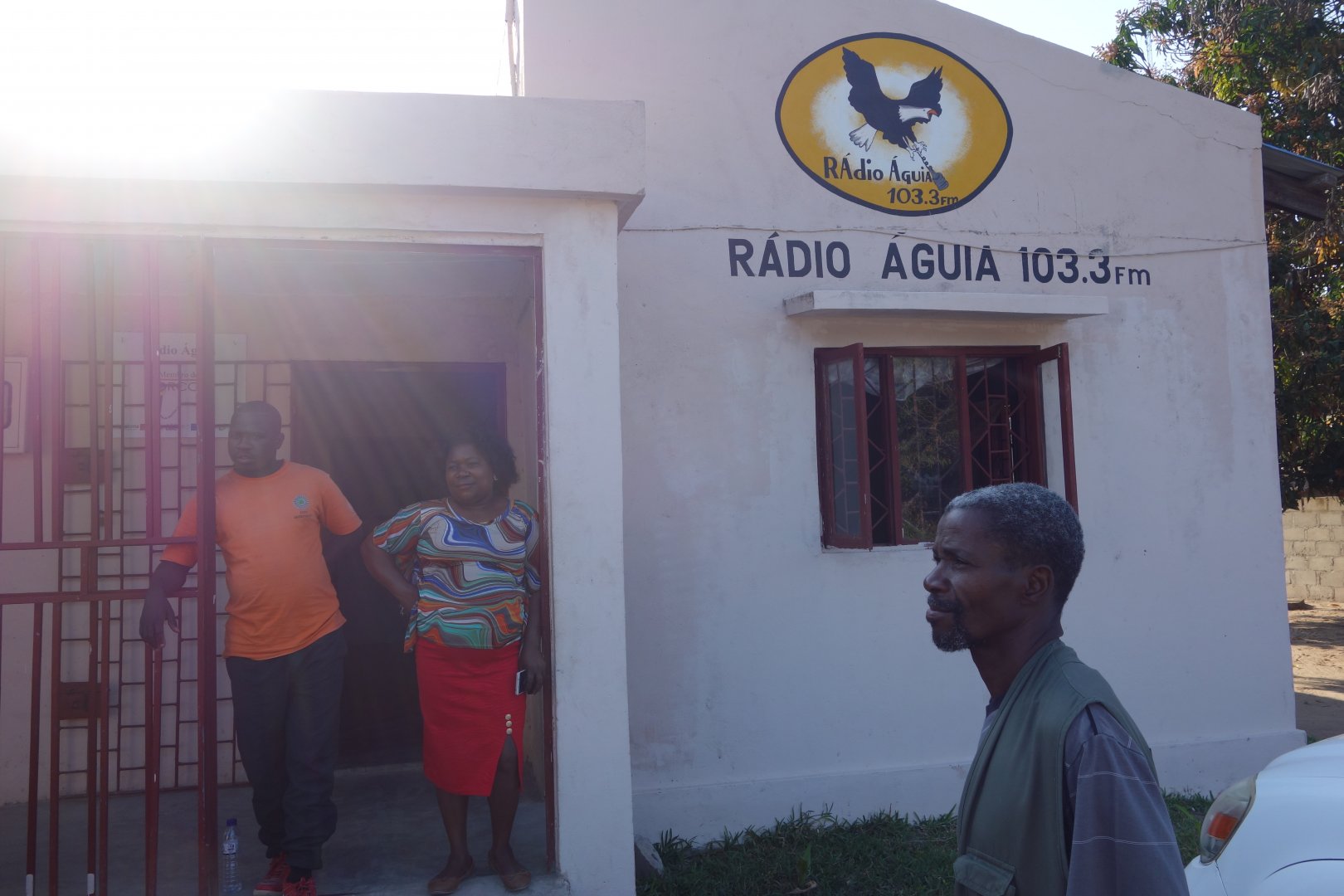 The studio and offices of community radio station Rádio Águia were not spared when Cyclone Idai made landfall and devastated large parts of central Mozambique in March this year (2019). The roof blew off and rooms were flooded. Knee-height water marks are still visible on the walls. As I am shown around the premises, I am also told how all staff were personally affected by the natural disaster; the lucky ones were able to repair their dwellings, but others lost all belongings. More than six months later, some continue to remain without a home and two staff members still sleep on floor mattresses in the station's admin office.
Despite such trying times radio staff are cheerful and convey to me a strong sense of purpose. Águia both serves and is an integral part of the community. In addition to the radio, it runs an HIV/AIDS center and supports the local population through its initiatives on child care and goat-raising. The director, Gil Urbano, is also a pastor who spends much of his spare time meeting with villagers and mediating in various disputes. Recently, he convinced a local family to not give up the 14 year-old daughter for marriage.
As a trusted player in the Dondo district, Radio Águia often receives complaints about, for instance, local police committing violations. In such cases, the radio does not necessarily have to broadcast the story to expose the wrongdoing. Merely raising the matter with the local commander usually solves the issue.
Another example of how this radio, staffed with volunteers, manages to be an important agent for change is a recent case of a listener, who complained that a shuttle bus was adding an extra charge during rush hours – something that was not legal and posed a burden on poor commuters. A journalist went to the scene, experienced the surcharge exactly as described by the listener and could therefore confirm the story on air. The practice was immediately stopped.
As a testament to its important role in society a quick and efficient fundraiser was organised to help the radio replace damaged equipment and repair its roof after Cyclone Idai had left the area – and the radio – devastated. The community clearly recognised the value of its radio station and wanted it to resume operations without delay.
Being a poor and largely rural country, Mozambique is "lagging behind the IT revolution," as one partner described it. Radio remains the main source of information and the primary platform for debate for large sections of the population.
While state radio and commercial local stations are available, the more than 50 community radios throughout Mozambique play a key role in the daily lives of many people. They deliver vital information on health, nutrition, agricultural practices, democracy and human rights, and also offer a platform for locals to air their concerns.
Most of the community radios run on a shoestring budget, receiving small donations from here and there, operating mainly with volunteer staff and generating income in creative ways. On its premises, Águia has a lush vegetable garden and a small general store whose profits are used to cover its limited budget.
Together with Rádio Águia's journalist and director of production, Duarte Antonio Duarte, I drive to the nearby Mandruzi resettlement camp, which is currently home to some 370 families whose houses were wiped out by Idai. Although it appears rather idyllic, with boys playing football with a homemade ball in the beautiful afternoon light, it is clear that life is tough here. Tents are overcrowded and hot during the day, only to become too cold at night.
Although Mozambique has experienced its share of floods and other natural calamities in the past, it has never experienced a disaster of the same magnitude as in March. Consequently, the population is unfamiliar with and unprepared for the recovery and reconstruction process that is now slowly underway. The effort will take years and is likely to bring with it unfortunate side effects such as corruption, excessive bureaucracy and sex for aid.
In this context, community radios can play an important role as intermediary between the local population and aid agencies, informing and giving voice to communities at same time.
Building on previous post-disaster experiences from Nepal and Indonesia, IMS is about to launch an intervention aimed at promoting and enabling local media, such as Rádio Águia, to carry out accountability journalism.
As we walk around Mandruzi and talk to the displaced families, a mildly inebriated man vents his frustrations about life in the camp. He is particularly upset with the camp manager, whom he calls a "politician" – only concerned with promoting his own career and indifferent with the plight of Mandruzi's inhabitants. Being an astute journalist, Duarte pulls out his voice recorder and interviews first the man and then the camp manager and finally a group of women gathered around the water pump. This is a story that needs to be told.
Andreas Sugar is Head of IMS' Rapid Response activities and has worked with IMS for more than eight years.