Time to boost journalists' safety in Nepal
Nepal's human rights commission and the country's federation of journalists have decided to expedite the process of setting up an independent mechanism for protecting journalists and media freedoms
Speaking at the launch of Defending Journalism — a book published by International Media Support (IMS), that documents safety of journalists in seven countries, including Nepal – the Chairman of the National Human Rights Commission (NHRC), Anup Raj Sharma said a partnership between the NHRC and the Federation of Nepali Journalists (FNJ) would be mutually beneficial.
"Even though there may be no threats from the executive branch, it is the different state agencies that we need to worry about," he said. He gave examples of how security agencies had violated human rights in the recent past.
Anup Raj Sharma, Chairman of the NHRC, Govinda Acharya, President of the FNJ and Robert Shaw, the Global Safety Programme Manager at International Media Support (IMS) jointly launched Defending Journalism at a function in Kathmandu on 13 June.
As part of the UN Action Plan on Safety of Journalists and the Issue of Impunity, the book analyses efforts to safeguard journalists in seven countries – Afghanistan, Colombia, Indonesia, Iraq, Nepal, Pakistan and the Philippines – where conflict and instability challenge the ability of journalists to produce quality journalism.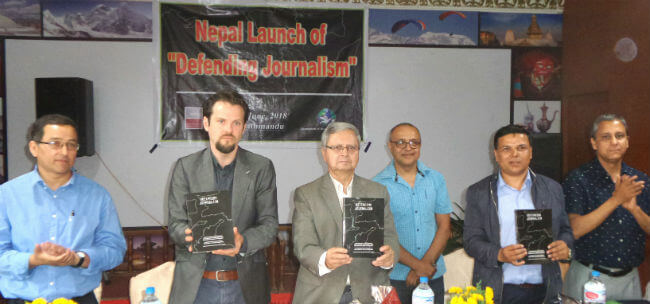 It provides best practices on collaborative national-driven processes involving key stakeholders in government, media industry leaders, trade unions and civil society groups. Through sensitization campaigns and national dialogues, this multi-stakeholder approach looks to develop local safety systems by using solutions that have worked in one country and making them available as a basis for constructive dialogue in another.
Former president of the FNJ, Shiva Gaule said that certain provisions into Nepal's newly-formed constitutional provisions remain as a major threat to the safety of journalists because they are vaguely worded and can be wrongly interpreted to suit different partisan interests.
The Nepal case study in Defending Journalism says that the inability of journalists to be independent and impartial also puts them at risk because partisanship in the profession pits reporters on one side or the other during political conflicts.
"Journalists can have an ideology but they cannot be partisan," said Prateek Pradhan, editor-in-chief of the online news portal Barhakhari.com. He added that Nepal has formed a strong government [with extensive power] and so now more than ever it's important for independent journalists to play a watchdog role.
"This is the right time for Nepal to set up a mechanism for protecting journalists taking into account the three Ps — prevention, protection and prosecution," said Robert Shaw, the Global Safety Programme Manager at IMS.
Most mechanisms set up during visible conflicts tend to focus on protection only and therefore this is a key moment for Nepal to play a leading global role in driving forward a new mechanism that can include all three Ps, he added.