Story of young Somali girl prompts ordinary people to respond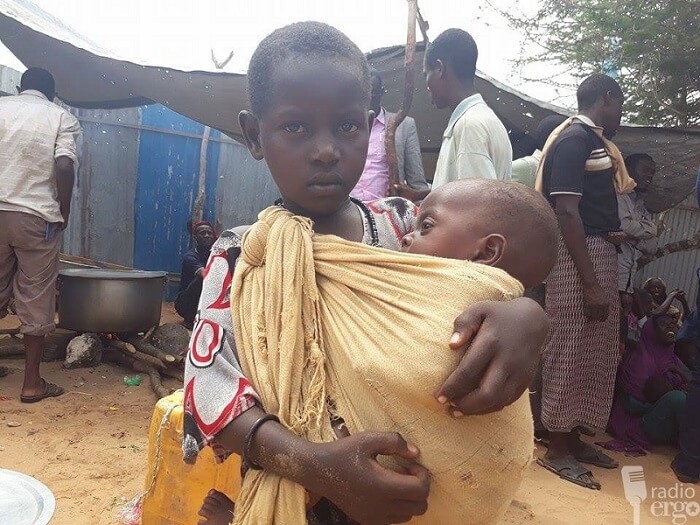 The heartbreaking story of nine-year old Maimun, who trekked with her younger siblings on a survival walk of nearly 350 km across drought-ravaged southern Somalia, became the talk of Somali social media after it was aired by Radio Ergo in March.
A specialist humanitarian radio supported by IMS, Radio Ergo broadcast Maimun's story on its shortwave frequency and posted it on online and on Facebook after the radio's local reporter in Mogadishu met the girl in a camp for internally displaced people outside the capital.
Maimun was photographed standing in line to get a plate of cooked food in the camp, carrying her two-and-a half year old malnourished brother in a cloth around her small body.  She was holding her four-year-old sister by the hand. Her parents both died and she joined a group of displaced families fleeing the drought in Wajid, a district that has been under al-Shabaab siege for several years, preventing supplies getting in. The children walked most of the way to Mogadishu, getting occasional short rides in passing vehicles.
Somalia is in the grip of a terrible drought due to successive failed rainy seasons that may lead to a widespread famine.  The United Nations estimates that more than six million Somalis are in need of humanitarian assistance and half of them do not have enough food.
As the story was picked up by local TV stations and circulated on social media, there was an outpouring of sympathy matched with funds to support this one child and her siblings.  Radio Ergo was flooded with calls and messages from people asking how to contact Maimun, pledging cash to support the children, and calling on other members of the Somali public to reach out to help those who are worst off in the drought.
Radio Ergo has seen a spike in users of its website where reports and podcasts telling the human stories of the drought are being posted.
"Maimun's story illustrated the suffering families are going through and also underlined the power of the media in Somalia and the will of ordinary people to respond," says Louise Tunbridge, programme manager with Radio Ergo.
Hundreds of people living in remote drought-stricken parts of Somalia have been calling in to the radio every day using its toll free mobile phone service to leave messages about livestock dying, children falling sick, food and water running out.
A new project is being developed with the UN's Office for the Coordination of Humanitarian Affairs (OCHA) to share this information being gathered from Ergo listeners, especially those in remote rural areas, with the humanitarian decision-makers in order to shape the humanitarian response needed in the drought.