Haiti's leading national newspaper rebuilds through online profit
Since the earthquake last year, the media landscape in Haiti has changed dramatically. Here, 18 months later, IMS takes a look at the progress of Haiti's biggest national daily newspaper
By Robert Shaw
While Le Nouvelliste has been churning out printed copies of it's modern, independent news for over a century, since 2006 its online edition now reaches a large and ever-growing global audience.
"The website has more traffic than ever and we have the best ranking of any Haitian website," says Jean-Max Chauvet, the online editor for the paper. "But we still haven't been able to capitalize on this".
Le Nouvelliste online is replete with up-to-date social communication tools like Twitter and Facebook and strongly promotes citizen journalism with a dedicated section of articles written by citizens (non-journalists) who voice their opinions and views on politics, the economy, social issues and cultural affairs.
"As it stands at the moment, we're at 80% of our pre-earthquake subscription level and we hope to reach 100% by January next year," says Jean-Max.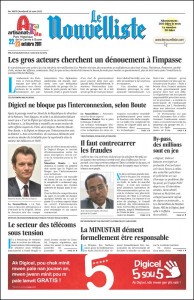 Most independent news media rely on advertising to sustain their editorial operations, and this has been more important than ever for Haiti following the earthquake. Having destroyed so many homes and businesses, local media were left struggling to sustain their advertising revenues and therefore their entire operations. In many cases, international aid has been required to pay for operational costs so that reporting can continue.
"When we started publishing after the earthquake most of our advertisers were NGOs but now we have more businesses advertising with us," explains Jean-Max. "Lately we've been getting a lot of positive feedback from our editorials and political cartoons which are creating a lot of buzz and in return bringing back subscribers".
The IMS-supported initiative Protore has been working with Le Nouvelliste to tap into foreign advertising markets. More than 90% of Le Nouvelliste's visitors to the site come from the US, Canada, Haiti, the Dominican Republic and a series of French-speaking EU countries, although the website reaches visitors from more than 170 countries.
With over 500,000 hits a month on their website and close to half of this amount coming from the United States, the market is rich for this and other Haitian online media to reestablish themselves and build bridges to new and profitable sectors both at home and abroad.
Le Nouvelliste is now set to launch two new publications with an English-language monthly magazine called "Magic Haiti" along with "Lakay weekly" an English-language weekly newspaper that will focus on local news. Both will be available online.