The silencing of critical voices through the means of despotism and armed conflict left the Middle East and North Africa behind as one of the most dangerous regions in the world to practice journalism. In an environment of killings, threats, imprisonment and stigmatisation, our partners continued to produce high quality news based on ethical and professional standards, illustrating the enormous potential of the region's journalists, civil society representatives, and human rights defenders — future leaders, who despite their surroundings, work tirelessly to offset the seemingly never-ending spiral of calamities.
The region's relative bright spot Tunisia battled spill-­over insecurity in its border areas, internal threats from jihadist groups, and a pushback against human rights and democratic reform, but media and civil society groups still forged ahead. Our partner, the Tunisian National Journalists' Syndicate succeeded in securing provisions that protect journalists and allow them to shield their sources in a new counterterrorism bill. The Syndicate's ability to intervene came as a direct result of our institutional support, which allowed them to free up resources to focus on substantive matters.
In the region's gloomy setting for independence and innovation, Tunisia's collective blog platform, Nawaat continued to provide a glimmer of hope, providing investigative reports and opening the space for a variety of opinions and debates. Our work with Nawaat enabled them to strengthen the quality and reach of its video productions by setting up and coaching dedicated editorial and technical teams. A testament to its broad reach, Nawaat's YouTube channel was watched more than two million times over the course of 2015.
At the other end of the spectrum from Tunisia's relatively constructive progress, were Yemen, Syria, Iraq, and Egypt. In Egypt, the tightening of state security measures and the threat from violent ­extremists provided for a severely challenging environment for the country's independent media and civil society. In the case of Yemen, civil war and a vast humanitarian crisis led to an almost complete shutdown of the few independent media available with exile initiatives established elsewhere in the region. One of them, Almashahid.net, was launched with the assistance of IMS. It seeks to counterbalance the propagandistic news coming out of media run by Houthi rebels and President Hadi, says the editorial team behind the site:
"No one has any interest in exposing the horrors of this war and meanwhile the Yemeni population continues to suffer and is misled by propaganda. We need to change this."
Propaganda also filled the information spheres of Syria where the despotism of President Assad and the violence of extremist groups rose to unparalleled levels of brutality. The massive displacement of people had a major impact on the media, shifting journalists and their audiences into surrounding countries. With its unrivalled presence of correspondents in Syria and surrounding areas, our partners continued their coverage of the conflict and the consequences for the millions displaced as a result.
Our support to the award-winning Radio Rozana, allowed it to further its position as one of the most reliable media outlets covering Syria. It developed new relationships with other media and human rights partners such as the Violations Documentation Centre, the investigative journalism network ARIJ, and the website Syria Untold as well as international media houses which all benefitted from the radio's unique network of 120 correspondents inside Syria. We also continued our work with the Syrian Network for Print Media, a group of newspapers seeking to reach similarly inaccessible audiences. The group succeeded in distributing around 30,000 newspapers weekly through more than 600 distribution points in Turkey and in northwestern Syria, successfully providing readers with a diversity of reliable news and information. In 2015, an independent monitoring of the papers' content found significant improvements across the board with higher ethical standards, innovative angles and improved visual appearance. Sourietna, one of the member papers of the Network was awarded the Judge's Special Recognition at the European Newspaper Awards.
In Iraq, the situation evolved from bad to worse, with the already highly fragile media environment under sustained attack from both violent extremists and formal instruments of repression. A counterbalance in the public narrative for those who are most at risk, we supported the women's magazine, Zhin, an unlikely success story in Iraqi Kurdistan where entrenched gender inequality and violence against women are still widespread. The magazine produces stories ranging from the female fighters who battle against Islamic State to the latest trends in fashion.
"People are tired of only hearing about the miserable parts of women's lives. They want to read about those who succeed," says Ala Lattif, the editor of Zhin.
As threats against journalists continued to grow, so did our work to ensure their safety with legal protection provided through the Iraqi Network of Lawyers for Freedom of Expression, a voluntary network of lawyers defending journalists. The lawyers won 16 cases and settled another seven out of court in 2015.
Jordan also battled with its own internal tension and challenges, but remained comparatively stable. Our work there continued in the form of journalistic training of a network of female journalists from the journalism faculty of the local university in the conservative southern province of Ma'an. The network secured regular production of TV reports from Ma'an for the national independent broadcaster Roya TV, giving a public voice to local women.
"We tell women about their rights and duties," says Hanifa who also covered campaigns of female candidates for parliament to inspire local women. "We plant the seeds of change through our programmes. We plant respect for women," she says.
Planting the seeds of change is one of the hallmarks of our documentary film work in the region as well as in Iran, where we in 2015 began working with the public Tehran University. Following a film education study trip abroad, the university launched a course entitled "The Arne Bro Methodology" in a clear reference to the vice-director Arne Bro at the National Film School of Denmark. Supported productions in 2015 included the documentary "Speed Sisters" by the Palestinian SocDoc Studios, a remarkable film that follows four female race drivers in the West Bank. The film premiered at the Hot Docs film festival in Toronto in early 2015 and has a won a variety of international prizes.
Whether through documentary film or journalism, our media partners and the civil society and human rights groups we work with across the Middle East and North Africa, have persisted throughout 2015 and into 2016 to bring about real change, informing and expanding the space for expression and debate in some of the most dangerous environments in the world. Whether they are established legacy media, new, emerging media actors, or long-standing civil society groups they represent true pockets of media excellence in the repressive and conflict-affected contexts. Pockets of excellence that seek to transform societies, that seek peaceful development and progress, providing encouragement as they push back against repression.

Thora Gehl & Michael Irving Jensen
Heads of IMS MENA Department
STORIES OF CHANGE
The last voice of Aleppo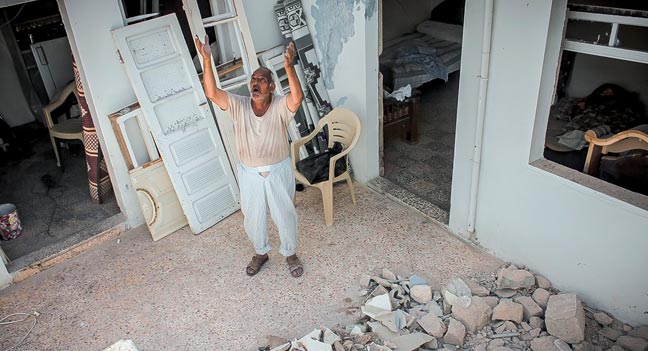 A man stands in a bombed building in the Syrian town Azaz outside Aleppo. Photo: Christiaan Triebert used under CC BY-NC 2.0

"We don't have homes," says Kareem, as he explains the setup of the radio station. "Everyone sleeps in the office." He and his colleagues are working around the clock to bring Aleppo's citizens coverage of the incessant attacks on the city.
"Our families are far away and we can't reach them because of attacks and the bad roads."
Kareem's radio station, Aleppo Media Centre is arguably one of the last independent voices left in Aleppo, a city that has nearly ceased to exist after years of sitting at the centre of much of Syria's civil war. Kareem and his colleagues are determined to report on life in the divided city. AMC has a dedicated team of correspondents distributed around the province, he says. They cover areas otherwise impossible to reach for both national and international journalists. /p>
With IMS' assistance the staff of the radio set up a studio and a transmitter, ex­­tending their reach and enabling them­ to target a larger audience. Every morning, the radio broad­casts two hours on FM and satellite. Its content is also re-broadcast on the satellite radio network, Ma3akom together with other Syrian radios, including Radio Rozana.
Their workday is determined by what goes on, he says. But where that might mean a press conference or a political scandal anywhere else, in Aleppo, the daily attacks are of principal concern.
"It is according to when and where the bombings take place," he says. "That's usually the first agenda point of the day." Their coverage is popular, he says, sharing positive feedback from listeners broadcast live with the help of a smartphone app.
The bombings and endless attacks make it nearly impossible to operate a business, let alone a media outlet in the city. But that does not deter Kareem and his team.
"It's our mission and our cause and there is a need for our existence," Kareem says steadfastly. "As long as there is a need we'll keep going."
STORIES OF CHANGE
Media for accountability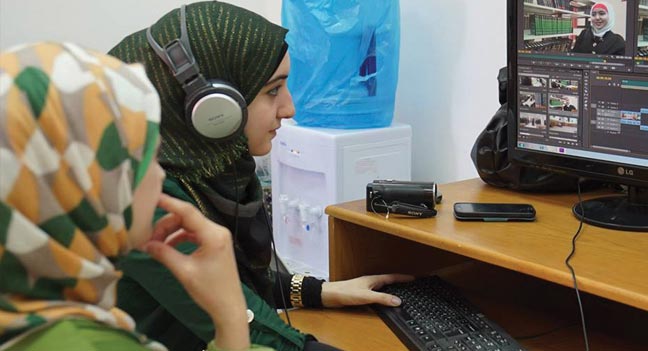 Journalists participating in the Women's Network of Journalists that produce Minna wa Feena, a TV programme covering local issues in Jordan's remote regions. Photo: Jon Rytter

In Jordan, IMS works with media partners who strive for social justice and seek to bring about change on a community level — change that is seen, heard, and felt by local citizens, change that matters.
Illustrating the media's ability to hold those in power to account, Minna wa Feena, a TV programme covering local issues in Jordan's remote regions, reported in 2015 on a medical centre in Ma'an that was no longer in operation. Following coverage of the reluctance by the official in charge of the centre to answer critical questions from the journalist behind the report, the Ministry of Health immediately secured all the equipment needed to get the medical center up and running again and start serving its citizens.
Another report by Minna wa Feena covered a failed water infrastructure project that stood unfinished two years after its planned completion date. After the report was broadcast, officials from the municipality of Zarqa were publically shamed for their sluggishness and inaction. They responded quickly by putting extra manpower aside to finish the project.
Finally, coverage of a group of Syrian refugees by 7iber, one of Jordan's most popular online platforms, illustrated the media's ability to facilitate public debate. With the hundreds of thousands of refugees in Jordan, 7iber decided to focus parts of its coverage on the entrepreneurial skills of the Syrian refugees who rebuild their lives by setting up small innovative businesses. Contributing to a more nuanced coverage of the refugee crisis in the region, the story's popularity prompted 7iber to organize a public debate on the media coverage of the crisis in February 2016 to further a more responsible public understanding of the crisis.