2012 was a year fraught with challenges for the media in the Middle East and North Africa. The initial optimism that followed in the wake of the 2011 historic uprisings was replaced by realism with the recognition that the road to democracy and press freedom would be long.
The overthrow of authoritarian regimes in Tunisia, Egypt, Libya, and Yemen in 2011 launched the countries into complex transition processes which presented new opportunities for media development, but also new challenges. While the four countries experienced a proliferation of new media outlets and a growing awareness of the need for free and independent media to ensure accountability of authorities, the new governments had yet to show real support for media law reform and an improvement of the media environment in 2012. In countries like Jordan and Morocco, the governments did not act on ­promises of media reform.
Syria, alongside Iraq, continued to be one of the world's most dangerous hotspots for journalists. Syria in particular, caught in a sectarian war, saw its press freedom deteriorate further.
IMS' strategic focus in 2012 in the countries undergoing transition such as Egypt, Tunisia, Libya and Yemen was on the building blocks necessary for a well-functioning media sector; supporting the ongoing media law reform processes to promote environments conducive to press freedom and safe working conditions for journalists; strengthening media institutions that function as the structural backbone of media sectors and work for the rights of journalists; and finally, improving the quality and impact of media content through journalism skills training, investigative journalism, documentary film-making, and photography. This was done in partnership with local and international partners to increase impact.
In Egypt, the media sector in 2012 was characterised by media pluralism and open debates. Yet state media remained unchanged and the reform of media laws was stalled.
The National Coalition for Media Freedom (NCMF) set up in April 2011 with support from IMS to provide input to the drafting of new media laws, continued its research and advocacy work to shape the direction of media law reform. In November 2012, the NCMF consisting of Egyptian media and civil society organisations released an analysis of 77 articles that restrict Freedom of Expression in Egyptian legislation and proposed amendments to these. Under the auspices of the Coalition, a group of Egyptian media lawyers are now also drafting a new Press and Publications law, pushing ahead to reactivate the stalled media law reform process.
Responsible and balanced media content enables citizens to make informed decisions during political transition periods and elections. In 2012, IMS trained a team of researchers to monitor media content in the run-up to elections in both Egypt and Tunisia. The results of the monitoring, which at times revealed biased coverage, were widely covered by media in both countries and led to debate and reflections in media on their professional standards.
The environment in which Egyptian journalists work became increasingly violent in 2012. A course on safety training for 20 Egyptian print and broadcast journalists in Cairo looked at the root causes of riots and how to deal with them, how to treat life-threatening injuries, and how to defuse anger to avoid conflict.
In Tunisia, the failure of the government to implement important media decrees and to establish an independent broadcast regulatory authority stalled the needed reform and development of the sector.
In 2012 IMS continued to work with Tunisia's regulatory reform body INRIC providing advice on the reform of the audio-visual sector and on broadcasting regulation, as well as on the criteria for providing licenses for radio.
In addition to laws that protect and guide media, it is important to have concrete documentation of attacks on media which can be used in a court of law. Violence against media professionals in Tunisia in 2012 reached unprecedented levels. In response to this, the Tunis Centre for Press Freedom set up a dedicated unit with the support of IMS to monitor and document violations from insults and threats to physical attacks and censorship which can be used to illustrate the state of press freedom. In November and December alone more than 36 cases of harassment or attacks against journalists were registered, carried out by police, religious groups or members of the public uphappy with media behaviour or content. The centre also has the support of a lawyer who provides journalists with legal advice.
The strengthening of community radio to reach marginalised population groups in the rural areas with news that supports their participation in the country's democratic process continues to be a cornerstone of IMS' work in Tunisia. The World Association for Community Radio Broadcasters (AMARC) has with IMS support set up a network of 45 Tunisian community radios aimed at sharing experience and content across the country. AMARC and Tunisian stakeholders have also produced a national strategy for the community radio sector in Tunisia.
In Yemen, the adoption of the Access to Information Law in April 2012 brought with it a renewed sense of optimism regarding further media reform and an improved environment for media to work in. Through our local partner, Yemen Parliamentarians Against Corruption (YemenPAC), IMS raised awareness about the new law amongst media workers, and the government entities involved in implementing the new legislation. IMS also took part in the drafting process of an audiovisual law which will ensure the issuance of licenses for independent broadcast media once adopted by the government.
While the safety of journalists did improve in 2012, there were also instances of targeted attacks against media workers. IMS trained 30 journalists in secure communications, equipping journalists to work safely and protect their identities online.
In October 2012, Yemen Times Radio, a community-based FM radio station established by the independent newspaper Yemen Times began broadcasting in Sana'a with equipment and technical advice provided by IMS. The station broadcasts 10 hours daily to the general public and provides an important alternative to the state-monopolised broadcast media. Its programmes focus on everyday issues such as health, traffic, education and environment and a weekly segment features the Mayor of Sana'a answering questions from listeners. The station also organised a campaign to collect clothes for the city's homeless for a colder than usual winter.
In Libya, initial euphoria and unity following the fall of former dictator Muammar Gadaffi was replaced with discontent and divided opinion in 2012. Most of the new media established since the revolution struggled with a lack of professionalism, and a shortage of finances and human resources.
In 2012 together with Libyan and international partners, IMS took a major step towards the establishment of the Libya Media Institute, the first national institute of its kind working for free and professional media in Libya. The Institute, which has brought together Libyan media actors to jointly identify the needs of the country's media, will have branches in both Tripoli and Benghazi and will offer journalism training and encourage dialogue between Libyan media stakeholders. The Board of the institute has been established and registration will be granted in spring 2013.
To strengthen independent media output in the run-up to Libya's elections in mid-2012 and thus broaden the public's access to coverage on key social, economic and political issues, IMS took 64 media workers, of which one third were women, through an intensive Training-Production-Publishing scheme, spanning from in-house coaching on stories to overall layout of media products to media management. The four newspapers that partook in all steps of the training produced a special edition on the elections in June 2012. The result was a marked increase in circulation of the four media outlets, as well as new layouts, editing techniques and a broader readership. (See box page 30.)
In Iraq, a country where the media continues to be divided along religious, political and ethnic lines, IMS opened the country's first telephone hotlines for journalists in danger in Baghdad and Iraqi Kurdistan in March 2012 together with Iraqi partners. The hotline offers legal advice and investigates claims brought against journalists or authorities. In 2012, more than 2,500 calls were received and 17 cases investigated.
The Iraqi Network for Social Media (INSM), a network of young bloggers from across Iraq co-founded by IMS remains a highlight in an otherwise troubled media environment. The Network has bridged the gap between young bloggers in the historically divided Kurdish north and the Arab south. Around 60 bloggers spited historical differences and attended the first conference for bloggers in Iraq held in Iraqi Kurdistan in ­February 2012.
The Network managed to halt the adoption of a restrictive law on cybercrime in 2012 that would criminalise anyone who criticised the government on websites and social media networks. They created a Facebook page that tracked the law and opposition to it, and convened a forum in the province of Diwaniya bringing together some 30 parliamentary officials, judges, lawyers, bloggers and journalists to discuss the law. This led to the law being put on hold.
"The key is to work with the authorities, not against them as we are both working to fight IT crime," says Heyder Hamzoz, Iraqi blogger and coordinator of the INSM network.
In a display of successful media business management following training by IMS, the independent newspaper Hawlati in Iraqi Kurdistan has turned loss to profit. The newspaper changed from a weekly to a daily and is now the first newspaper in Iraq to generate revenue that covers all expenses with a profit. Better use of staff and advertising and a change in content from only politics to arts, women and children's issues has contributed to the paper's progress. Hawlati now offers other independent media shared use of their printing facilities and is exploring door-to-door delivery subscriptions as the first newspaper in Iraq.
Documentary films are a platform for alternative voices that portray developments in society usually overlooked or more difficult to cover in mainstream media. In 2012, an exchange programme organised by IMS between film students from Iran, Syria, Lebanon, Egypt, Tunisia and Morocco and The National Film School of Denmark resulted in 10 short documentaries that were screened at film festivals in Tunisia and Denmark. One film, "My Father looks like Abdel Nasser" by the Lebanese director Ms. Farah Kassem, was also selected for the Dubai International Film Festival and Ayam Beirut Al Cinama'iya.
Furthermore, 14 documentary films from across the Middle East, of which six had female directors, were supported by IMS through grants given by Screen Institute Beirut.
Regional and cross-regional collaboration enables a flow of know-how and knowledge between media communities. The institutional partnering or "twinning" set up by IMS of the Nordic TV collaboration "Nordvision" and the regional TV network "Arab­Vision" was launched in 2012. ArabVision is a partnership between four TV stations in the Arab world – ON TV, Egypt; Wattan TV, Palestine; Roya TV, Jordan; and Al Jadeed TV, Lebanon built on news exchange, programme exchange, co-production and know­ledge sharing.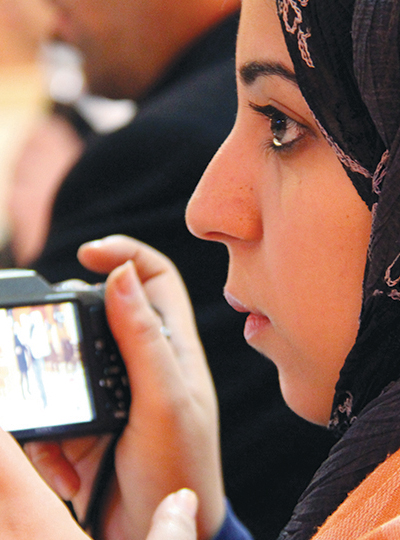 A member of the Iraqi Network for Social Media attends the network's first conference in Iraqi Kurdistan in February 2012. Photo: Mohammed Abdullah
IMS opens first hotlines for Iraqi journalists in Baghdad and Iraqi Kurdistan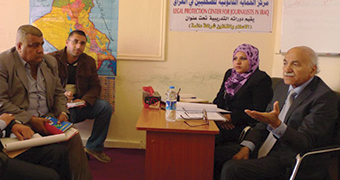 Mr. Shaaban, the lawyer who mans the hotline along with staff at the Legal Protection Center in Baghdad. Photo: Osama Al-Habahbeh/IMS

An increase in attacks and harassment of journalists in Iraq in 2012 led IMS to open the first telephone hotlines for journalists and media workers in Baghdad and Iraqi Kurdistan.
The hotlines are open 24/7 and manned by media lawyers who provide legal advice and defend journalists and bloggers harassed and prosecuted by authorities. Since the hotlines opened in March 2012, 2,500 calls have been answered and 17 cases investigated.
"The current laws offer little protection for journalists and are difficult to understand. Also, courts do not investigate the validity of cases before they are brought before the court," says Sardasht Abdullrahman, general manager of the Iraqi Kurdistan Hotline.
Not only journalists, but also lawyers struggle to understand the laws that cover media in Iraq. IMS has trained around 20 lawyers from both Kurdistan and Baghdad in the existing laws that cover media as well as addressed the loopholes in the law that can be used by journalists to protect themselves.
"I defended a journalist who had a claim reported against him by the president of Iraq for writing that the president had hired a close relative in an important job. The journalist was accused of writing false information – but as his story was true I won the case. There were no legal grounds for the claim," says Mr. Shaaban, the lawyer who mans the Baghdad-based hotline.
The hotline center in Iraqi Kurdistan has tel. number 3344 and Baghdad has tel. number 3355.
Roaya – a vision for Libya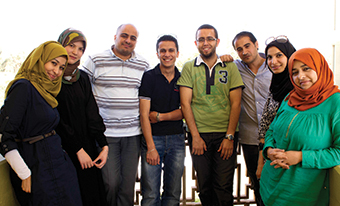 The Roaya team. Photo: Per Vinther

"I want Roaya newspaper to be part of real free media. Not just for Roaya, but for Libya", says Aladin Salama, co-founder of Roaya, one of the few independent weekly newspapers to have survived tough market conditions since it was born during the revolution in Libya in March 2011.
Born out of an idea between two friends, the paper is now run with the help of 15 volunteers of which many are women. Their key word is "quality journalism" which they strive to achieve despite the fact that none of them have journalism backgrounds. What they do have is plenty of energy and dedication.
"The only training we get is through courses in journalism run by international organisations and these courses help us to develop our skills," says Khalid Elfitory, Editor in Chief of Roaya, who took part in an intensive journalism course conducted by IMS. The course which was carried out in the run-up to Libya's elections, included coaching on stories, layout and media management.
As part of the course, Roaya produced a special edition on the elections in June 2012. This resulted in a marked increase in circulation, as well as a new layout, editing techniques and a broader readership.