Azza fi Hawak - the Sudanese woman and the protest song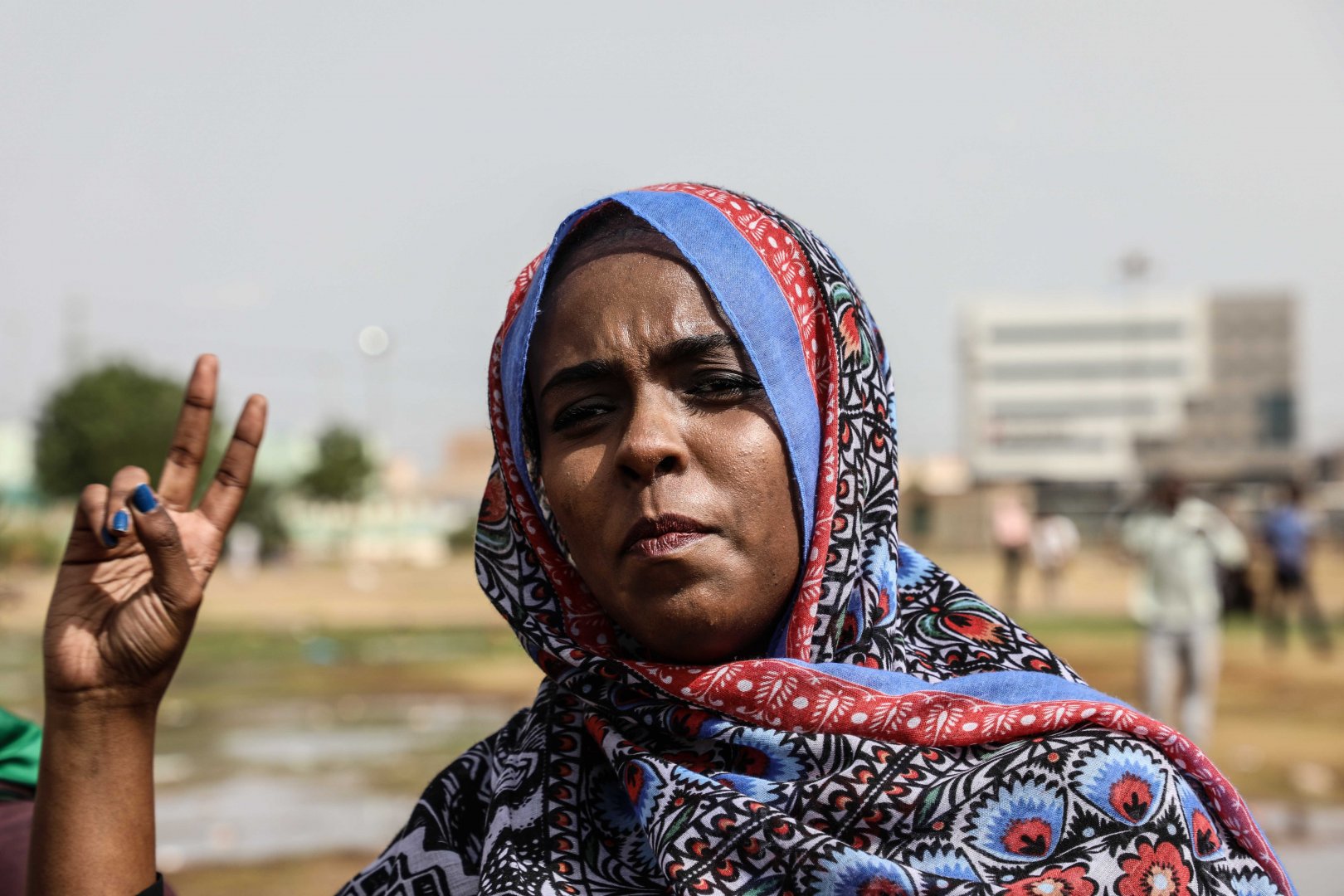 On 8 April, a picture circulated of a girl, Alaa Saleh, standing on what appeared to be a platform. Only later did it become clear to us that the platform was a white car whose details were obscured by the large crowd surrounding the girl. She stands shrouded in the Sudanese tobe which, with its layers of white cloth, is symbolic of the Sudanese working woman. She raises her index finger as she leads the chant, while her other hand clings onto the tobe at the midriff. This girl was nicknamed Kandaka –after the Queen of Kush, an ancient civilization in Sudan. She was also called the Sudanese Statue of Liberty.
This image is not just a moment out of context, but a scene from a longer tale of the history of the Sudanese woman's struggles whose roots can be traced back to the era of Turkish colonialism when Mehira Bint Abboud and Rabha Al-Kinana took part in battles and delivered messages from the Mahdi to all parts of Sudan. In 1924, Al-Azza Muhammad Abdullah led a military demonstration when her husband, Ali Abd al Latif, was in the colonial prisons on the grounds of his founding and presidency of the White Flag League, which sought to expel the British occupation and unite Sudan and Egypt. Ali Abd al Latif's colleagues in the League and the students of the Military Academy protested his imprisonment and demanded his release along with all their colleagues, so they lined up at the Al-Azza's house and gave her and her family a military salute in his honor. Al-Azza greeted them by emerging alongside them in a military demonstration that she led herself. They chanted after her verses from a poem by poet and teacher Obaid Abd al Nour: "O woman with braided hair (Umm Dhafayir), lead the charge and chant 'Long live the homeland'".
The poem was later sung by Abd al-Karim Abdullah Mukhtar, known as Krouma, son of popular singer Mastoura Bint Ardo, transforming Umm Dhafayir thus into a popular song in addition to its use as a national song for political mobilisation. Krouma is an artist belonging to what was called 'suitcase art' – a music school linked to a specific time period, named after the suitcase of journalist Ahmad Mohammad Saleh which contained the records he would play on the radio.
Al-Azza's name appears again in the song Azza fi Hawak which lyrics were written, composed and performed by Khalil Farah, a member of the White Flag League. As a result of Farah's political activity, his poems were often linked to patriotic sentiments and the struggle against colonialism. Narratives conflict as to the meaning of the song Azza fi Hawak. There are those who see it as a tribute to the struggle for dignity, and others see the use of the word Azza as a disguise in the face of British colonial censorship. The two may be true in any case. Khalil Farah was known for his introduction of novel elements to Sudanese song, and he was a pioneer of the suitcase music movement as well.
After Khalil Farah, Azza saw many revivals, including a performance by the orchestra and the choir of the Faculty of Music and Drama at the University of Sudan, arranged by the Al-Safi Mahdi choir. Today, the word 'Azza' has become widely used in literature or ordinary conversation whenever a person wishes to refer to Sudan in admiration.
In the region of Darfur and the Blue Nile, tribal elders defer to Hakamat for arbitration. Hakamat, or Hakama as a singular, is a tribal poetess who through her poetry and improvised song defines the laws of the community and comments on important events that take place within it. She praises and satirises its members according to their commitment to the morals she advocates, and she can even provoke wars with other tribes by her words alone. Although most Hakamat are illiterate, they are instinctively adept at improvised poetry and are known for preserving the tribe's heritage and history, honoring its heroes through poems about their joys and their departure.
Hawaa Jah al Rasoul, known as Hawaa al Taktaka, was the daughter of one of the Hakamat. It is said that her nickname, Taktaka, may be attributed to the fact that she was an artist who teaches brides to dance. Other tales suggest that her name is the result of her struggle against the British as one British inspector said that it is like a Taktaka tree; omnipresent. Hawaa was arrested several times on the grounds of her singing. One arrest took place after she participated in a nationalist concert at the Workers' Theater in Atbara along with Hassan Khalifa Al-Atbarawi. She also weaved and wore the independence flag designed by artist and poet Surra Maki Al-Sufi, which brandishes the three colors blue, yellow and green symbolising the nature of Sudan – the Nile, the desert and agriculture. Hawaa wore this garment on the independence march, and some say until her death. Hawaa specialised in what was called "girls' songs"; songs that are mostly performed by women, where their voice mixes with the sound of a musical instrument called Daluka in Sudan – a type of drum that has an opening on one side and is blocked with leather on the other. Hawaa Taktaka is an example of association of struggle in Sudan with ceremonies and marriage, so we find that many of her songs have become widely used to denote struggle even when it was not intended. Hawaa had a patriotic spirit that was often manifested in songs in which she references Ismail al-Azhari, the first prime minister of Sudan, such as: "No identity, no drugs / Long live the people alongside Ismail [meaning Ismail al-Azhari]. The night was long for the traveler, and regrets [mourning Al-Azhari after the military coup against him led by Gaafar Nimeiry] and what I wished became my curse."
In recent years, many female musicians have contributed to keeping this heritage alive. Al-Sara was born in Sudan to parents active in politics and human rights, and lived there until 1989 when Omar Al-Bashir and the military enacted a coup against the government and the space for freedoms began to narrow. At that time, al-Sara's family decided to flee Sudan, heading to Yemen and then the United States, where she encountered many cultures. Since the beginning of her musical career, al-Sara has worked on performing many traditional songs in a way that allows for wider audiences from outside Sudan to listen to them. Al-Sara was also part of the Nile Project, which was aimed at finding links between those residing at the source, the course and the end of the Nile River, through music. She also participated in the current political movement by issuing her new song Who Am I , after she previously released songs with direct and implicit political connotations such as Oh Homeland.
The picture of Alaa Saleh, taken spontaneously, depicted the power of Sudanese women and their pioneering role in public life and contributed to breaking some western stereotypes about women in the "other" global south. This image played a major role in spreading the voices of protesters, which had been overlooked by the media, to a larger audience around the world. Perhaps this image may be written about someday, as was the photo of Phan Thị Kim Phúc that contributed to shaping public opinion in America against the Vietnam War.
The article was originally published 15 July 2019 by Ma3azef. Read the original here. 
Translated and edited by AlJumhuriya/Docstream