Looking for the truth in Myanmar's continuing conflict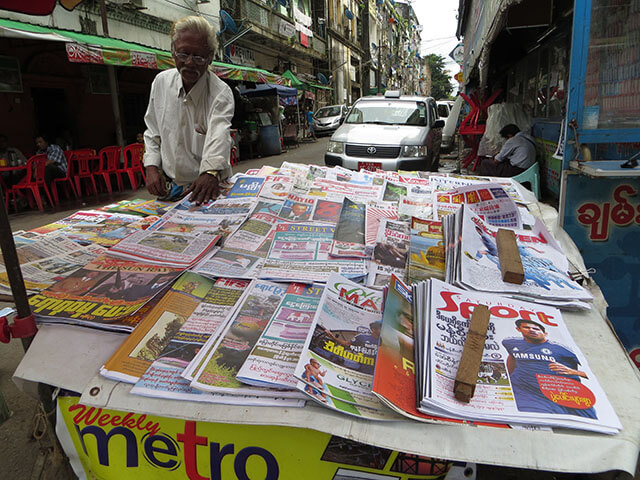 A man sells newspapers in the streets of Yangon. Photo: Helle Wahlberg/IMS
Since the recent outbreak of the conflict in Myanmar's state Rakhine media has reported on the issue. In a conflict like this the need for reliable, ethical and relevant journalism is vital, but three weeks into the conflict, unbiased reporting is still hard to find.
Renewed fighting broke out on 25 August, initiated by the Arakan Rohingya Salvation Army (ARSA) attacking local police in Rakhine, a state in Myanmar bordering Bangladesh. In their response, local military launched what they until now have called a 'clearance operation'.
UN figures estimates that some 400,000 people have fled from Myanmar to Bangladesh.[1] Government figures on the other hand state that around 30,000 has fled the country and 30 civilians have been killed.[2]
Lack of access
Since the conflict broke out, international organisations have not been allowed into the area and have therefore not been able to carry out first-hand documentation of the conflict or provide humanitarian assistance. Instead, they have largely relied on satellite pictures and witness accounts – for instance from Human Rights Watch.
Only a few government arranged tours across Rakhine for selected local and international journalists have been arranged. At the same time many local reporters in-country face great risks and are not adequately protected.
"The lack of access by media to the conflict zone is one of the reasons why international and national media are divided and biased in their coverage of the conflict," says Esben Harboe, Deputy Head of Asia Department with International Media Support (IMS):
"We have seen few nuances in both international and national media. International media has largely focused on how the minority group Rohingya is being persecuted by Myanmar military, whereas national media has largely focused on how the state is under attack by extremist terrorist groups."
"One of the most important considerations in conflict sensitive reporting is the ability to listen to local voices from both sides of the conflict and to be able to verify claims. To a large extent this has not been possible. Local media is also strongly influenced by the official narrative and the pressure put on them by nationalistic forces in the country," Esben Harboe adds.
Biased information and fake news
When access to reliable information is absent, fake news become inevitable. In the first three weeks of the conflict, pictures of victims from the 2008 devastating cyclone in Myanmar, burnings of mosques in India, and unverifiable videos all claiming they were from the current conflict have been shared across social media sites. This has harmed the reporting and generated a lot of public misconceptions about the conflict.
Furthermore, most of the national reporting is based on the state run 'Information Committee', the only official body that provides information on the conflict. Regular updates are shared on their Facebook page, but information remain biased and misleading.
Public dialogue is a positive sign
But being critical towards official sources can be a dangerous practice for media workers in Myanmar. In the past year, more than 70 journalists have been charged under various laws for criticising the military or government – many of the cases are related to the peace process.
"Nonetheless, the ongoing public dialogue on media's role in the conflict is a positive sign," says Myo Min Htike, IMS Programme Manager based in Yangon.
"Journalists are becoming more critical and reflective towards their own role in the peace process and the government is, to a certain extent, welcoming this development. Myanmar has 135 ethnic groups and only five years of experience with a democratic rule. Changes take time."
IMS has worked in Myanmar since 2005. Since the transition to democracy began in 2012, the organisation has worked in-country supporting the democratic transition. IMS' local office and media partners are closely monitoring the situation and planning concrete intervention to support media's access and professional reporting on the crisis.
Facts about Myanmar
Population: 51.5 million (2014).
The military held power in Myanmar for almost 50 years, until the transition to democracy began in 2012.
In November 2015, National League for Democracy (NLD), led by Aung San Suu Kyi, won the election, but the military still holds a considerable amount of the decision-making power.
Ever since its independence from the United Kingdom in 1948, Myanmar has experienced internal conflicts, which have often been linked to identity struggles among and between different ethnic groups and the central government. Many of the conflicts are deeply rooted in historical, economic, cultural, structural, social and/or political grievances.
[1] http://www.un.org/apps/news/story.asp?NewsID=57517#.WbttfmwUnIU
[2] https://frontiermyanmar.net/en/the-immediate-causes-of-the-latest-violence-in-rakhine