Somalia
Somalia is home to one of Africa's longest running conflicts. Following a relatively peaceful transfer of power during the presidential elections in February 2017, the newly elected government is facing immense challenges with a drought leaving 6 million at risk of famine, lack of basic service delivery and a constant threat of terror attacks. In the hostile and volatile environment that Somalia offers, the media particularly is under heavy fire.
IMS has worked in Somalia since 2014. Support to the media and to the work with addressing some of the vast challenges the Somali media face is vital if the media sector is to fulfil its role as driver of peace, reconciliation, accountability and citizen participation.
Together with Swedish Fojo Media Institute, IMS is doing a four-year programme in Somalia with financial backing from Sweden. The programme, which will finalize by July 2018, aims to:
Improve gender equality and increase women's participation in both media content and outlets;
Improve the safety of journalists and ensure increased media freedom;
Strengthen of the economic sustainability of media houses;
Enhance editorial independence and bolster professional journalism skills;
Support professional content production through the IMS humanitarian content production platform Radio Ergo, a unique producer and broadcaster of original Somali programming on humanitarian issues.
Our impact so far:
Over a 3-month period, Radio Ergo increased the number of female voices in its coverage from 31 % to 41 % in the daily radio programme – the global average is only 24 %;
In cooperation with the World Association of Newspaper and News Publishers (WAN-IFRA) IMS-Fojo has supported a group of female journalists in overcoming gender bias in their media career grooming them for leadership in media;
Seven media houses have created new revenue streams and increased existing ones;
The state monopoly on issuing press cards was successfully challenged when partners had authorities validate press cards issued by the Somaliland Journalist's Association;
More than 30 radio stations now produce special programmes on good governance and share them in a joint weekly radio programme reaching large parts of Somalia;
An IMS-Fojo-developed an election reporting handbook contextualised to Somalia enabling journalists to report more professionally, accurately and fairly during the 2016-elections;
Young Somalis are engaged in holding the members of parliament accountable through the social media news platform Kalfadhe.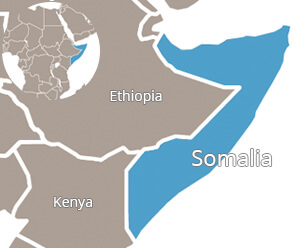 Contact person for Somalia
Stories
A child-focused Somali radio drama takes up difficult issues such as girls being denied education and forced into child labour
...