African Union announces Working Group on Safety of Journalists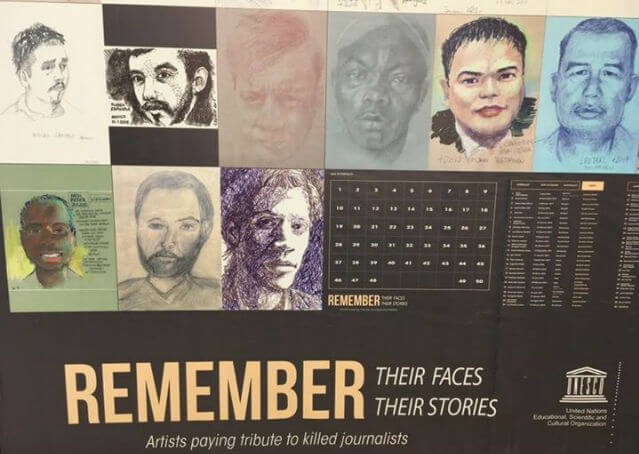 UNESCO and International Media Support (IMS) hosted a parallel session on piloting national safety mechanisms to protect journalists in Africa at the official World Press Freedom Day conference in Ghana, 3 May. During this session, Ambassador Salah Hammad, Head of the African Governance Architecture Secretariat announced the formation of an African Union working group on the safety of journalists
Ambassador Hammad affirmed the African Union's commitment to increase efforts on the safety of journalists and explained that a section on the safety of journalists will be included in the forthcoming Annual Governance Report and the African Peer Review Mechanisms (APRM).
Speaking during the parallel session on national mechanisms for safety of journalists in Africa, Ambassador Salah Hammad, Head of the African Governance Architecture Secretariat at the African Union (AU) and Senior expert on Human Rights, informed the participants that an AU Safety of Journalists Working Group, has been approved by the AU Banjul Human Rights Commission. "This is the month for the media in Africa. Besides the AU's support for a Working Group on Safety of Journalists, the African Union Peace and Security Council will be requested to provide a platform for key media professional bodies in Africa and partners, to address the Council on safety of journalists concerns."
He further said that the AU regards documentation of attacks against journalists in a serious light and will provide more platforms for raising these concerns. This will include a section on safety of journalists in the AU's Annual Governance Report and the African Peer Review Mechanisms (APRM). The APRM is a mutually agreed instrument, voluntarily acceded to by member states of the African Union as a self-monitoring mechanism for tracking and reporting on key governance areas. It specifically focuses on democracy, political, corporate, socio-economic development and economic governance and management.
As a means to tackle the issue of impunity, the parallel session on national mechanisms for safety of journalists in Africa recommended to the African Union, to support African States with poor records of implementation of the UN Plan of Action for the Safety of Journalists, and in particular, to create legislation or reforms that will improve freedom of expression in their respective countries.
Echoing these positive engagements, H.E Anna Bossman, Ambassador of Ghana to France speaking at this parallel session, said that journalists have to be protected and that it is essential that duty bearers provide leadership. "The leaders in these countries must be the champions and in Ghana, we have a President today who was before taking office and still remains, a champion for journalists' rights".
Supporting the establishment of national coordination mechanisms for the safety of journalists, Ms. Filippa Arvas Olsson, Senior Advisor at the Swedish Ministry of Culture and Democracy informed the participants that the Swedish Government has trust in democratic institutions and that safety of journalists has to be addressed based on the national context. "The Swedish Action plan on defending free speech is done in an inclusive manner and has measures to protect journalists, elected representatives and artists from exposure to threats and hatred".
The parallel session on national mechanisms for the safety of journalists in Africa was jointly organised by UNESCO and International Media Support (IMS) and moderated by Lydia Gachungi, UNESCO Expert for Safety of Journalists and Edetaen Ojo, IMS board member from Nigeria Media Rights Agenda. Some other recommendations emanating from this session includes formalising engagement of Africa media professional bodies with the African Union, through e.g. a memorandum of understanding with the African Union, which would provide a standing agenda on media related concerns at the AU Peace and Security Council meetings. Leveraging on the role and mandate of African Union in this process is critical, considering the role of a healthy African media in Achievement of Agenda 2063.
Article courtesy of UNESCO