Annual reports
IMS publishes its Annual Report every year in the spring. The report highlights examples of the work our partners and we have carried out in the course of the previous year to enable media to contribute towards peace, stability and democratic development around the world.
Our report cov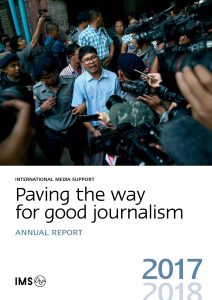 ering June 2017 – May 2018, issued in June 2018, highlights global tendencies relevant to IMS' work in media development.
In a year where media freedom declined once again in every region of the world, the need for documenting and sharing good practices that can boost a united effort to curb this trend is more urgent than ever.
This year's IMS Annual Report 2017-2018 looks at what experience has taught us on the safety of journalists; showcases media outlets with innovative approaches to engaging audiences with quality journalism in Asia, the Middle East and Africa; takes stalk of women's working conditions in media in our partner countries; and discusses steps taken to fight disinformation.